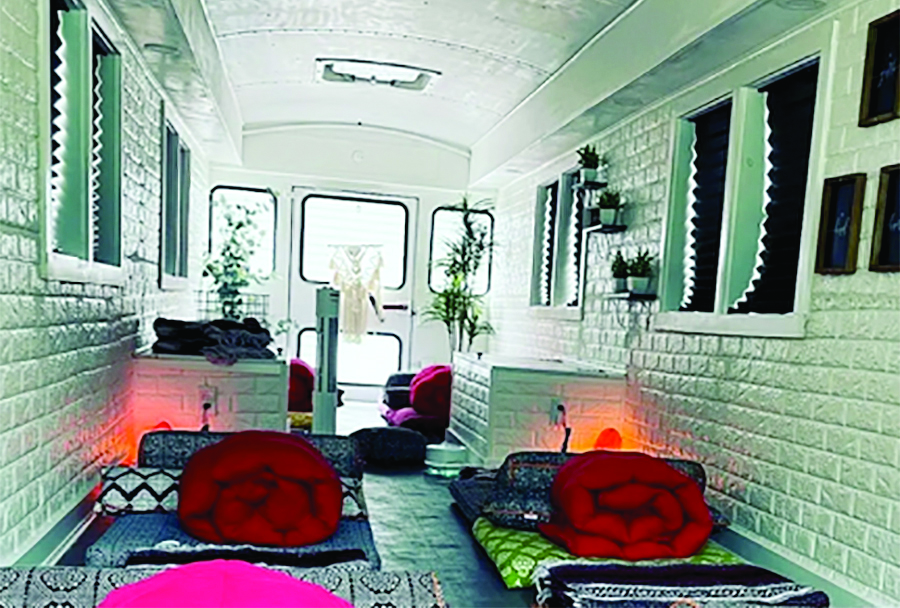 By Jill Nagy
For people unable to go to Grounded on Glen, Kayla Kraft's meditation studio, the studio can come to you. Kraft has transformed a former school bus into a movable meditation studio.
The bus was completely gutted from top to bottom, Kraft said. It now has vinyl planking on the floor and mock subway tile on the walls. It is outfitted with lights, heat, generator power, and diffusers. It can accommodate up to six participants at a time.
The bus is parked behind Grounded on Glen, the non-mobile studio at 282 Glen St. in Glens Falls, "all set up and ready for you to come on the bus," Kraft said. 
"We go wherever," she said, with a focus on school systems, health care facilities, and first responders. The aim is to promote relaxation through meditation, yoga, and similar modalities.
"We just launched in September," Kraft said, "and we got really busy."
Kraft's yoga business, Yoga Kayla, is in its 10th year. Grounded on Glen added meditation, somatic therapy and relaxation techniques.
Kraft drives the bus and conducts the sessions. So far, she has no employees. However, she has a goal "to have 100 of these buses rolling around the United States" five years from now. 
The next site will probably be somewhere else in the Northeast.
The telephone number for the meditation studio is 518 361-3564. The website is themobilemeditationstudio.com.