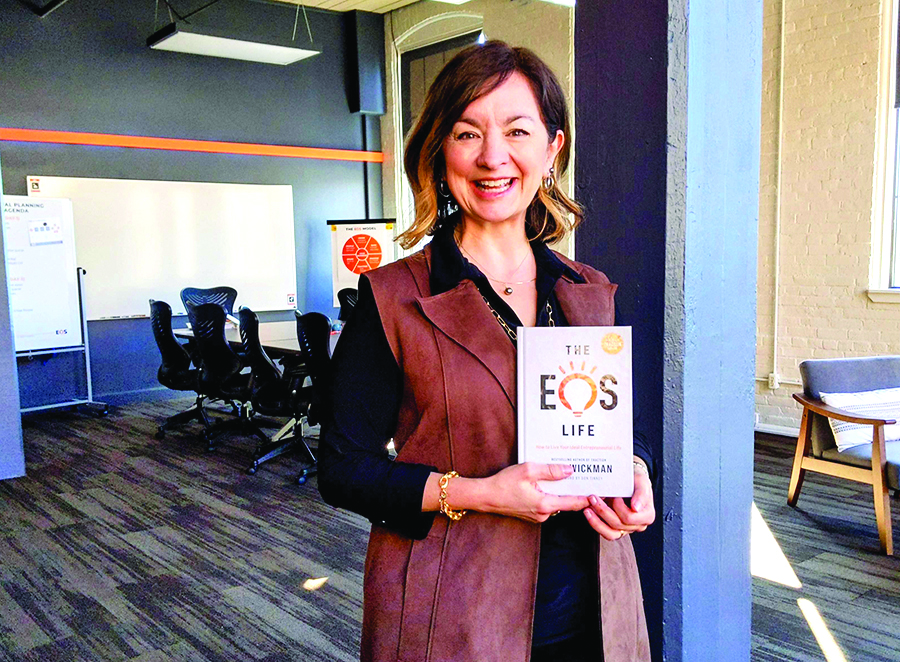 By Paul Post
Gerald Davis wants to open a second location for his successful heating and cooling business, and document its growth with a long-range goal of having employees partner up with him as franchise owners.
JoAnna Schwartz felt the need for more structure and better processes at Name Bubbles, an e-commerce company that makes personalized waterproof name labels and decals, to ensure the firm's future prosperity.
These are just two of many area business leaders that have turned to Wendy Waldron to teach, facilitate, coach, lead and direct them through critical phases of their respective operations. 
She owns Glens Falls-based WaldronWorks, and is a Professional EOS Implementer for the Entrepreneurial Operating System (EOS), whose principles have helped clients around the world overcome business problems as well as identify and take advantage of new opportunities.
"We need Wendy's help coaching and teaching us to be a great company, not just a good company," said Davis, owner of Cambridge-based Superior Co-Op HVAC. The firm specializes in heating and cooling systems, using Mitsubishi hyper heat pumps, which maintain a desired  temperature without the use of fossil fuels
Davis began working with Waldron in January after discovering that other successful companies use EOS, too.
Schwartz, Name Bubbles vice president, said the leadership team started the EOS process in spring 2021. 
"Since working with Wendy, we have implemented structure and tools that help our leadership team identify, simplify and solve issues," she said. "Wendy helps us reinforce the EOS format to keep our team streamlined and focused on achieving our company's goals and future success."
A Queensbury native and Colgate University alum, Waldron spent 20 years in the medical practice management field, often overseeing multi-million-dollar budgets. She returned home to lead Hudson Headwaters Ancillary Services.
For almost 10 years, she was administrative director of the Charles R. Wood Cancer Center at Glens Falls Hospital before striking out on her own. She trained to become an EOS Professionsal Implementer in 2019.
EOS is  a "set of simple concepts and practice tools used by more than 170,000 companies around the world to clarify, simplify and achieve their vision," says its website.
"I have taken all of the training available," Waldron said. "But the truth is, I will be learning and studying how to be a better implementer forever. That's one of our core values—grow or die—which means getting better all the time, being conscious of what we're doing; adding as much value as possible to my clients' businesses; giving them back control to what they're doing."'
As companies grow, owners and managers might feel they're losing a grip on financial matters, time management and/or human resources.
"They used to know what was going on in their business," Waldron said. "Now they've grown and need a new set of tools."
During a 90-minute initial consultation, clients tell Waldron about their business and specific problems they're experiencing. Then Waldron explains how she can help. Clients contract for services. Leaders attend regular eight-hour training sessions where they learn principles and practices to bring back to their business. 
Each case is different, but it typically takes 18 to 24 months to implement the EOS system throughout a company.
"The foundation of EOS is that all of those things that seem like problems are symptoms of a weakness somewhere in the structure of your company; things you've been putting band-aids on for a long time," she said.
Waldron recently moved into a new 1,200-square-foot EOS Session Room specifically designed for training small groups. Located at Union Square, 9-11 Broad St. in Glens Falls, it is now the only EOS Session Room between Plattsburgh and the NYC area. Tom O'Neill and Union Square Properties managed the remodeling of the new space.
 "I could work with clients remotely anywhere around the world. But most clients are within driving distance, from Albany to Plattsburgh," she said.
Waldron said her "sweet spot" is working with small- to mid-size companies..
"Usually, they have some sort of change happening," she said. "For example, the family business is transitioning from one generation to the next. Or in a transitioning economy, they might need restructuring. I'll try to get them to focus on something new they hadn't done before. A good company needs to have everyone all aligned, moving in the same direction, executing a plan and be accountable to each other. You need to have a healthy team. We help you get through all the stuff getting in your way."
Her website is eosworldwide.com/wendy-waldron. The telephone number is 518-288-6864.