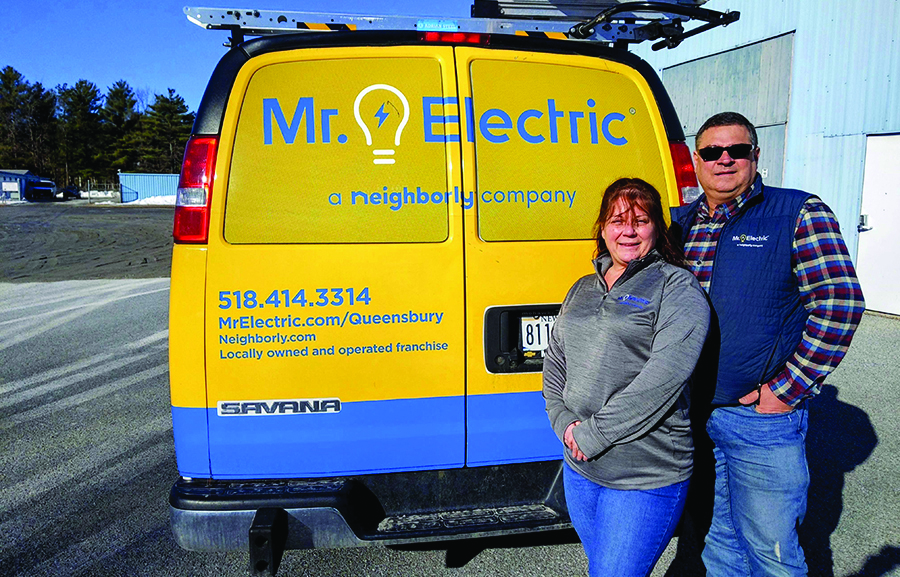 By Susan Elise Campbell
After five years operating Mr. Electric out of their home, co-owners Sean and Jeanne Dion have relocated to a 1,500-square-foot office space at 94 Big Boom Road, Queensbury. 
According to Jeanne Dion, the franchise covers all the electrical needs of clients located between the Twin Bridges and Ticonderoga.
"At our peak, we had up to five trucks on the road and three service technicians," or licensed electricians, to diagnose, repair and install electrical systems primarily for local homes and businesses, Dion said. 
The company is in the process of hiring two or three more technicians to service a growing area. Dion said there is plenty more potential in the communities they serve and the new office, along with new hires and 2,500 square feet of warehouse space, will help the company keep pace. 
"We spent the last five years of going in and out of our basement and this was the time to move," she said. "We needed an office, warehouse space, and a board room."
Dion said she will "try and keep Sean in this office, but he always likes to get his hands on things. Being retired military, he has a soft spot for veterans. It's important to take care of one another."
The Dions were not business owners when the Mr. Electric franchise reached out to Sean late in 2017. He had been an electrician in the Air Force and a general mechanic for the Army a total of 27 years, so "he knew everything electrical, from low voltage to very high voltage and everything in between," his wife said. 
Decision made, Sean left his position in the semi-conductor industry.
Five years and a new location later, Dion said Mr. Electric of Queensbury has become known for the quality of their workmanship and their service.
"We are recognized for being timely and want to keep on top of communications with the customer," she said.
She said clients get an email with a four-hour block of time on the service date. Then the  technician contacts them by phone with a specific arrival time.
"But life happens and things come up," said Dion. "We may have to reschedule, but we will only do that once. We do not want to be restrictive of our clients' time, but would like them to know we respect them and appreciate their business."
Respect is shown in the precautions technicians take in the customer's home. Dion said they wear shoe covers, put down door mats and dress respectfully.
"Some customers ask for the same technician for repeat projects and some will wait until their technician is available, unless there is an emergency and he cannot do the call," she said. "The customer will always be taken care of."
The Dions' franchise is one of the few electrical service companies in the area that not only installs home generators, but also services those generators while under warranty, she said. 
They perform the full range of electrical services for the home, including landscape lighting, as well as smaller commercial projects, she said. They also do state projects geared to lower income residents and veterans in the counties they service.
"We are looking to partner more with the community of fellow disabled veteran-owned businesses in New York," said Dion.
In another five years, Dion said she and her husband hope to be in a position to sponsor apprentice electricians training to enter the field. By then they may have achieved another goal of expanding their service area.
Learn more at mrelectric.com/queensbury and on Facebook.