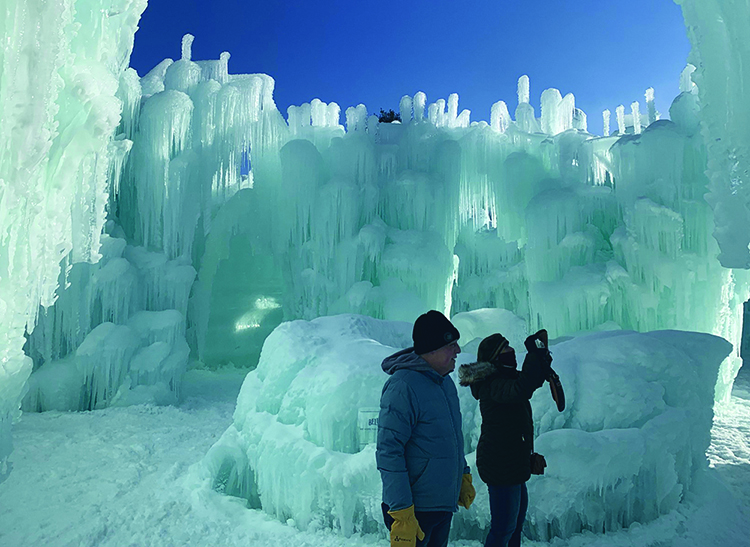 By Paul Post
Ice Castles is planning major changes to its Lake George operation in response to mild, climate-change conditions that pose a major challenge to every winter sports and tourism-related business.
 Officials said more than 60,000 people visited the frosty attraction during its inaugural run two years ago at Charles R. Wood Park's Festival Commons. But attendance declined during last year's shortened season, caused by warm, rainy weather that hit 60 degrees in February.
 Instead of a large castle, with up to 35-foot high walls, crawl spaces and icy slides, plans call for a large glycol-cooled skating rink surrounded by colorful light installations, a Polar Pub ice bar and a variety of  ice sculptures.
 The newly designed attraction will be called Winter Realm.
 "Mother Nature hasn't been very kind to us the past two winters in Lake George, but we're willing to return because of the overwhelming support from the community, the county, the village of Lake George and all the citizens in the area as well," said Brad Buehlhorn, Ice Castles East Coast operations manager. "We've always received a very warm welcome. That's the primary reason we're returning to Lake George this season with a revamped concept. We have experienced more cooperation and collaboration with local officials and businesses than we've had in almost any destination we've worked with."
The company has similar attractions in Utah, where it's based, in addition to Wisconsin, Minnesota, Colorado and in North Woodstock, N.H.
 Lake George and Wisconsin are the first sites that it's offering a new, different type of attraction instead of the traditional Ice Castle.
 "This is a new step for our company to build a new type of experience utilizing all of our skills," Buehlhorn said. "I think it speaks volumes about our relationship with the village of Lake George that we've completely revamped our business model to remain in that market for another year. 
"We had to rethink our entire operation to maintain that relationship. We're very committed to being in Lake George in some capacity."
 "The location at Charles R. Wood Park is phenomenal," he said. "It has the infrastructure that makes our job easier to work within that kind of space and the setting is absolutely gorgeous."
 Last fall, Ice Castles spent $80,000 for a new water line to Charles R. Wood Park, ensuring there would be enough water for the company to build and maintain the castle throughout the season. But it didn't take shape until late January because it was so warm.
 Buehlhorn said it's hoped that the Winter Realm skating rink, kept cold with a new system of glycol-filled hoses, will open in early December and keep going into March.
 "Our specialties are lighting and ice," he said. "So we've decided to have a different take on how we use ice to entertain people. We have some very talented ice artisans that we're going utilize more this year to create works of art out of ice that people can come and see and enjoy. We will have an ice sculptor there on site throughout the season so there will always be new sculptures to see no matter how many times you come to visit."
 An exact schedule of days and hours hasn't been determined yet.
 As before, the company expects to hire about 35 to 40 local people for daily operations. Job postings will be available on the company website (icecastles.com) beginning in September.
 Ice Castles' Winter Realm will be joined by another major attraction this winter that officials are counting on to give Warren County's year-round tourism industry a hefty one-two punch.
 A Montreal-based company, Moment Factory, is planning a large new immersive multi-media experience called Winter Experience at Fort William Henry. 
Moment Factory has done more than 525 shows around the world featuring a blend of advanced lighting, video, architecture, music and special effects that transform venues and events. Clients have included the likes of Sony, Microsoft, Toyota, Royal Caribbean Cruise Lines, the NFL and pop star Madonna.
 The company has committed to a five-year run in Lake George, made possible in part with $3 million worth of occupancy tax funding from Warren County.
 "It works toward that collaboration piece," Buehlhorn said. "Moment Factory is phenomenal at what they do. Having seen what they've done in other places, I think we'll offer a very complementary experience and work well together. The two should work hand in hand to attract people to give Lake George visitors a great time this winter."
 "It's going to be a tremendous winter season," said Gina Mintzer, Lake George Regional Chamber of Commerce executive director. "Unlike Ice Castles, which was weather-dependent, this new attraction will be weather-proof, offering consistent enjoyment to visitors regardless of the conditions."
Buehlhorn said Ice Castles is constantly looking at new ways to improve attractions, especially in the face of rapid climate change.
 "Every year we are revamping our techniques to build and keep the ice up for as long as we can," he said. "Our build teams are spectacular at figuring out solutions that have not been explored before. Part of this new experience we're offering this year is the result of research and development about how we can create a 'winter-tainment' destination wherever we happen to operate in the United States."
 The company is also expanding to other times of year. Beginning Sept. 1, it will open a new Sculpted Sand attraction at its North Woodstock, N.H. venue, featuring eight- to 10-feet tall sculptures.
 "They are massive and spectacular," Buehlhorn said.
 More than 4 million people have visited Ice Castles venues across the U.S. since its inception in 2011. Founder Brent Christensen crafted his first icy creation in his home's front yard, for his children, after moving from sunny California to snowy Utah. Lake George was the company's first foray into New York state.