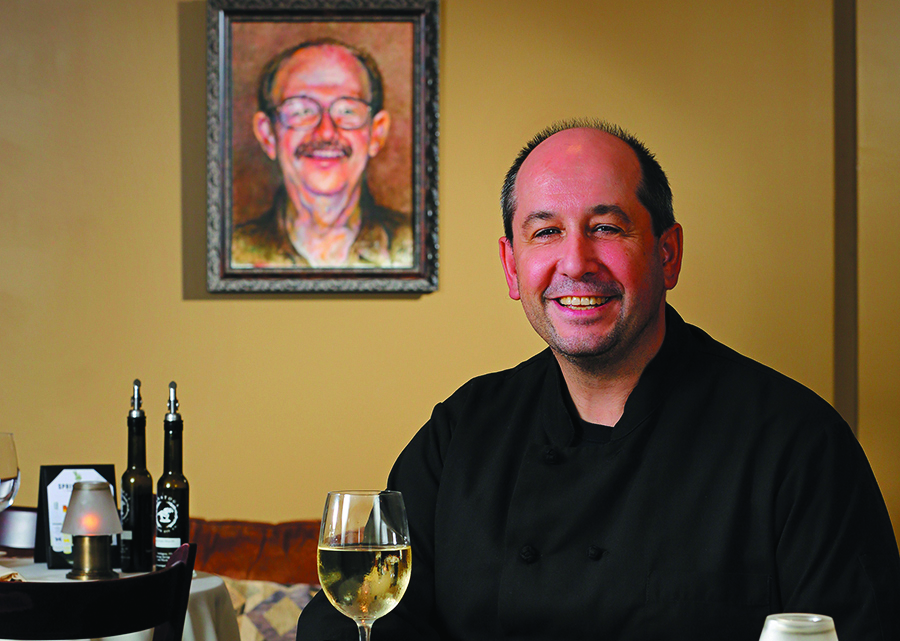 By Ann Donnelly
Chef Christian Gates has the restaurant business in his blood. His father, well-known restaurateur Jack Gates, worked as manager of the Red Coach Grill outside Lake George from 1969 to 1999. In 2004, with sons Christian and David, he opened Jack's American Bistro at 730 Upper Glen St., Queensbury.
"I didn't train in a fancy culinary school," said Gates. "I am self-taught, learned from working in the area's best restaurants." 
In his youth, he worked alongside his father and, at age 17, started at the Howard Johnson's in Lake George. He then took some time off from the industry until he returned to work at The Waterhouse in Lake Luzerne. When his family opened Jack's in 2004, he brought this skill and experience to his role as chef.
"When we opened, we aimed to be a local place where people are comfortable, have a meal, and meet with friends, an 'upscale neighborhood setting,'" he said.
Through the years, even after Jack's death in 2012, they have maintained this atmosphere with many regular customers who mostly live within an hour of the restaurant. 
"My father's philosophy was to start with the right ingredients, to buy the best you can afford. You have to use suppliers you can rely on. We get the best shrimp from a supplier we've used for 19 years," Gates said.
While the restaurant has steak, "We didn't want to be a 'steak house.' Seafood is also big here. If we were to do it over, I might have tried to convince my dad to make it a seafood restaurant," he said.
Gates said consistency is key to the success of a restaurant, He likes to be creative and broaden ideas. "The Food Network has done much to expand restaurant goers' tastes," he said. "I took a chance and tried curry dishes that sold well. Things you think will work, won't at times, and vice versa."
Gates also credits the quality and consistency of staff as a factor in the restaurant's success. "We haven't had a lot of staff turnover over the years. We pay competitive salaries and provide good work conditions with a local, family feeling."
Jack's American Bistro is open Wednesday through Saturday from 4:30 to 9:30 p.m.
Its website is www.jacksamericanbistrony.com and the restaurant can be reached at 518-798-1797.