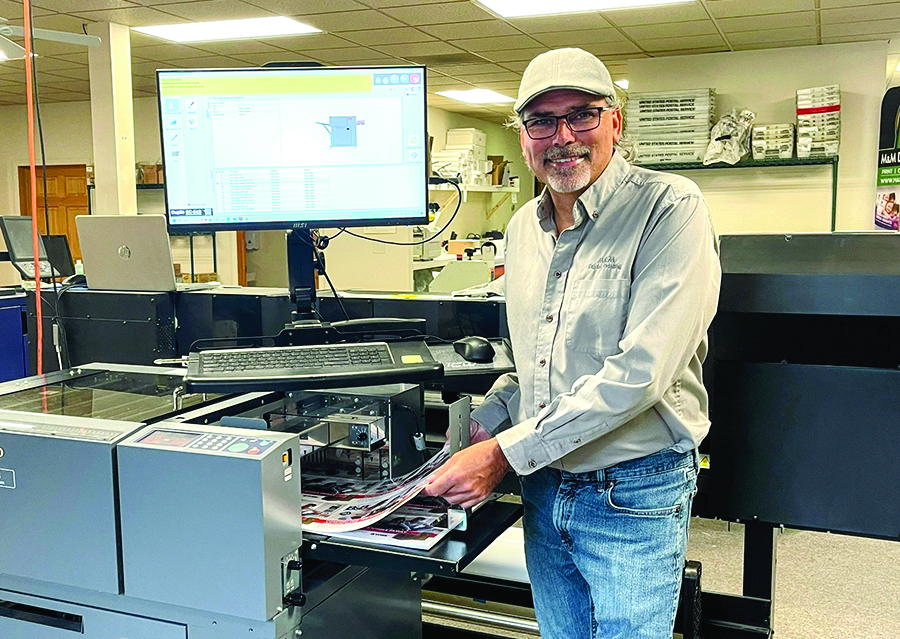 By Paul Post
Think of a high-powered speed boat that can do circles around ocean liners still leaving the dock. According to M&M Digital Printing officials, that's the advantage its small size creates over bigger firms by allowing it to shift gears and get jobs done right away.
 "We get a lot of  'I need it yesterday' type calls," owner Matt Flint said. "There aren't many printers that you can call and say, 'Hey, can you print these and do it today?' That's where we specialize—that same-day, next-day service."
 To keep up with growth and customer demand, Flint moved his decade-old business from 95 Broad St., Glens Falls, to a larger space at 726 Upper Glen St. in Queensbury last year.
 "We added some software and equipment including two of our wide-format printers, which streamlined production and we'll be upgrading our production presses before end of this year," he said.
 Flint plans to attend next month's Printing United Expo, in Atlanta, to keep up with industry trends and technologies, and connect with others in the field as well.
 "I try to go every year," he said. "They have all the most modern printing presses with the latest features, whether it's UV or spot coating. All of the printing manufacturers' latest equipment will be there."
Flint, a 30-year industry veteran, founded M&M Digital Printing following a lengthy career at Web Graphics, which specialized in offset printing when he started out. "Printing in small quantities was not cost effective and most print jobs took five to seven days to complete," he said.
 Competition from social media is a constant challenge.
"I've been hearing for 30 years that paper is going to go away," Flint said. "Sure, a lot of people use Facebook and Google ads. A majority of customers want to mail something that people can hold in their hands, look at and see. We print and mail post cards, books, magazines, programs and we do a lot to help nonprofits with their fundraising needs. 
"For example, we print invitations to an event with an RSVP card and reply envelope. We handle the whole process for them. We print every piece, the whole package. We stuff it, seal it and mail it. That's a big part of our business."
 However, the Digital Age opened the door to more opportunities by introducing digital printing that makes production much faster. With the ability to transfer digital files directly to the printer, most jobs can be done within one or two days, if not the same day.
 Flint's decision early on to invest in high-quality equipment has paid off, especially with equipment for large-format printing.
 "Being able to print construction prints in color and on clear or frosted Mylar has been a game changer as more and more local municipalities have made this a requirement when submitting blueprints," Flint said. "Printing covers a wide gamut of things. Most people just think about a sheet of paper. But printing can be a political sign, posters, a banner, door hanger or it can be smaller items such as a post card and envelope, payroll check or folder. There's so many things that go into that it. It's not just a piece of paper."
 In an era of constant change, dedication to customer service has always been his highest priority, he said. 
"Imagine planning an event as a nonprofit and at the ninth hour, you get a sponsor whose logo you need to include in your printed banner or program. No problem. We'll make it happen," Flint said. "We love nonprofits."
 About 85 percent of M&M's business comes from clients in Warren, Washington and Saratoga counties in addition to the Albany area. But the firm's reputation for high-quality, prompt service also generates jobs throughout the U.S.
 "We recently sent menus and a direct mail campaign to Myrtle Beach, flyers to Wyoming, construction prints to Chicago and decals to Michigan," Flint said. "We have a lot of local designers and marketing firms we work with that may have customers all across the country. That's how we reach out."
 Another factor contributing to the company's success is access to graphic design software like Adobe's suite of design programs and Canva. Software like this makes it easy for individuals to create their own designs for printing.
 "Party invitations, posters and Christmas cards are probably the things we print the most for individuals," Flint said.
In addition to himself, the company's four-person staff includes Flint's son, Matt Flint Jr.
 Flint said he'd like to hire two or three more people including an entry-level printer, customer service representative and sales person.
 "We just want to continually grow and give back to the community," Flint said. "That's a big focus for us."