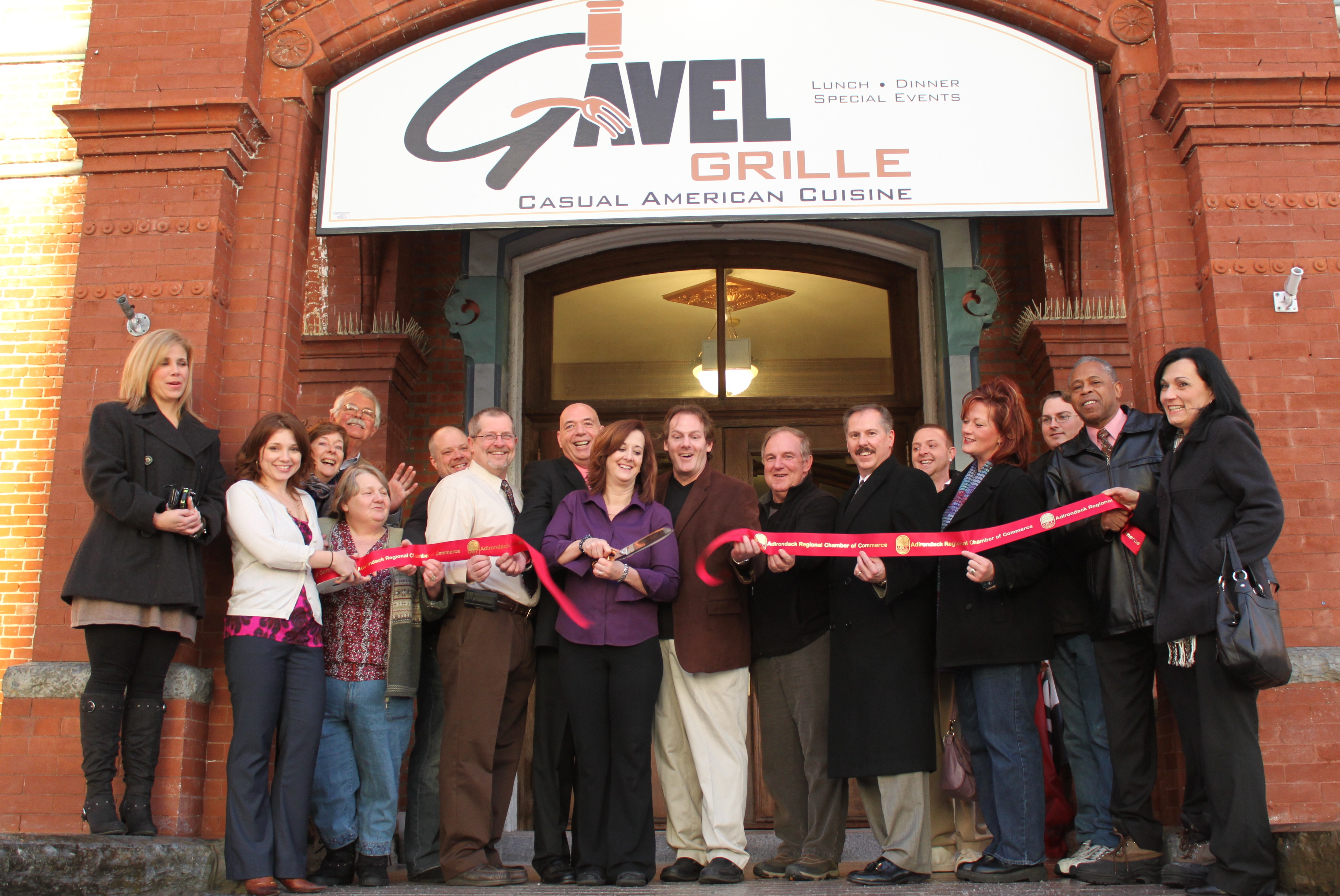 The Gavel Grille is now open in the Village of Hudson Falls, after a ribbon cutting in late January. The building, built in 1873, was an actual courthouse during the late 1800's and 1900's. The ornate, Italianate style Washington County courthouse facing the park is a significant civic structure, designed by noted regional architect Marcus F. Cummings of Troy, NY. The original jail cells are intact and are now being used as walk in coolers, and, eventually as private dining areas and wine tasting rooms. Owners Jamie and Scott Beale kept with the courthouse theme and old gangster style in name only, with such dishes as the "Baby Face Boswell" veggie burger, "Butch Cassidy" Kobe beef burger and "East of Alcatraz" pasta. However, the interior décor and food is styled after the favorite places of the owners.
The bar and pub areas focus on California themed colors and wine regions, while the entrance and courtyard area depicts a historic Bourbon Street evening in New Orleans with outside street lights and horse hitching posts. Tables are available for dining or just enjoying a casual glass of wine or beer while watching your favorite sports game. If you prefer to be a bit more intimate, you can enjoy yourself in the "Saratoga" themed dining room. The unique menu uses many local products and changes seasonally to incorporate the freshest possible ingredients. The Gavel Grille's wine and beer menus are fun, diverse, and continuously evolving, so that guests are not only able to find their favorites, but also try something new with each visit. The goal is to make your dining experience fun, festive with outstanding food and service.
Experienced restaurateurs, Jamie and Scott Beale celebrate the grand opening of their new Gavel Grille in the historic courthouse building in Hudson Falls.
Jamie and Scott's philosophy at the Gavel Grille is that drinking wine should be fun without breaking the bank. The wine and beer list complements the restaurant's uniquely flared menu and stands on its own for those who wish to enjoy a delicious glass of wine.
Upcoming Events include:
2/18 – 2/19 – Celebrate Mardi Gras Gavel Style. Hurricane Sangria and Chef's awesome Cajun food specials. Get your beads on!!!
St. Patrick's Day 3/17 – Live Music all day with great Irish Food & Beer Specials.
Photos Courtesy Of ARCC