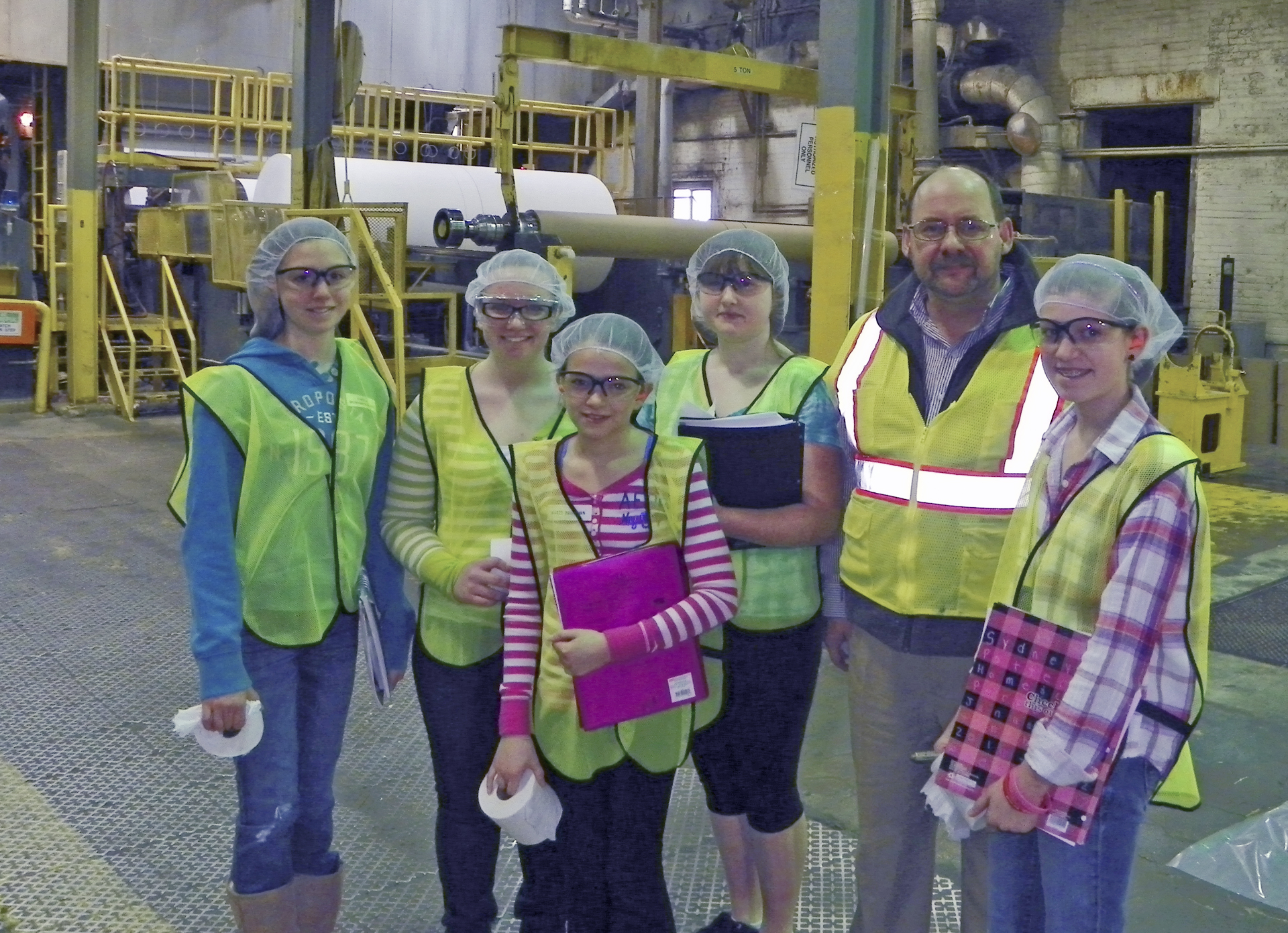 SCA employees at the South Glens Falls, N.Y., facility spent the morning of Feb. 14 explaining the variety of career opportunities available in manufacturing, as well as some paths to get there, to 41 seventh-grade students from Oliver Winch Middle School in South Glens Falls. This event was part of Junior Achievement's annual job shadow program.
The students received an overview of the company and a tour of the nearly 150-year-old paper mill before being matched with SCA employees who work in areas such as finance, purchasing, engineering, maintenance, human resources, health and information technology, as well as with the leaders of the United Steelworkers (USW) Union Local 1478.
"Many young people don't realize the variety of professions within the manufacturing industry," said Mike Mound, regional director of SCA's Northeast Operations for its away-from-home professional hygiene business in North America. "Our employees take pride in mentoring the students on their future career paths and being able to share their job experiences and what our company is all about with the kids in this community. We take great pride in our work here at SCA, and it's really fun to share our passion with the students."
"In discussing possible locations for our school's job shadow experience, I requested that we go to a local business because I believe it's important for students to understand who the employers are in their own community and see what career opportunities are available right here," said Sandra Catricala, seventh-grade teacher at Oliver Winch Middle School, who initiated the partnership between the South Glens Falls School District and Junior Achievement last year.
"This is the second year we've been able to do this at SCA, and the students have really enjoyed and benefited from seeing how the skills they're learning in school are used in the world of work," Catricala said.
SCA has approximately 400 employees in upstate New York at its mill in South Glens Falls, converting facility in Greenwich and distribution center in Saratoga. In addition to New York, SCA's North American tissue division, which is headquartered in Philadelphia, has manufacturing facilities in Alabama, Arizona and Wisconsin, and employs more than 2,200 in the United States and Canada.
SCA is a global hygiene and paper company that develops and produces personal-care products, tissue, packaging solutions, publication papers and solid-wood products. SCA's North American tissue division is one of the three largest producers of away-from-home tissue products in North America, supplying paper napkins, tissues, towels, specialty wipers, dispensers and soap used in commercial settings such as restaurants, office buildings, schools and healthcare facilities. Tork® products are made from 100-percent recycled content. SCA uses more than 750,000 tons of recycled paper a year; on average, more than 60 percent of those tons are post-consumer waste. The first American papermaker to earn EcoLogoâ"¢ certification, SCA also has earned Green Sealâ"¢ certification on many of its products. More information is available at www.torkusa.com.
Junior Achievement (JA) is the world's largest and fastest-growing organization dedicated to educating young people about business, economics and financial literacy.
Through age-appropriate curricula, JA programs begin at the elementary school level, teaching children how they can impact the world around them as individuals, workers and consumers. JA programs continue through the middle and high school grades, preparing students for additional key economic and workforce issues they will face in the future. Today JA of Northeastern New York reaches more than 24,000 students in 12 counties, from as far north as Warren County and south to Dutchess County. More information is available at www.janeny.org.
Photo Courtesy Of SCA