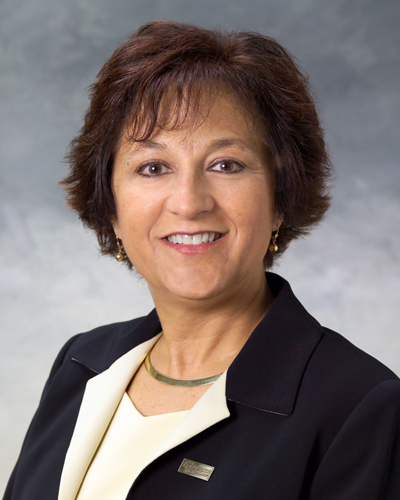 By Maureen Werther
Anyone considering a career in banking would do well to talk with Kathie Duncan, Regional President, North Country, Adirondack Trust Co. Kathie thought she wanted to be a teacher, but found her true calling somewhat by accident. In a field historically dominated by men, she has thrived in a career spanning more than three decades.
Born and raised in Corinth, Kathie is one of six children. Her father worked for International Paper and her mom stayed at home to raise the children. "With such a large family, going away to an expensive college was out of the question, so, I decided to attend Adirondack Community College for two years and then transfer to a four year college to obtain my bachelor's degree and teaching certificate."
After two years, Kathie still didn't have enough money to complete her education, so she came up with a new plan. She would get two jobs and work hard for one year. "My goal was to earn enough money in that one year to return to school." So, in 1974, she got a job at 1st National Bank of Glens Falls as a teller during the day, and at night she worked as a waitress.
Kathie quickly discovered that she loved working at the bank. She enjoyed the atmosphere and the daily interaction with customers. After just four months, Kathie was promoted into the Commercial Note Department, where she was responsible for preparing documents for loans and closings. Everything about her new job intrigued and excited her and she flourished in the corporate atmosphere. In fact, she liked it so much that, when her first year of work was up, Kathie decided to postpone her return to college. Eventually, she became a supervisor at 1st National with five people working under her, while continuing to moonlight as a waitress at night.
Kathie didn't return to school for seven years, working all the time at both jobs. But, she wanted to be a Commercial Loan Officer. "I knew that I couldn't move beyond supervisor without a degree and in 1981 I quit my job at the bank and enrolled at Siena College full-time." While still waitressing at night, she commuted to school and obtained her degree in Finance, winning an award for having the highest GPA in her major field of study.
After graduation, she took a position with Chemical Bank in NYC as a credit analyst, the first step in becoming a commercial lender. She also enrolled in their seven-month credit training program, with the understanding that she would work at Chemical Bank's Albany office once training was complete.
After three years with Chemical Bank, Kathie returned to Glens Falls as the Assistant Vice President & Commercial Loan Officer with Evergreen Bank, where she worked for 21 years before moving over to Adirondack Trust Co.
Kathie also understands the balancing act of juggling career and family. She married her husband in 1987 and they have two sons, age 23 and 21. 'It wasn't always easy," Kathie remembers. She knew that she had to pull her weight at work if she was going to move up the hierarchy – often a daunting task.
"Thankfully, I could count on my husband to help with the house and the children. He's a NYS Trooper and we would juggle our hours. On the days that he couldn't be home, I'd stay with the kids. And when he got home, I'd go back to work!"
While the demographics have shifted to favor more women in the banking industry, women in the commercial arena are still in a minority. But, Kathie has never let her gender prevent her from pursuing her career goals and loving every moment of it. "I love visiting businesses, seeing how products are made and helping owners who want to go to the next level with their companies. It's a wonderful feeling to be able to help small businesses."
To contact Kathie Duncan at Adirondack Trust Co., call 926-7244.
Photo Courtesy Of Adirondack Trust