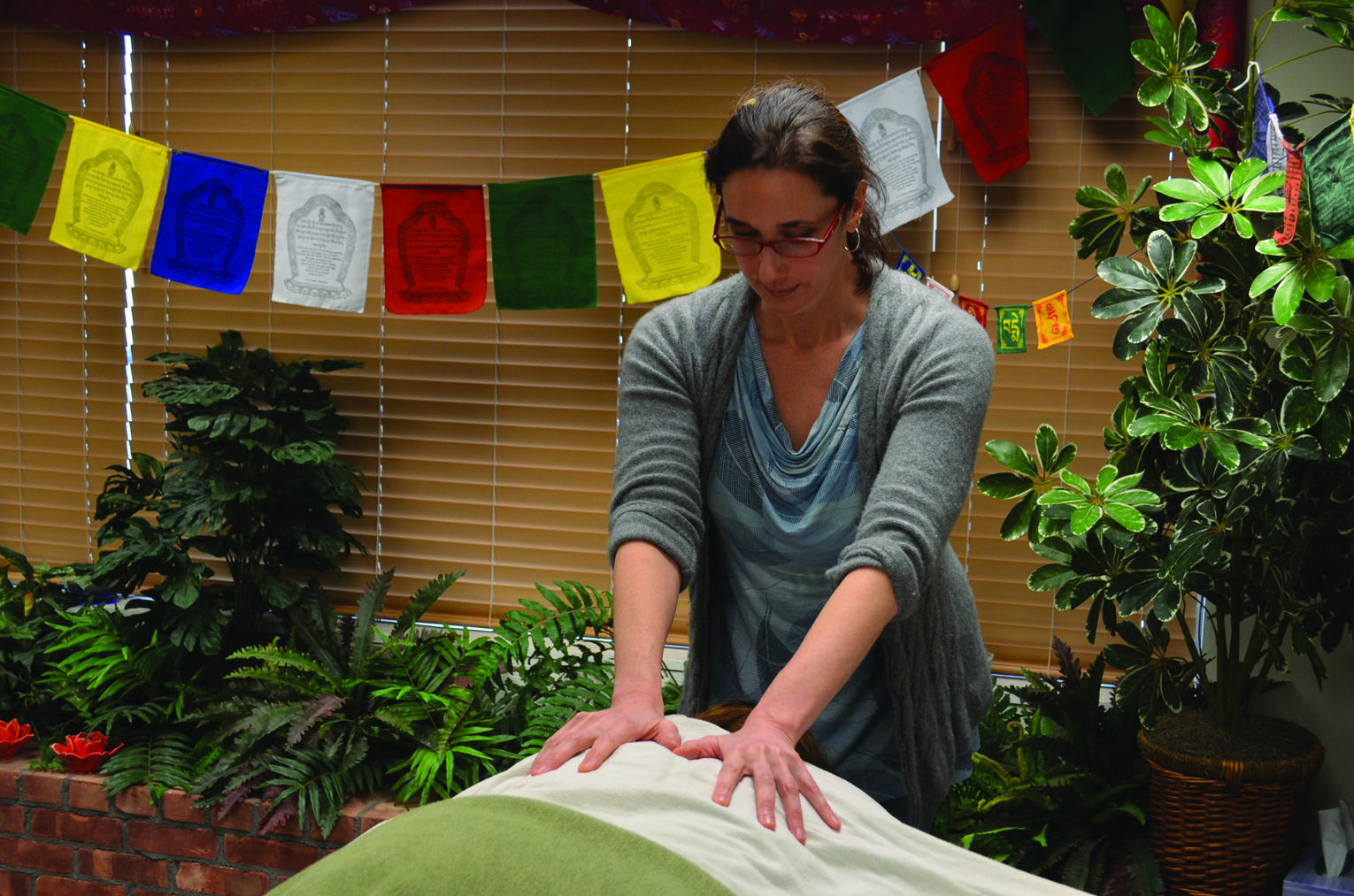 By Barbara Brewer La Mere
People in the business community, have now made it through the holidays, however that may have impacted business, social life, and general stress level.
Now heading into the new year, some may be frazzled, scrambling to get back on track after taking a few days off. Business people are looking at all of the tax preparation issues. There's stress that comes with the holidays. There is stress that occurs all year round. It could be time to consider accessing the services of a licensed massage therapist.
Nick Bodkin, licensed massage therapist and proprietor of Adirondack Holistic Health Center at 26 Saratoga Ave. in South Glens Falls, said business people can benefit from massage to help them to address stress that manifests itself in tension headaches, and low back and neck and shoulder pain.
Repetitive motion injuries, whether from hours spent at a computer keyboard, operating a cash register or various other pieces of machinery, or simply moving merchandise around, are subject to relief of painful symptoms as a result of massage therapy, said Bodkin.
Weekend warrior athletes who incur injuries are also subject to benefit from massage, he said. Businesses who offer their employees 15-minute chair massage sessions are shown to have employees with better morale and higher productivity.
Jennifer Madison, LMT, of J. Madison Massage at 10 La Crosse Street in Hudson Falls is focused on the aspects of massage therapy that deal with pain recuperation, much less than on the "spa experience " kinds of applications.
Business people often experience stress.
Madison said stress is "a different kind of pain, not an 'Ow, I hurt my finger' kind of pain," but a stressor to which the body responds similarly. Massages are useful for managing those situations.
She notes the particular effectiveness of massage in addressing various autoimmune conditions including fibromyalgia (muscle pain not correlated to injury), rheumatoid arthritis, and irritable bowel syndrome (a problem with a definite stress component). Bodkin said among his clients there are some regulars who come in on a regular schedule just to keep stress in check, others who come in intermittently at times of high stress, and lots of athletes who come in to address various soft tissue injuries. His clientele's reasons for coming in for massage run about 60/40 percent between stress-related consultations and recovery from various soft-tissue injuries. He also provides pregnancy massage for expectant mothers.
He has had some personal experience with stress and pain as a former member of the Hudson Falls Greenjackets football team. Following up on a football injury he sustained with treatment by a physical therapist and a massage therapist, he was impressed with the effectiveness of therapeutic massage, started asking questions and ended up as a 2002 graduate of the Albany Center for Wellness School of Massage Therapy.
In 2004, Bodkin purchased his current offices for use as center for holistic health practitioners and established Adirondack Holistic Health Center, LLC, for that purpose. He worked as an independent contractor for a while and then, in 2007, bought out the Massage Works practice which, reckoning from its 1993 establishment, celebrates a 20th anniversary in 2013.
Bodkin's practice is primarily based on deep-tissue, Swedish massage for relaxation and therapeutic massage to address issues related to injuries.
Madison finds very rewarding the work of not only hands-on massage, but also the business of sleuthing with her clients to consider what may be the source of a pain that exists now because of some long-ago and mostly forgotten injury or may be the result of some more recently, perhaps subtly acquired, habit of which the client was not consciously aware. (Think driving a different car, writing on a whiteboard more, a different computer keyboard.)
People often come to Madison looking for other ways than pharmaceuticals or even surgery to manage pain. She admits that massage most often serves as a maintenance measure, getting clients to that "sweet spot" where their symptoms have subsided for a period of time before they need to return.
Still there's that "one in a million" client for whom massage therapy can effect a real cure, she said.
J. Madison Massage can be reached at 744-2315. Massage Works' web address is www.massageworksforyou.com. The phone number is 615-0356.