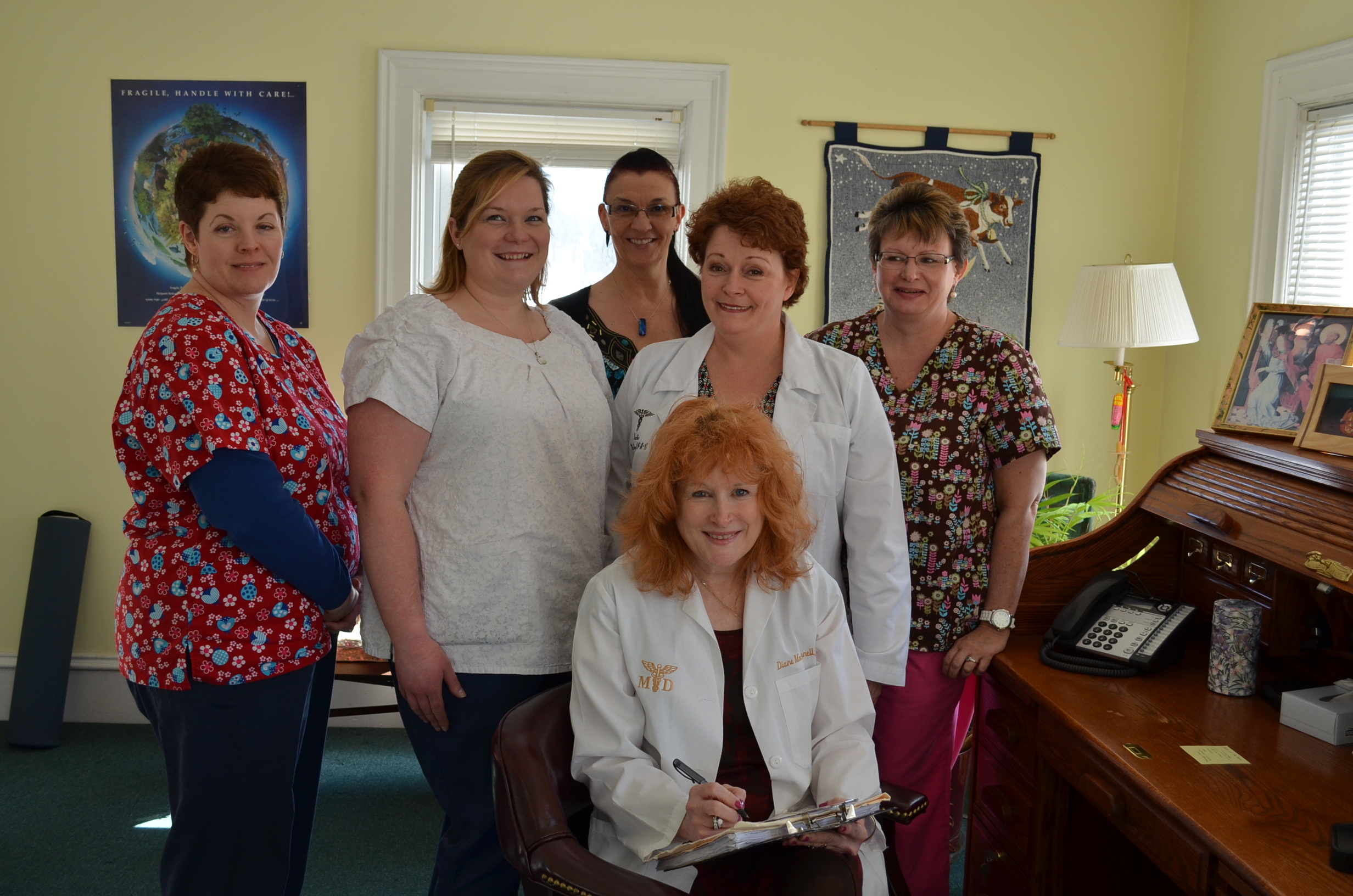 By R.J. DeLuke
Interest in holistic medicine– an integrated approach to healing and wellness that works with the body's ability to heal and achieve natural balance–is steadily growing in popularity. Various services are available, but at a location in Glens Falls, there exists a center where traditional medicine is available hand-in hand with things like acupuncture, anti-aging process, natural skin care, massage and nutritional counseling.
North Country Holistic Care Center, 461 Glen St., is housed in a stately structure wherein the first floor is dedicated to traditional health care, led by Dr. Dianne M. MacDonnell and Dr. Paul G. Alagna, both MDs who are also certified acupuncturists. There, people can get physical examine and traditional treatments for any illness.
But the doctors feel that often, that isn't enough.
On the second floor, a noticeably calm and serene space, are the holistic services that are used, as needed, to treat a person fully; using body's natural healing abilities and to promote physical and emotional well being.
"We do the conventional healing," said MacDonnell. "If you come in with pneumonia, you're going to get an antibiotic. But we always consider the body's ability to heal itself." "It's a one-stop healing shop," said Reburta Moffitt, holistic patient care coordinator who also provides the Japanese-derived reiki form of massage. "So much today is about pushing a pill. It's not about treating the person. Here, you're not a number. You're a name. We know you. We know your history … The overall well-being of an individual patient is really something special."
The practice was established in 1996. MacDonnell said the holistic services is the area where her business has been growing in recent years, coinciding with the popularity of holistic modalities. "It's really been a journey," she notes.
A graduate of Mount Sinai Medical School in New York City, she did her residency in emergency medicine at Albert Einstein College of Medicine in the Bronx. It was at the latter that she handled plenty of trauma cases, where the application of her medical training had immediate and tangible impact. It was when she moved into the primary care field that she began to notice a difference.
"The model of expecting an immediate result was not working," she said. She felt, for example, that at times she would be writing a prescription that she knew had the potential for as much harm as the intended good. That led her toward the investigation of other methods. She trained at the University of California/Berkeley in medical acupuncture and is one of only about 400 board certified medical acupuncturists in the U.S.
The result is an integrative approach to healing, "not to the exclusion of the conventional approach," she noted. But, "the mind-body connection is a priority."
"The integrative approach is what's unique," she explained. "If a patient wants a physical exam, we do it. We order testing. We can do EKGs … But we have the ability to help their problems with other modalities." The treatments don't just address the symptoms. "It's a team approach," she added. "We try to focus on wellness. We try not to be a sick care center."
Illnesses and other problems are addressed by the doctors through conventional methods. But the staff goes a step further. Consultation with a nutritionist might be a better part of the big-picture well being of the person, so they might be directed there. Acupuncture might be seen as a way where chronic pain can be alleviated better–or eliminated. So that alternative is offered. Types of massage will be suggested if that fits the individual's needs.
Relieving stress and anxiety, issues intertwined with the mind take on importance because they eliminate negative energy that is shown to be contrary to good health. "We always look to encourage the immune system rather than just treat a virus," said MacDonnell.
So while NCHC physical exams, employment exams, school and sports exams, women's health care, and laboratory and diagnostic testing, it also provides acupuncture, massage, anti-aging processes and more. In the building, noted Moffitt, a persons walking upstairs immediately experiences an overall calmness. "You don't have to be in pain to benefit" from the holistic treatments," she said.
Moffitt said the center has seen patients that have had major surgery but are still in pain, as well as people who are facing major surgery and are fearful about what the impending process may, or my not, do. By taking advantage of massage or acupuncture, these people have walked away amazed that they are on the mend.
"Most of the time, if someone is compliant and willing to work with us, we get result," said MacDonnell.
She noted that more and more frequently, the center is getting patients that have been referred to other physicians in the area, a sign that "hopefully, that's the direction medicine is heading."
One area of interest to MacDonnell is organic skin care. "I'm very interested in trying to reduce the toxic burden we're exposed to" in what people eat, drink and absorb from the air through the skin.
It's all part of a big-picture view of health that emphasizes giving personal care to the full breadth of the individual.
"People feel listened-to here," said MacDonnell.
Moffitt explained, "People feel the environment here. It's a welcoming environment. The healing should start the minute they walk in the door. That's what we aim for."
NCHC participates with most major insurances. Information is available at the center's website, http://www.northcountryholistic.com. Appointments are preferred by calling 745-5889.