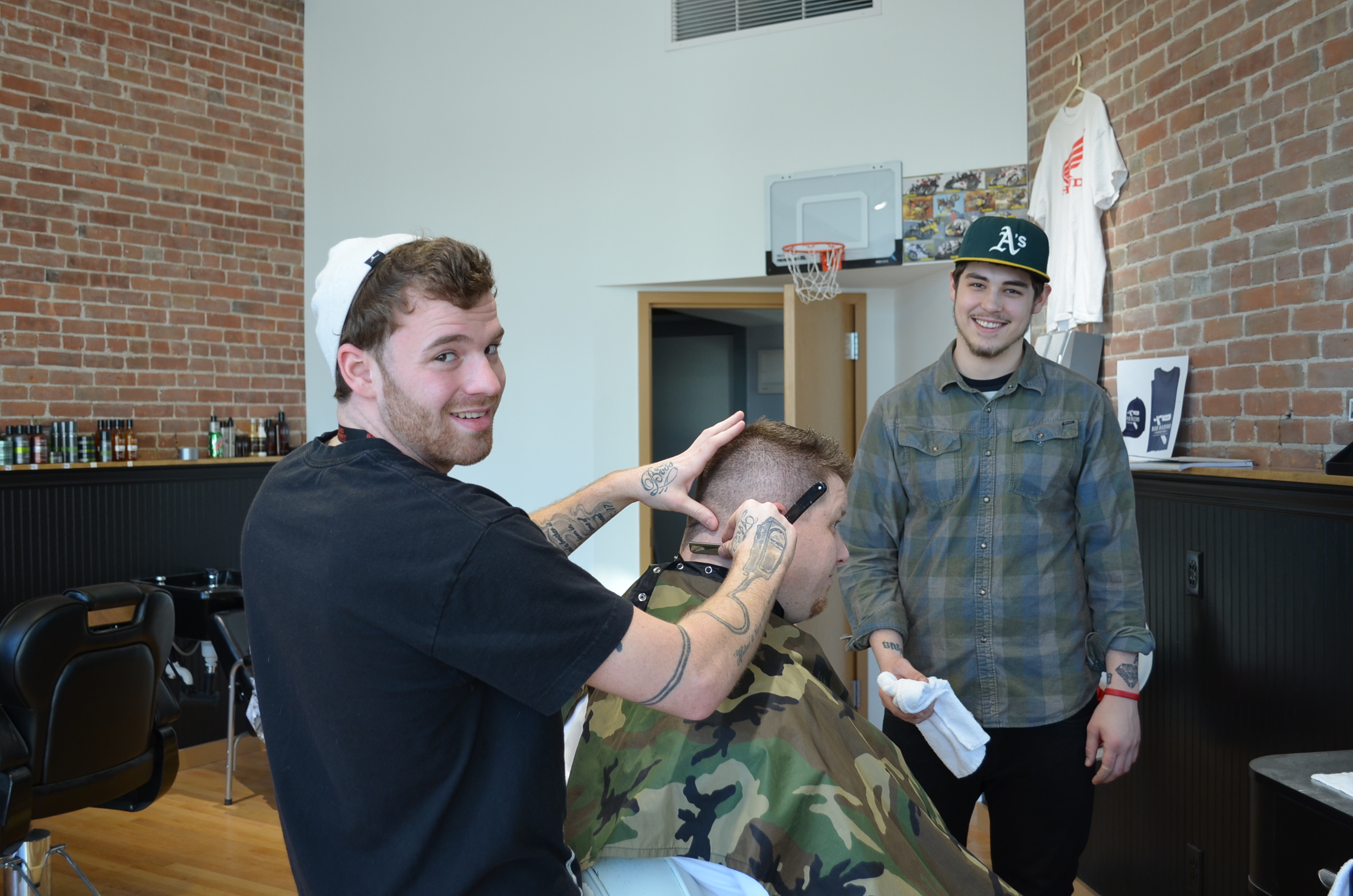 By Pamela Fisher
At just 21 years of age, Russell Radigan is a business owner. Rad Razors, a Glens Falls barber shop located at 3 Broad St., opened its doors on Dec. 1 and has been busy ever since.
"I have to thank God for this," said the young business owner who works alongside of his friend and fellow barber, Andrew Mosher.
Radigan said he approached Mosher to join him in the shop, asking his friend "to take a chance." So far the chance is paying off.
Inside the Dolan Building, the shop's space has been completely renovated by architect Gary McCoola. On a weekday evening, Rad Razors is buzzing with activity. Radigan and Mosher are focused on delivering haircuts and hot face shaves to customers. A young boy plays X-box games on a 52 inch television in the waiting area. A pay-by-the-minute massage chair is available in the front, while a mounted basketball hoop on the back wall invites customers to shoot hoops while waiting their turns.
A new customer enters the business, shakes Radigan's hand and tells him he decided to come to Rad Razors after hearing a recommendation from a friend.
"I am successful because of word-of-mouth advertising," stated Radigan.
Radigan received guidance from his mother, a beautician with 25 years of experience, who helped him to "get his feet wet" when it came to barbering. Following schooling from Austin's Beauty School in Albany, Radigan worked at Hair Studio One in Queensbury and C & C Unisex Hair Studio in the Wilton Mall before opening Rad Razors.
Though Radigan had also worked in landscaping, he is happy with his choice to open his own barbershop and spoke of his future plans for the business.
"We want to bring old-school back," stated Radigan of his shop, which features an old fashioned black and white barbershop pole outside its front door. "We feel barbering is a lost art, and we aim to give the perfect haircut to our customers, but also give them a place to relax and socialize."
Radigan also plans to feature décor on the walls of the shop showcasing local sports teams. The walls will also be a gallery space for paintings by Radigan's father, artist Arthur Radigan.
Rad Razors is open from 11 a.m. to 7 p.m. Tuesday through Saturday, but is subject to close during slow times. Appointments are strongly encouraged and can be made via call or text. To schedule an appointment, contact Rad Razors Barbershop at 307-4567.