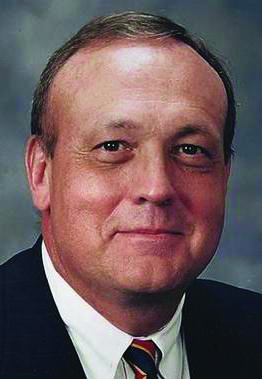 Tom Hoy, chairman of the board of directors of Arrow Financial Corp., with dual goals of having a positive impact on hundreds of local jobs in the next five years, as well as attracting new business investment in a variety of sectors, the Economic Development Corporation Warren County has launching a three-year campaign to increase private sector participation and investment.
Tom Hoy, presently CEO and Chairman of Glens Falls National Bank, who has long played a leadership role in the region's economic growth, will champion the EDC's efforts from 2013 through 2015, the agency said.
Between 2013 and 2015, the campaign, titled "Let's Grow Warren County," will focus on growing the private sector investments it receives, through increased contributions by existing members as well as the addition of 20 percent more private sector investors, according to the EDC.
"EDC Warren County is extremely fortunate to have Tom Hoy leading our campaign to build private sector support," said incoming EDC Board Chairman Charles Barton, COO of Barton International. "With his career expertise in banking and keen understanding of business financing, Tom has an in-depth understanding of the challenges our local businesses face, and he knows exactly how EDC Warren County can be beneficial to their growth."
Incoming EDC board Vice Chairman Kurt Jaeger, executive vice president at Jaeger & Flynn, is chairing EDC's Investor Relations committee, which will be contacting local businesses to share information about the EDC and the many ways it can assist local businesses.
According to EDC President Vicki Pratt Gerbino, the 2013 adopted budget anticipates private sector investment to be about 17 percent. Both the town of Queensbury and Warren County contract for economic development services with the EDC Warren County, and those contracts comprise 83 percent of the 2013 operating budget. "Ideally, over the long term, we'll move toward a 50-50 public/private ratio, and this campaign will move us in that direction," she said.
"Economic development is a sustained effort. It's something we have to do forever," said Hoy, who was one of the original founders of the EDC in the early 1990s. "Now is the time for all the businesses of Warren County to back the EDC's work with their active participation and their investments. It's the only way we're going to remain competitive and grow this region."
"The targeted goals reflect our commitment to engage in a long-range marketing strategy to retain and grow existing businesses and to attract new ones. Long-term work requires long-term funding," said Gerbino. "EDC works to promote Warren County as a competitive location for business investment. The level of funding available to us dictates the quality and quantity of our business outreach efforts and impacts our ability to work on local issues that impact our competitiveness. Access to incentives and other economic development resources are drying up at the state and federal level. Our community's growth truly is our responsibility."
Said Jaeger, "EDC is a well-connected organization that knows how to leverage both connections and finances. Who doesn't need a little more of that expertise in the current business climate? It's quite easy to make a strong business case for involvement and investment in the EDC."
EDC is a public-private non-profit partnership focused on driving private-sector business investment in Warren County. Established in 1992, EDC has delivered assistance to businesses responsible for impacting over 5,000 jobs and more than $480 million in new investments across Warren County.