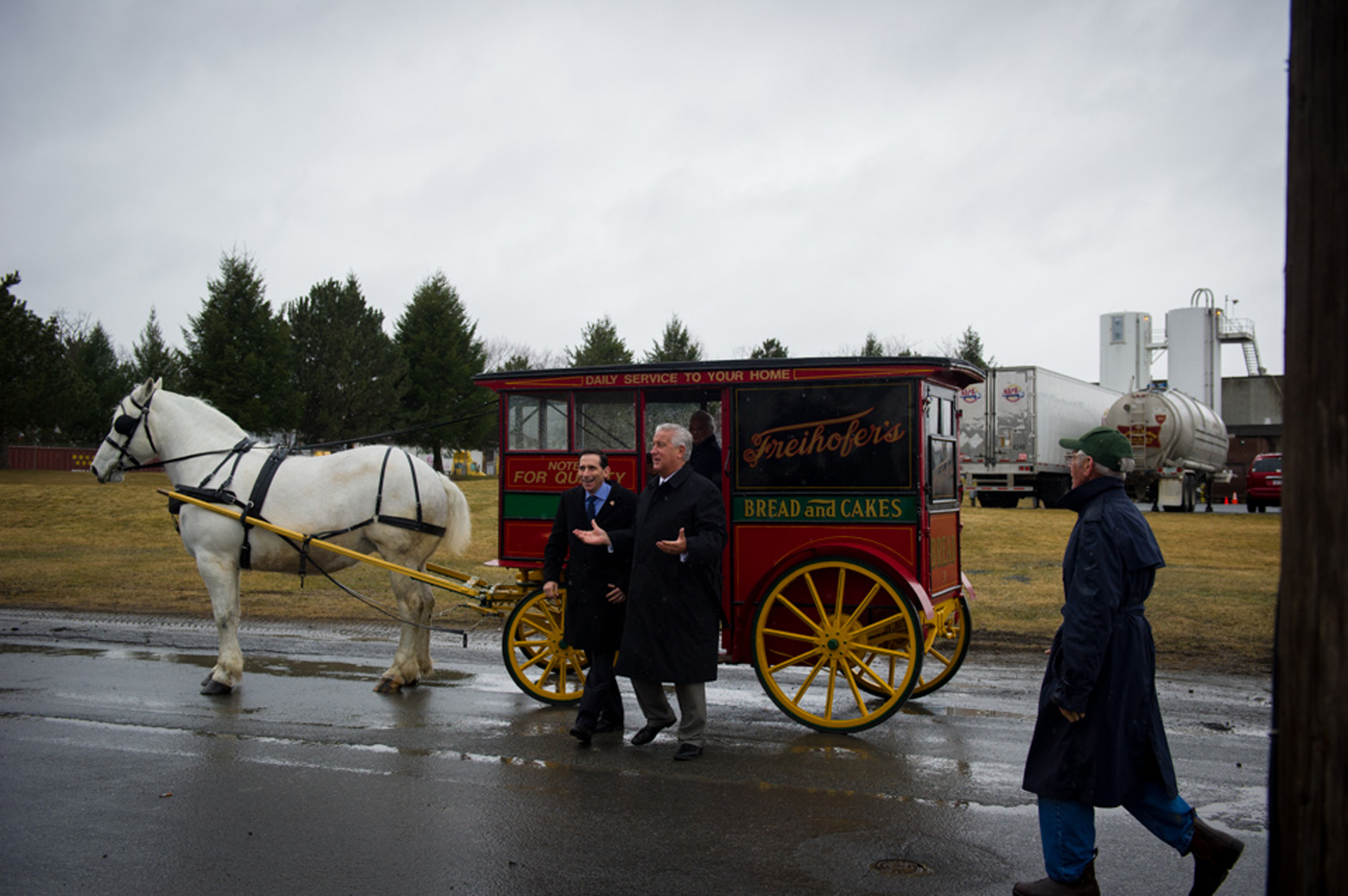 Charles Freihofer Baking Co., synonymous with baked goods in the area for many years, is celebrating its 100th anniversary.
The events got kicked off in March in Albany when Mayor Gerald Jennings unveiled the honorary "Freihofer's Way" street sign on Prospect Avenue in that city, the home of Freihofer's bread bakery.
The bread and baked goods company will also celebrate by giving away up to 40,000 loaves of bread to consumers and charitable organizations throughout the year, company officials said.
Jennings was joined at the sign unveiling by Freihofer's vice president of sales, Mike Loscalzo, and associates from the bread factory.
"On this day, in 1913, we opened our bakery in Troy and have worked to establish ourselves in the communities we serve by providing quality products," said Loscalzo during the unveiling event.
Freihofer's is launching its anniversary campaign, "The More You Get, The More We Give." Officials said free loaves of bread will be handed out at planned events and random locations to attendees while supplies last; the number of loaves distributed during these events will be matched in a donation to a previously determined food bank or charity.
Freihofer's will give away up to 1,000 loaves per event at approximately 20 events between now and the end of the year, according to the company. Events will take place throughout the Northeast in key markets.
Events may include an appearance from the Freihofer's original, old-fashioned delivery system, a horse and wagon used up until 1962, or a vintage truck used for home deliveries through the early 1970s, officials said.
The company will announce these upcoming events, share pictures, and track charitable donations on its Facebook page.
Freihofer's will also host an Anniversary iPad Giveaway on Facebook that lasts through June 20. An iPad will be awarded to 15 weekly winners entering the sweepstakes, according to the company.
In addition to the iPad giveaway, at participating retailers, customers will find a Freihofer's old-time favorite, the hermit cookie, accompanied by other limited time product offerings, including the new celebration cookie and bite-size oatmeal raisin cookie.
The famous Freihofer's chocolate chip cookies will be in special anniversary packaging and many loaves of bread will highlight the anniversary ribbon with the Freihofer's large white loaf featuring all-new anniversary wrapping, the company said.
All limited edition products can be purchased through the end of 2013, while supplies last.
After the Charles Freihofer Baking Co. opened its doors, Troy residents found free loaves of its pan bread or French bread on their doorsteps for four days. At the end of that period, customers could elect to have home delivery continue for 5 cents per loaf, according to the company's history.
Officials said two weeks after opening nature struck with torrential rain and the Hudson River reached its highest mark since 1886. People were stranded without food and shelter. Some families were even forced to camp out on the roofs of their home. The bakery had to be closed for several days because of water damage but soon reopened and started efforts to aid its waterlogged neighbors.
The company distributed hundreds of loaves of bread to residents of Stow Hill, the 11th Ward, and Waterford.
The public noticed and the company prospered at its new home in Troy, officials noted. In 1914, a second plant was built in Schenectady and a third was added in Albany in 1915. In 1919, Freihofer's added a cake plant with the purchase of Schupp Bread Bakery and offered a different cake each day of the week.
The Freihofer family and baking company has been an integral part of the area communities since their arrival in Troy in 1913, said Jennings during the celebratory event, adding, "their unwavering support for our citizens and the surrounding communities has been monumental over these 100 years. I am happy that they call Albany home."
Now 100 years later, Freihofer's continues its dedication to the area, said officials, as well as the other markets they serve in the states of New York, New Jersey, Pennsylvania, Connecticut, Massachusetts, Rhode Island, New Hampshire, Vermont, and Maine.
For more information, visit the company on Facebook at www.facebook.com/FreihofersBakery or at www.freihofers.com.