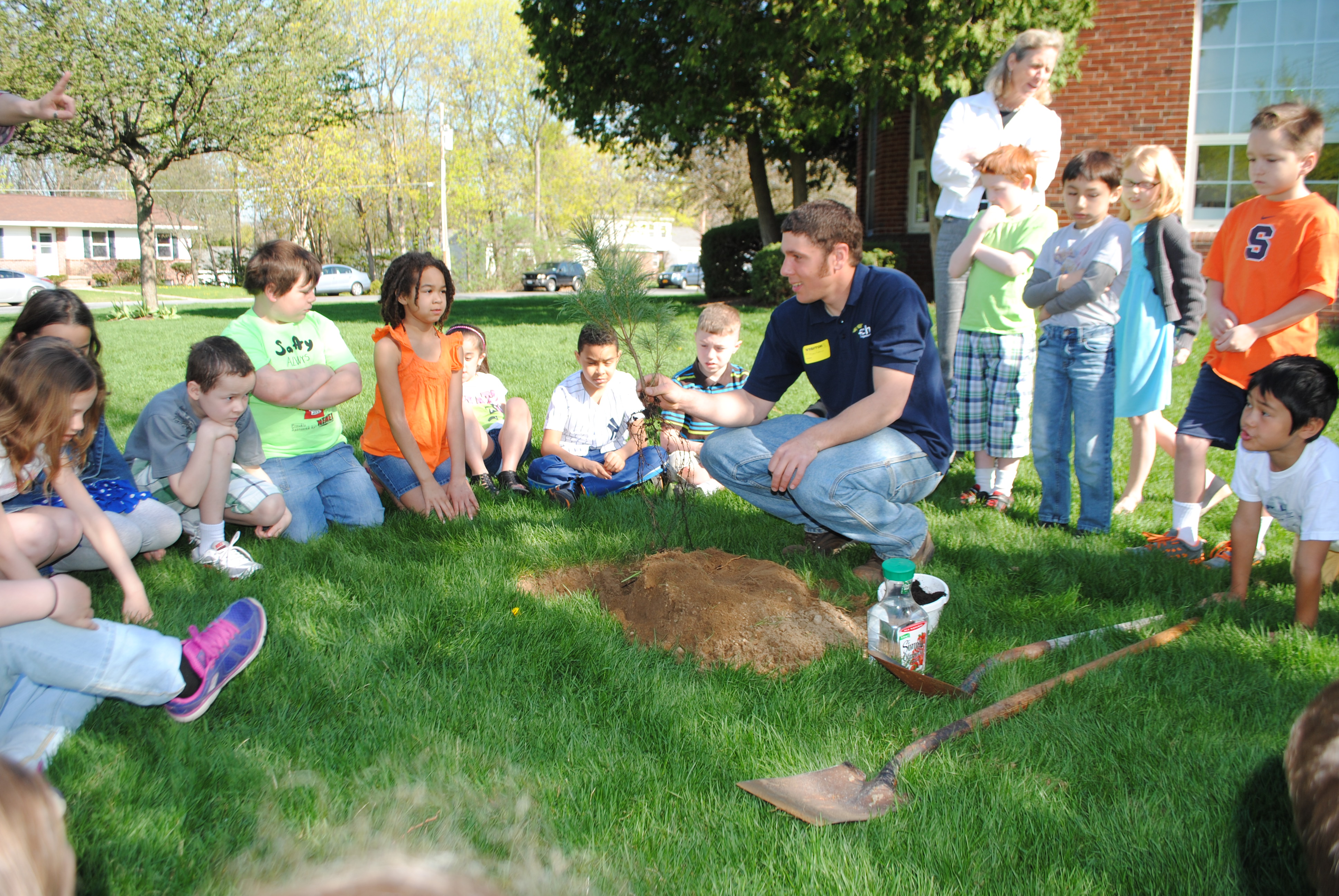 In celebration of Arbor Day, professional foresters from Finch Paper recently visited elementary schools in Glens Falls to spread the message about the vital role trees play in people's lives.
Finch foresters visited third graders at Abraham Wing School, Big Cross Street Elementary School, Jackson Heights Elementary School and Kensington Road Elementary School.
The visits began with a reading of the book, "The Tree Farmer," co-authored by Chuck Leavell, longtime keyboardist for the Rolling Stones, who is also a tree farmer and conservationist.
The book explains how trees provide us with the wood for our homes, furniture, pulpwood for paper and other products; and how it is people's responsibility to keep forests growing. Following the reading, the foresters planted a White Pine seedling on each of the school's grounds.
The seedlings were provided by the state DEC Saratoga Tree Nursery. Potting soil was provided by Garden Time of Queensbury.
In addition to the tree-planting events, Finch Paper donated books and seedlings to St. Mary's St. Alphonsus Regional Catholic School in Glens Falls, as well as elementary schools in Lake George, Hudson Falls, Queensbury, South Glens Falls, and Fort Edward. "As a company that relies on trees for paper, we have an inherent responsibility to be stewards of our forests," said Mike McLarty, Finch Paper vice president of forestry and wood procurement. "Our foresters practice and teach sustainable forestry in the woods every day, and we're happy to share their knowledge of trees with area students."
Finch Paper manufactures more than 255,000 tons per year of uncoated printing papers at its mill in Glens Falls. The company is also widely recognized for its commitment to sustainable forestry.
Finch's forestry division, Finch Forest Management, employs a team of five professional foresters who help landowners large and small achieve sustainable goals including improved forest health, enhanced recreational opportunities, third-party certification and reduced ownership costs.
To learn more about Finch Forest Management, call 793-2541 ext. 5693, or visit www.finchforestmanagement.com.