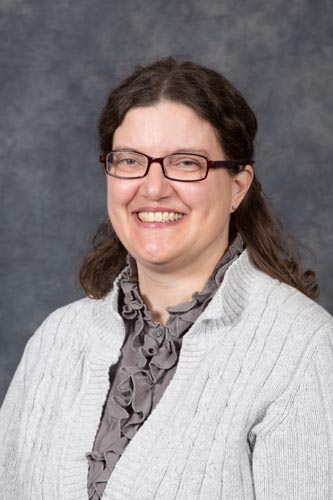 The Board of Trustees of Crandall Public Library named Acting Director Kathleen Naftaly as new director of the library.
She was selected from among 23 candidates nationwide and took the job effective May 1.
Naftaly, a 12-year Crandall Public Library employee, has served as acting director since the retirement of longtime director Christine McDonald in July 2012.
"We all wish her the best as the library goes forward to even greater achievements under her leadership," said Sanford Searleman, president of the board.
"I am beyond thrilled," Naftaly said. "I love this library. I think the fit is going to be magical, and I thank the trustees for entrusting me to help write the next chapter in this wonderful library's story. I have been a passionate advocate for public libraries and the knowledge, culture, stability, connections and quality of life they bring to communities my entire life. I look forward to working with our talented staff to make the library experience even more enjoyable for our patrons of all ages and interests."
During her tenure as acting director, Naftaly oversaw a 30 percent increase in donations to the library's annual appeal, and secured new funding for programs and services from the New York Council for the Arts and the National Endowment for the Humanities among other sources, library officials said.
As assistant director for five years, she led the implementation of the library's customer-friendly electronic cataloguing and self-check-out systems; served as the coordinator of the library's move into temporary quarters in downtown Glens Falls and back to the newly renovated library.
In her career she has secured grants from such organizations as the National Science Foundation and the Bill & Melinda Gates Foundation; and served as a key community liaison, developing partnerships with businesses and other not-for-profit organizations across the library's service area.
Naftaly, a native Californian, joined Crandall Public Library as a librarian in September 2001 and earned a series of promotions, becoming assistant director in 2007. Prior to coming to Crandall, she served as assistant director of the Rutland Free Library in Rutland, Vt., cataloging librarian at SUNY Adirondack; and library assistant at Burlingame Public Library in Burlingame, Calif.
Naftaly holds a master of library science degree from San Jose State University in San Jose, Calif.; a master of arts in anthropology from California State University in Hayward, Calif.; and a bachelor of arts in human biology from Stanford University in Palo Alto, Calif. She is president of the Public Library Section of the New York Library Association, a past president of the Vermont Library Association and was named MCI Cybrarian of the Year for the state of Vermont in 1998.