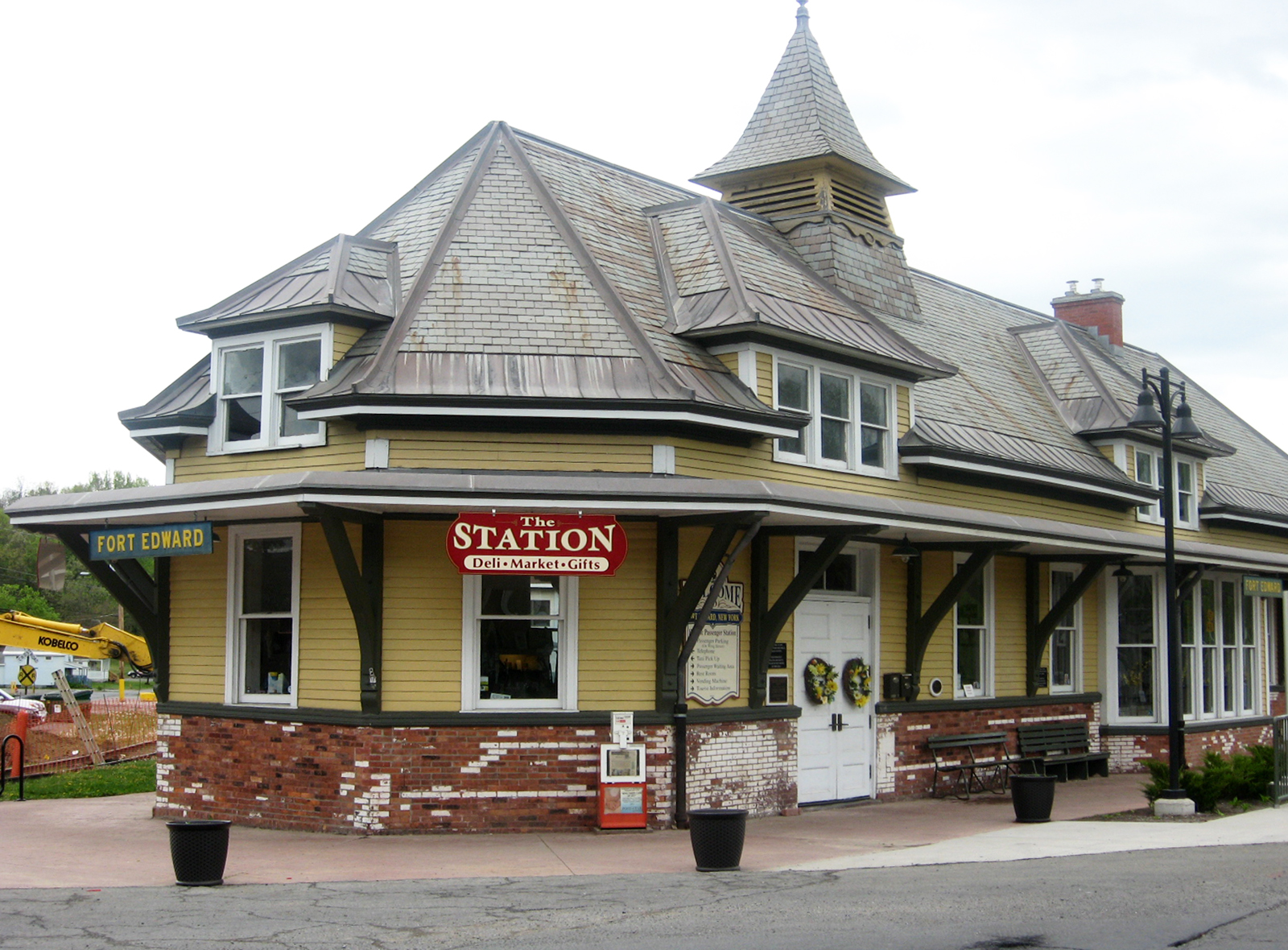 By Pamela Fisher
A new business, The Station, a deli and gift shop, officially opened in the historic Fort Edward train station on East Street on April 15.
The business is a family venture managed by Ella Collins, retired superintendent of Abe Wing School and longtime Fort Edward resident. Collins co-owns the business with her daughters, Sarah Ignazio, a pharmacist with CVS in Queensbury, and Nicole Beecher, senior district manager at Automatic Data Processing.
The business is a true family affair. Ignazio's husband, Dana, serves as co-manager. Beecher's husband, Joel, handled much of the building renovation. Dana's son, Tyler, also works in the store.
According to the family, The Station exists after years of exploring small business opportunities throughout the region. Beecher, who majored in entrepreneurship at Siena College, said she has long considered opening a business and is thrilled to see her dream come true in her hometown of Fort Edward.
"I take pride in being here," she said. "Everybody knows everybody. If we had opened in Saratoga or Albany, who would have stopped in? Our opening day, we were extremely busy. Community members stopped by to grab coffee, to eat lunch, to order to-go items, or even just to say hello. Business has remained steady ever since."
The space was previously occupied by Timeless Art, a gift shop that closed in 2012. The Station's owners learned of the vacancy through a contact on the board of the Fort Edward Local Development Corp., and soon after opted to sign a two-year lease.
The staff began with just the retail section, selling gift items like Root candles, Cinda B. handbags, Barkeater chocolates, Crabtree and Evelyn toiletries, and Stonewall Kitchen foods, among others. They took their time before officially opening the deli portion of the business.
"We wanted to open not just in a location that would do well with gifts," said Beecher. "We knew food was key. So many travelers commented how they wished there was food here. There were plenty of times we could have opened early, but we were particular about which vendors to bring in."
A new mother, Beecher joked that "all the taste-testing wasn't good for the diet," but added, "Our patience resulted in confidently knowing that customers are being offered a quality product."
The Station's deli exclusively offers Boar's Head meats and cheeses, which are used to create specialty sandwiches, as well as paninis. Beecher said all soups, sauces, and desserts are homemade, and all salads are made fresh daily.
She said the sandwiches are already popular, bringing in repeat lunch customers in their first month of business. She noted customer favorites include "The Whistle," chicken salad and cranberry spread on ciabatta; "The Traveler," turkey, bacon, cheddar, lettuce, and cranberry mayo on wheatberry bread; and "The Boxcar," roast beef, cheddar onions and horseradish mayo on rye. All specialty sandwiches are served in-house or to-go with gourmet chips, pickle, and a salad of the day.
Beecher said the to-go orders are growing in popularity. In the first week, they handled lunch orders for Irving Tissue, Fort Edward School and Washington County staff all on the same day.
"We sent an order to Irving," said Beecher, "And 20 minutes later, the company called us back with another order. More staff saw the sandwiches and wanted their own." Beecher said the deli is popular with travelers, and many call the business from the trains with pick-up orders.
"The travelers are great," said Beecher. "But we won't survive on them alone. We need the local support."
For the future, Beecher said she hopes The Station can collaborate with other local businesses and help one another. "I'd love for The Station to take part in growing the area, and to assist in bringing additional quality businesses to Fort Edward."
The Station is open 8 a.m. to 4:30 p.m. Monday through Friday and 10 a.m. to 4 p.m. on Saturday. For more information, call 832-4455. The business also has a Facebook page found at "The Station- Fort Edward Train Station."