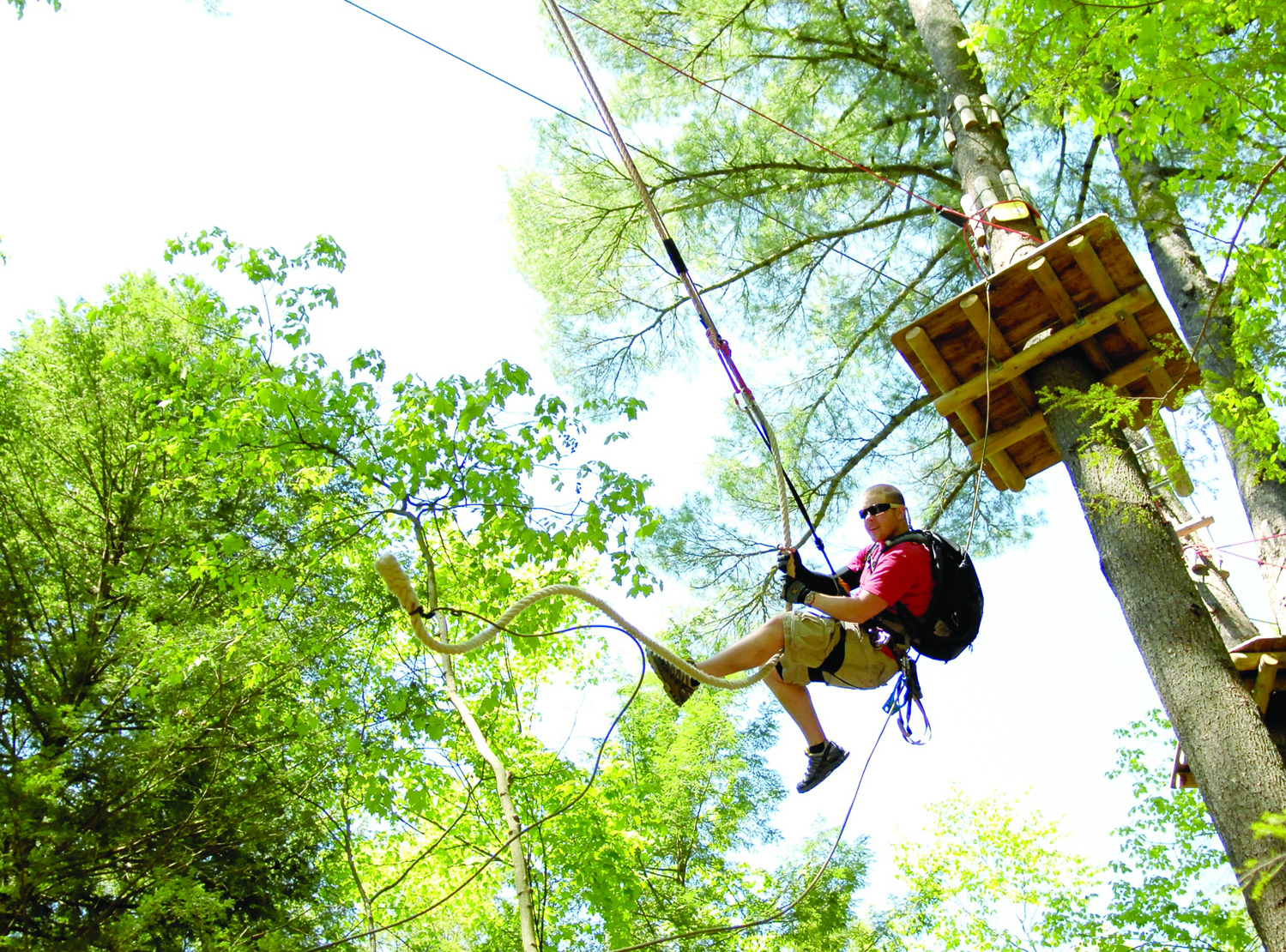 By Mark Genovese
Many well-run businesses do their most important work in teams. But there are differet way to cultivate teamwork among employees.
Members of the Young Professionals Organization (YPO) of the Adirondack Regional Chamber of Commerce recently decided one way was to take part in the high-ropes courses at Adirondack Extreme Adventure Course in Bolton Landing.
"The YPO first sponsored a day at Adirondack Extreme about three years ago. It went over so well, that we'd received numerous requests to do it again," said Greg Chanese, the Chamber's marketing and communications manager. So they scheduled a session for this past July. Once again, it was so popular that members want to go back.
The YPO is a program that holds regular events and meetings for local professionals age 40 and younger. The goal is to build relationships among the peers with whom they will interact with throughout their careers. The program takes such events out of the traditional office environment, to make networking more fun. A day at Adirondack Extreme was a natural fit.
"We're an aerial adventure park," said Jaime Johnson, owner of Adirondack Extreme. "We have six adult courses with 10 to 17 obstacles each like wobbly rope bridges, Tarzan swings, zip lines, hanging nets, and swinging surprises. All are designed to test the mind, body and spirit."
Obstacles in each course increase in height and difficulty as participants go along. "We want our visitors to challenge themselves, to see just how far they can take themselves," Johnson said.
Chanese said that YPO members found the experience of helping each other conquer these obstacles to be rewarding.
"They felt it really enabled them to bond as a group. In order to complete the courses, they had to interact with each other and build mutual trust," he noted.
"Participants learn in a practical way about problem solving, communication, leadership, and support," Chanese said. "Because the activities are engaging and entertaining, the lessons are accepted easily."
Studies have shown that after such events, participants often report that they communicate better with other employees, collaborate with other departments instead of compete, employees who are not usually engaged in team meetings offer their ideas, and new leaders emerge.
Most businesses schedule their employee outings at Adirondack Extreme on weekdays during the spring and fall, when the park cuts its public hours back to just weekends. "We get reservations from many companies that are holding meetings at the Sagamore," Johnson said. "So they come over to our trees to play."
During the summer, the park is just about sold out every day.
Staff help visitors prepare with a 30-minute training. Each participant is fitted with a safety harness and given instructions on attach themselves to safety lines and zip lines. This gives visitors the knowledge and guidelines to self-manage the equipment designed for personal safety as they travel from tree to tree.
"Visitors must demonstrate the ability to use the equipment properly before they can continue," Johnson said. "Once a guide determines that they can safely use the equipment, they can continue onto a course."
Although all courses are self-guided, staff observe and advise visitors from the trails below.
Adirondack Extreme has an impeccable safety record. With nearly 30,000 visitors per season over five years, there has never been an injury at the facility, other than a few bumps and bruises and a pinched finger or two, according to the staff.
Adirondack Extreme is open from April to November, in just about all weather, from 8:30 a.m. to 8 p.m. Groups of up to 25 people leave the starting point every half hour. The run of the day starts at 4:30 p.m.
For more information on the Young Professionals Organization, call the Adirondack Chamber of Commerce at 798-1761 or visit www.adirondackchamber.org. For information on Adirondack Extreme, call at 494-7200 or visit www.adirondackextreme.com.