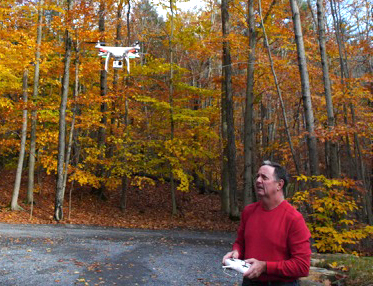 By Jill Nagy
Whirligigz Aerial Photography, a new company
based in Lake George, can provide businesses
with a bird's-eye view of their properties, taken by
a camera in the skies. But not from an airplane.
Owner Fred Pflaum employs a remote-controlled,
battery-operated, four-engine minihelicopter
to accomplish the task.
Pflaum said his "minicopter" flies closer to the
ground than an aerial photography airplane or the
technology used for Google Earth. The views are, of
course, higher than ground level, providing detail
and perspective not possible from ground level.
"I can shoot at any height that I want and at any distance that I want," he explained.
The minicopter looks like a cross between a miniature Stealth bomber and a set of four pinwheels.
Pflaum doesn't want to call it a drone because of the negative implications of that term but, essentially, it is a civilian version of that kind of military spy craft–with the important differences that it only spies by invitation and is armed only with a camera.
The vehicle is powered by rechargeable lithium polymer batteries. It can fly for 12 minutes on a charge, long enough to take 100-150 photographs. Currently, the system is set up to take a picture every five seconds. A new camera and an earthbound monitor will allow Pflaum to take photographs on command. He usually takes seven or eight batteries with him on a shoot.
Pflaum's camera is a light, compact Panasonic GH-30, he said, that can take both still photographs and "excellent video." He has on order a full-sized 35mm single-lens reflex digital camera.
For Pflaum, a retired attorney, this new business is not an Act II but more like an Act IV. He grew up on Long Island, in Rockville Centre, where he and his friends built and flew remote-controlled model airplanes. After graduating from SUNY Albany in 1971, he taught English for a few years, then went to Florida for law school and practiced law in that state before taking an early retirement. His first post-retirement career was as a U.S. Coast Guard licensed boat captain, taking a trawler up and down the East Coast for three years. Along the way, he also obtained a pilot's license for real airplanes.
Over the years, he and his family often returned to New York state to vacation in the Adirondacks and on Lake George.
"I was always in love with the Adirondacks," he said. He has some family in Westchester County and two grown children in San Francisco. He now lives on Kattskill Bay, near Pilot's Knob.
Despite early experience with model airplanes and more recent experience with real ones, Pflaum found the process of learning to fly a minicopter "very complicated." He taught himself, beginning with a computer simulator. "Everyone should start with a simulator," he advised, to minimize the number of minicopters that crash during the learning process.
He found the process very different from flying model airplanes, partly because of difficulty in distinguishing right from left as the vehicle changes direction. "Left is left and right is right only when the copter is pointed away," he explained, "When it points toward you, you have to do the opposite." Things are further complicated when the vehicle flies at an angle.
He flies everyday, he said, and logs every flight. As of the end of October, he had completed 400 flights.
Photography, the other skill needed for the business, has been "a hobby and a passion," as long as he can remember.
An entry-level minicopter, costs about $1,000, without the camera. His new vehicle will cost about ten times that much.
Photographing real estate "just seemed like a natural" to Pflaum. He knew of someone doing it in Sarasota, Fla., and found that it provided "a completely different perspective, especially for waterfront property."
To photograph a typical "standard real estate site," Pflaum charges $200 plus mileage if he has to drive more than 30 miles from home.
Pflaum can be reached at 577-2447 or by e-mail at fred@whirligigz.com.
Photo Courtesy of Whirligigz