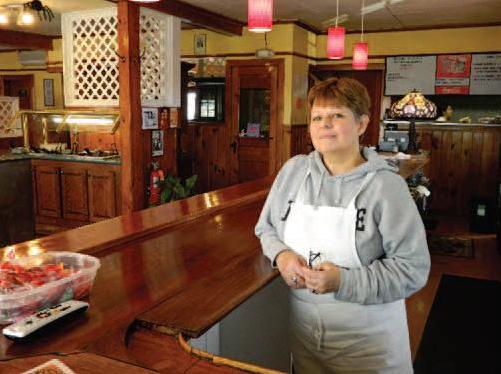 By Lisa Balshunat
A lifelong dream of owning and operating
a Cuban restaurant came true for Elizabeth
Davis in mid-October when she opened
Abuelo's Cafe in Fort Edward, featuring the
food she learned to cook in her mother's
and grandmother's kitchens when she was
a young girl.
Abuelo's Cafe, located across from GE
at 368 Broadway St., features Cuban and
American fare, including the traditional Cuban
sandwich: slices of Cuban-style roasted
pork, Virginia-style ham, brown mustard,
pickle, swiss cheese and mojo sauce. It also
has rotating specials like chicken fricasse,
talapia with plantains, arroz con pollo,
(browned chicken with rice, onions, garlic
and tomato), picadillo (a Cuban sloppy joe)
and papa rellenas (fried potato balls stuffed
with picadillo).
"I've always loved to cook," Davis said. "When I was very little, I was always given things to do in the kitchen." She was born in Havana in 1959, but said her parents realized then that Fidel Castro was not working for the good of the people, so they left the country in 1963, moved to the U.S. and raised their three children in Astoria, Queens.
"When I was growing up my mother taught me how to cook everything Cuban," she said.
"We cooked for big Sunday family dinners with black beans, red beans, garlic, olive oil, Spanish onions, peppers, olives, cumin, lemon and capers."
At Abuelo's, Davis and her head chef, Siobhan Goe, a SUNY Adirondack culinary arts graduate, have perfected the family mojo sauce and are roasting the marinated pork in-house — two critical ingredients to an exceptional Cuban sandwich.
Davis is new to the restaurant business and the restaurant has been open for about a month. "We've gone from crawling to walking to running," she said. "It's incredible. Some days I feel like I am on a tight rope. It's a balancing act … I've never worked this hard before and never loved being anywhere as much as I love being in this kitchen."
Davis moved to the region in 1997 and worked in the hospitality industry for over a decade, including front desk and night auditing positions at the Queensbury Hotel in Glens Falls and Holiday Inn Turf in Lake George.
To assist her, Davis received a $10,000 loan from the Washington County Local Development Corp. to procure equipment, licenses and insurance. She was able to open the doors thanks to the tireless efforts of her family and friends.
"And, I can't thank George Dunnigan, the building owner, enough for taking a chance on Abuelo's. It turns out George is a fanatic about Cuban food," she said. "When he heard I wanted to open a Cuban restaurant he said he would help me in every way possible, and he did and here we are."
Abuelo's currently employs a full-time head chef, part-time manager and two waitresses.
Davis is working on an on-line menu and will have a formal ribbon cutting ceremony this month with the Adirondack Regional Chamber of Commerce .
Centuries ago, the building was a stagecoach stop for people traveling between New York City and Lake George. Today, amidst a smattering of Havana photos and several of Lucy and Desi Arnaz, stands the old ticket booth — a piece of history preserved — between the dining area and the kitchen. If travelers stop by Abuelo's not only can they order a Cuban meal, but they can finish it with an authentic Cafe Bustelo coffee espresso and flan (caramelized egg custard), or other Cuban desserts.
Davis named her restaurant Abuelo's to honor her father.
Davis said she has had many take out orders from GE and the Washington County Municipal Center worker. "Peoples' interest in ethnic food has increased with the Food Network; with all the cooking shows and cooking challenges on TV," she said. "People are looking for unique food and ethnic foods, and that's what we've got."
Abuelo's serves lunch and dinner Monday to Friday, from 11 a.m. to 8 p.m., and Saturday, noon to 8 p.m. To make reservations, call 409-4183 or find Abuelo's on facebook.
Photo Courtesy of Lisa Balschunat