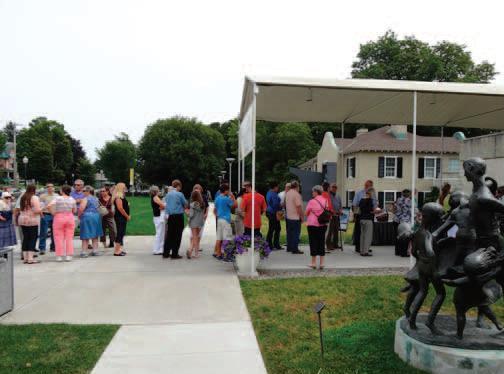 Officials at he Hyde Collection in Glens
Falls reported that the museum had a positive
economic impact on the region to the
tune of some $2.3 million from Sept. 1, 2012,
to Sept. 1 of this year.
Officials said the strong year culminated
with the success of the summer's Georgia
O'Keeffe exhibition, "Modern Nature: Georgia
O'Keeffe and Lake George."
In 2000, RKG Associates, a consulting
firm based in New Hampshire, was retained
by The Hyde Collection to assist in developing
an estimate of its impact on Warren
County's economy. The model was updated
by museum staff in 2013.
Economic indicators include direct impacts, such as employment and wages of the staff and purchases of goods and services pertaining to the operation of the museum's business, as well as the impact of commensurate levels of employment (direct and indirect) which the purchases from Warren County vendors support, museum officials said.
Another segment of the calculations focused on indirect, or "spin-off" impacts from the dollars generated by tourists and visitors to the museum, as well as other spin-off Warren County businesses and services, the museum reported. These impacts factored the intangible benefits which arts/ cultural amenities bring to the dynamic of a downtown district and its economy.
"Besides contributing to the quality of life of our residents and being a major cultural resource for our region, this study confirms the significant commercial and economic impact we have on the financial health of our entire community," said Hyde Director Charles Guerin.
During the time period of the study, The Hyde had over 44,000 visitors, the museum reported. Those from Warren County ,who came as general admission to the museum, had a 25 percent likelihood of additional consumption. Officials reported a spending of $25 per person tied in with their visit. This group represented almost 6,000 visitors, or about 13 percent of the total.
Regional visitors from outside of Warren County, such as the Adirondack and Capital Region, represented about 12,500 visitors, of 28 percent of the total. They had a 30 percent likelihood of spending $40 per person in the area.
Certain visitor segments, such those attending the Hyde from out of the region, out of the state, and out of the country represented 14,500 visitors, or 32 percent of the total, officials said. Those visitors had a 50 percent likelihood of spending a about $50 per person in the area. Additionally, about one-quarter of those visitors stayed in Warren County hotels, inns, and cottages according to attendance surveys.
The Hyde Collection, at 161 Warren St., Glens Falls, is a historic house and art museum complex with a collection consisting of works by American and European artists such as Botticelli, Rubens, Rembrandt, Picasso, Homer and Eakins, as well as important decorative arts and antique furnishings.
It provides changing exhibitions in two gallery spaces, lectures, concerts, family activities and school programming. For information visit www.hydecollection.org or call 792-1761.
Photo Courtesy of Alice Grether