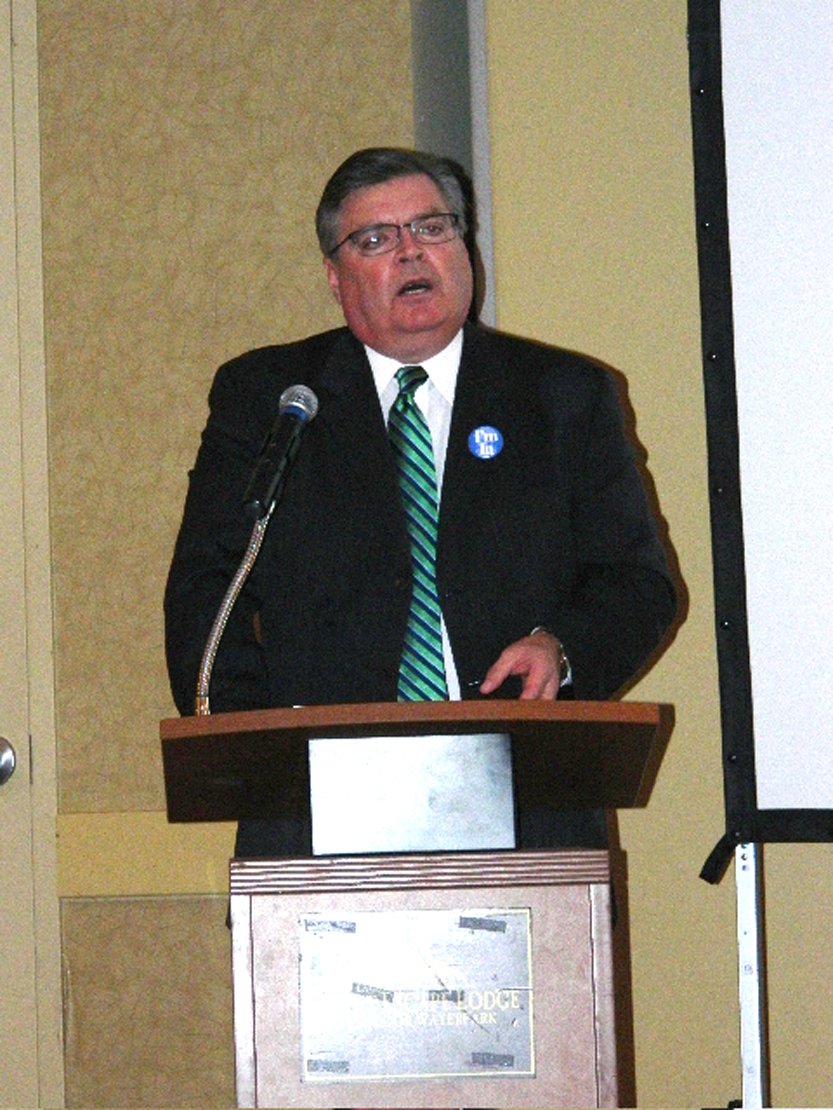 By Lisa Balschunat
Eager to know how the North Country can benefit economically from forecasted "ramping up" efforts at GlobalFoundries microchip manufacturing plant in Malta, and what the Center for Economic Growth (CEG) sees on the horizon, the Adirondack Chamber of Commerce hosted in November a business forecast luncheon at the Great Escape Lodge in Queensbury for its members, with 150 people attending.
Guest Speakers F. Michael Tucker, president and CEO of CEG, and J. Gregory Connors, project specialist of government relations and regulatory affairs for GlobalFoundries, reported on the anticipated growth in manufacturing at the Fab 8 chip factory on the Luther Forest Technology Campus and "spill over" that can greatly benefit surrounding communities as far north as Glens Falls, Lake George and additional points north into the Adirondack Park.
"We are at the forefront of regional opportunity and economic development initiatives," said CEG's Tucker. "Government entities, agencies, chambers of commerce, local government councils and coalitions are deepening public policy discussion to identify real issues, despite the old parochial mindsets, real dialog and collaboration is taking place."
"Tremendous development and educational opportunities are emerging by working collaboratively within our region," he said. "We are committed to having nano-tech here … We are part of the New York Loves Nano and Cleantech Regional marketing campaign and the New York-Quebec Summit Green Corridor."
CEG also is partnered with Tech Connex, Bio Connex, the Department of Environmental Conservation and Adirondack Economic Development.
He cautioned, "We can't take the risk of growing only a semiconductor business here. We are looking at advanced materials, biotechnology and clean technology. We need to be in the middle of everywhere. When we take the risk to market the area together the entire region benefits.
"While, I am thrilled that manufacturing is here," he added. "It is critically important to have the research and development hubs here. When a major corporation expands its facilities it makes the corporate headquarters stronger. GlobalFoundries could have set up headquarters anywhere in the world and they chose here."
Tucker said the North Country recreational opportunities and quality of life continue to be an attractive asset to attract other high-tech companies to the area. He pointed out that 60 percent of the Adirondack Park is within the established North Country economic development region and that the hospitality businesses will continue to benefit from Tech Valley growth.
However, controlled growth also is critically important. "We are trying to get ahead of the curve," Tucker said, "but we also don't want to be like Austin, where we grow too quickly."
"GlobalFoundries is truly the first global foundry in the U.S.," Connors told the group, and is currently an $11 billion business that employs 2,200 people locally and 13,000 worldwide, with plants in Dresden, Germany, Singapore and Abu Dhabi. He said the Fab 8 chip factory is producing semiconductors – the number one global export — found in microprocessors, gaming consoles, portable radios, televisions, stereo equipment and most electronics.
"Our success is based on technology that hasn't even been invented yet," Connors said. "We are at the tip of the iceberg to what we're developing. We are working to bring advanced manufacturing to the region. We have a relationship with the Department of Defense and are looking at what will our technology bring to the security of our nation."
He added, "Driving innovation require the best and the brightest to compete. We have partnered with GE, RPI, Union College, Samatech, the M&W Group and others — all exciting and worthwhile investments. Sometimes the word collaboration is used loosely in our profession, but I stand here before you to say all that has transpired in this region is based on true collaboration and, every corner in this region is touched by GlobalFoundries."
He said 500 people attended the company's November open house to learn about the world's most advanced fabrication at Fab 8, with 2.7 million square feet of space, situated on 220 acres in Malta and Stillwater.
"The economic engine is driven now by our ramp-up supports jobs," Connors said. "We have the largest project labor agreement with the building trades. We have 950 to 1,200 workers on site every day. We appreciate the economics of bringing laborers on site everyday. We are keeping construction programs on track to put back into the economy." Regarding employment, he said, the company has hired 77 percent of employees from within the U.S. and 23 percent from outside our country.
"We are looking for homegrown talent, but 34 countries presently represent our work force," Connors stated.
He noted that 70 percent of GlobalFoundries employees live in Saratoga County, with some living as far north as Queensbury.
"The economic impact doesn't end at the end of the business day," Connors said. "Our people are shopping and dining and furnishing their homes in the region. Try to get a table at a restaurant in Malta, Clifton Park and Saratoga these days. It's not as easy as it used to be."
"We are working hard to make the region our home," Collins said of GlobalFoundries. "We're good neighbors with good corporate incentives and education initiatives. We are partners in government and in business. We are funding schools, volunteer fire departments and community organization for the betterment of all."
"We are the second largest chip fab making company in the world. Our CEO, Ajit Manocha, has stated a number of times that our global matrix make us a more global society," he said.
He said the North Country region offers a quality of life, diversity of housing and recreational opportunities by the lakes and woods that adds to "the vibrancy of what people want to see beyond their work walls. Your region is at a tipping point. You can't afford not to be here to support our infrastructure, to offer jobs to the trailing spouse, to provide education, culture and a genuine appreciation for what the region has to offer."
Photo Courtesy of Lisa Balschunat