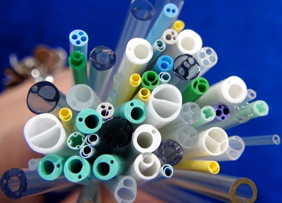 By Jill Nagy
After dipping their toes into the water of overseas manufacturing, Precision Extrusion Inc., closed its plant in Hangzhou, China, brought its equipment back to Glens Falls, and has decided to "focus on home," according to company president Mike Badera.
The Chinese experience was not a happy one.
"We had all the problems you hear about," Badera said. The company found it difficult to manage an operation so far from home. Chinese government promises of financial benefits did not pan out. Qualified employees were hard to find and the cost of labor in China was increasing.
"It was not what we need to be doing right now," he said.
The company makes specialty plastic tubing, most of it for medical devices, and services a worldwide market, about 20 percent of it outside the United States. They serve a very specialized, niche, market.
"We make things that others can't make, don't want to make, or can't make as well," Badera said.
The company is in its fourth year of double-digit growth and in the process of expanding both its physical plant and its work force, he said.
They are adding some 7,000 square feet of manufacturing, clean room, office, cafeteria and related space to the building. When completed in early September, if all goes well, the company's building in the Glens Falls Technical Park will be 22,000 square feet. Until then, space is very tight.
They hired a few people in 2012, two or three more in 2013, and expect to hire three or four more by the end of 2014.
The manufacturing process employs computerized equipment, monitored by online lasers, according to the company's website.
Precision Extrusion is certified by the International Standards Organization (ISO) both for general manufacturing (ISO 9001) and for the manufacture of medical devices (ISO 13485). Badera believes that his is the only dual-certified company in the field.
The certification not only differentiates Precision Extrusion from its competitors, it is also important to customers, especially to international customers, he said. If the plastic tubing, which is often the most complicated part of a medical device, comes from a dual-certified manufacturer, he said, it helps customers meet standards and get their finished devices approved.
Badera said even in upstate New York, it is not easy to find qualified employees. Production is complicated, he explained, and almost every order is unique. He looks for people who are "able to think on their feet" and provide "a lot of tender loving care."
Even an experienced extrusion operator will need some months of training to meet the company's exacting standards, he said.
Typically, Precision Extrusion creates new products to meet customers' specifications. They often work with unusual materials and create small-diameter tubing that might, for example, become part of a catheter.
Badera finds that the cost of manufacturing in Glens Falls is now more competitive, and they are able to continue to serve the growing Chinese medical device manufacturing industry without having to maintain a plant in that country.
The company's website is www.precisionextrusion.com.