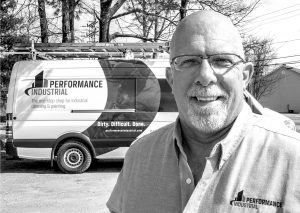 Americlean, an industrial and commercial cleaning and painting contractor, has experienced steady growth in Tech Valley, across New York state and beyond for 27 years, company officials said, and has changed its name.
Now, "performance" does more than define the business, said company founder and President Mark Miller. It's part of its name.
As the business celebrates its 28th anniversary, it is now Performance Industrial, still headquartered on Harrison Avenue Extension in South Glens Falls.
All other aspects of the business remain the same, including ownership and management. The new name was chosen to more accurately convey the company's position as a leading provider of industrial and commercial cleaning and painting services, Miller said.
"We have achieved the success we have because of our performance," he said. "Performance Industrial perfectly sums up who we are. With our crews in the field and our support team in the office, we work seamlessly to deliver outstanding results. We're excited to have a new name that more accurately defines the business we conduct and those we serve."
Performance Industrial is not a janitorial business. Instead, it offers heavy-duty cleaning and painting for industrial and commercial facilities and equipment; HVAC duct cleaning and system maintenance; commercial kitchen hood and exhaust cleaning; and sandblasting for a variety of industrial maintenance purposes.
Miller said clients include some of the largest manufacturers, hospitals, colleges, casinos, grocery chains and banks in the region.
Miller started his business in 1986 after tiring of a career driving tractor trailers cross-country. He invested in a single pressure washing unit and began cold-calling on homeowners and businesses near his home in the Glens Falls area. Today, Performance Industrial has 26 employees spread across five service divisions, a fleet of 12 vehicles, more than 30 pieces of equipment, and performs between 800 and 1,000 jobs per year. Miller said the company achieved record sales in 2013.
Performance Industrial also earned the federal Occupational Safety and Health Administration's SHARP certification for exemplary injury and illness prevention.
"Our goal is to make our clients' jobs easier," said Miller. "We work tirelessly to maintain our certifications in fire prevention, air quality maintenance and safety procedures for one reason only — we care. That's what sets us apart."
Miller said the word "performance" has reflects not only the quality and safety of the service provided, but also the parallels he sees between the business and a successful theatrical production. Miller compares the extensive preparatory work that takes place before each cleaning and painting job — like assembling the right tools and ensuring the crew is properly trained — to the backstage activities of a show. Once on the job, he encourages his crews to view their work like that of a Broadway cast.
"When we're at a customer's location, we're performing for that customer," he said. "From the professionalism of our people to the quality of the cleaning and painting, we are totally prepared and dedicated to making sure the customer enjoys the performance and invites us back."
For more information, call 793-9274 or visit performanceindustrial.com.
Photo Courtesy Behan Communications