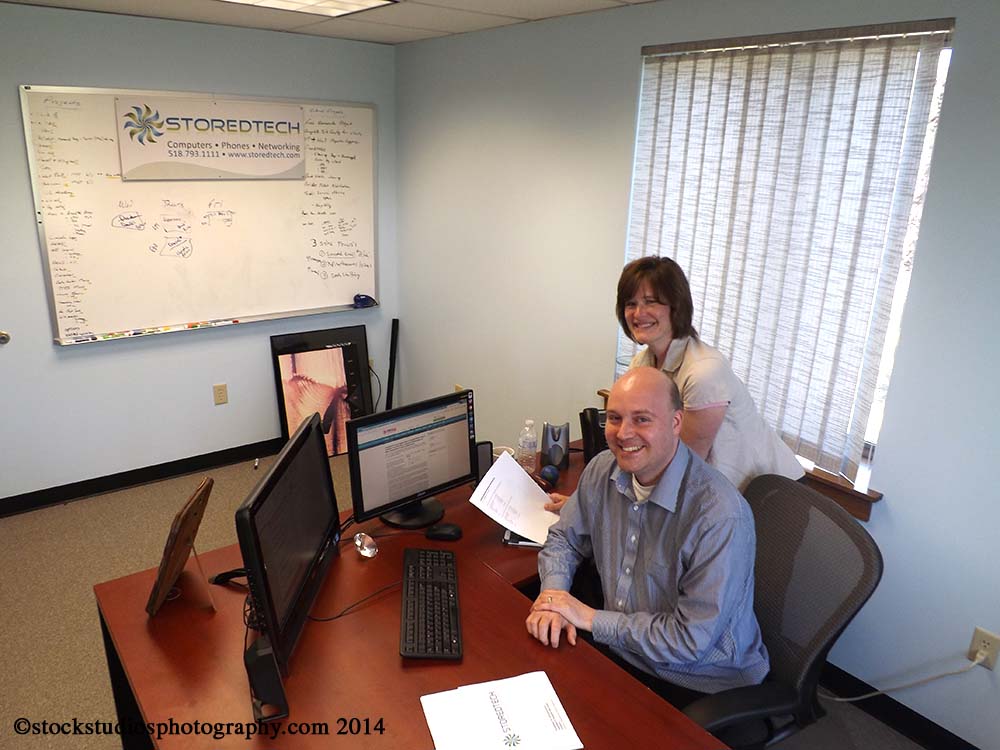 Stored Technology Solutions Inc. (StoredTech), a provider of IT managed services, recently moved its corporate headquarters to a newly renovated facility at 543 Queensbury Ave., Glens Falls.
The new 10,000-square-foot facility will house its corporate offices and include StoredTech's equipment warehouse, staging and test lab environments.
This announcement comes after a year of growth for the company, which nearly doubled its staff since early 2013 and expanded its geographic reach and service offerings by opening offices in Malone, Saratoga Springs, Plattsburg and New Jersey, according to Mark Shaw, company founder and president.
He said the company was further enhancing its portfolio through the
strategic acquisition of YourTechSource, a full-service computer repair
and maintenance company.
The company reports that sales were up over 110 percent in 2013 over
2012 and that 2014 is on-track to be up over 250 percent by year's end.
Shaw said the new office space features an open, collaborative
environment and wide-open workspace to further support the company's
team-centric philosophy whereby everyone in the organization, regardless
of their role or title, is focused on the same goals. This top-down
focus allows StoredTech to service clients in the most effective ways
possible.
The open environment is also meant to encourage and inspire staff to think creatively and act collaboratively.
"In order to remain successful in our business, we need to be constantly expanding our knowledge and learning to do business in different ways and with different, inventive ways of thinking," said Shaw. "Methodology can always be improved. My goal with our new space is to ensure that employees are in an environment that allows them to gain knowledge and new thought-processes from those around them, thus making our team and talent even stronger and delivering the benefit of that expanded knowledge to those who we serve."
He said StotedTech's clients reap the benefits of this collaborative knowledge-share philosophy and the customer service methodology that goes along with it.
"StoredTech has a most unique and commendable approach to servicing their IT clients," said Matthew Fuller, attorney and partner at Meyer & Fuller, PLLC in Lake George, a StoredTech customer. "The company has adopted a proactive approach whereby a customer service engineer is dedicated to performing regular customer outreach just to determine if I have any needs. It's so refreshing to see a service vendor checking in with their clients rather than the only interaction occurring when I need to contact them with a service issue.
"In addition, if I do need to request service, calls are not front-ended by a Reception person but instead, are answered directly by those who can provide me with the most immediate support."
Courtney Shaler Smith, Executive Director of Habitat for Humanity of Northern Saratoga, Warren, and Washington Counties also commented on StoredTech's thorough approach to servicing their clients' needs stating that, "StoredTech worked with us from A to Z, from getting us setup with our first server to taking the time to work through all of the steps slowly with us and making sure we were comfortable with the results and were getting exactly what we wanted."
The company indicates that in addition to expanding their team and their office space, they are currently evaluating a number of acquisition targets and are always seeking strong, similar business types that will allow them to further expand.
"Every acquisition is a share of talent pools and methodology," said Shaw. "The key indicator that we look for in an acquisition partner is intellectual capital. If a potential partner meets our core competencies and the leadership and team are a good fit culturally, and if the business goals can align, they are certainly someone we may want to consider partnering with."
Stored Technology Solutions, Inc. (StoredTech) is an IT managed service provider and offering a portfolio of voice, data, and video services and equipment.