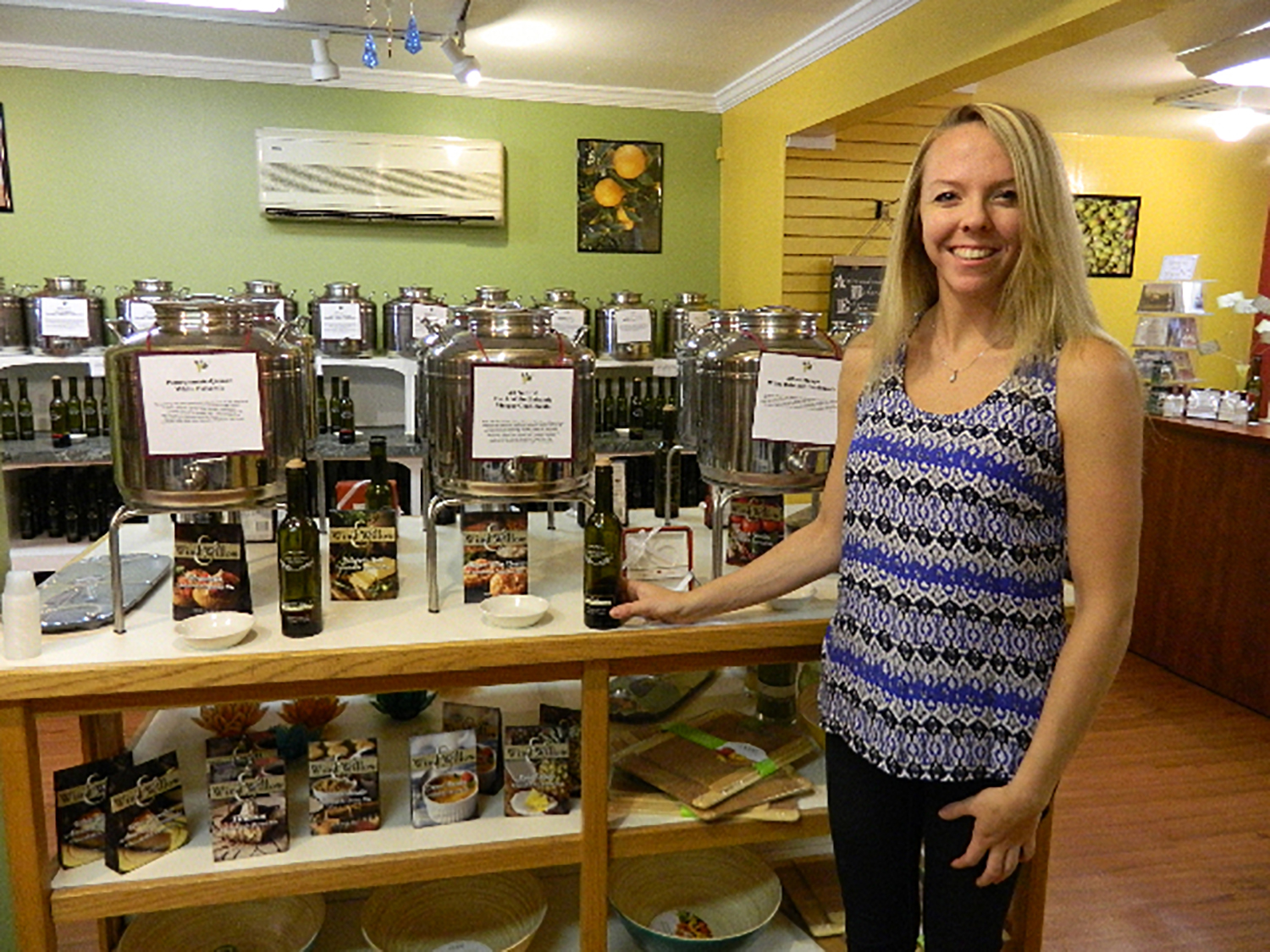 By Lisa Balschunat
Over the past 35 years, chefs Robert and
Carmella Mastrantoni owned and operated
several restaurants and businesses in the
village of Lake George, including Mezza
Luna Restaurant, La Roma Restaurant, Capri
Pizzeria, Carmella's Cafe and Somewhere in
Time Gift Boutique.
Keeping an eye on retail trends, the
Mastrantoni family recently converted the
Somewhere in Time boutique at 283 Canada
St. into a café, gift shop and specialty grocery
store now known as the Lake George Olive
Oil Co.
The business opened in May. The café is in
the front of the space featuring salads, paninis,
wraps, coffee, espresso and pastries. The
tasting room is in the back touting complimentary
samplings of oil olives and vinegars.
Lake George Olive Oil Co. is using a
California distributor to stock over 21 coldpressed
extra virgin olive oils and 21 aged
balsamic and white vinegars imported from
countries including Argentina, Greece, Italy,
Peru, Portugal and Tunisia.
Oil flavors including Persian lime, all
natural black truffle, Milanese and gremolota,
wild mushroom and sage, and baklouti,
an extra spicy chili based Tunisian oil. Vinegar
flavors include Sicilian lemon, peach,
pomegranate quince, tangerine, Italian herb,
berry, chocolate and espresso.
While Robert and Carmella continue as
the owners and chefs at Mezza Luna, Carmella is listed as proprietor of the olive oil
company, however, the couple has turned
over the store managing reigns to their
daughter, Letizia, 28, and son, Robert Jr., 23,
who has become the product researcher and olive oil aficionado.
Letizia said she and Robert grew up in
the family businesses. "We learned at a very
young age about good customer service and
hospitality," she said.
In this business, the next generation of
Mastrantonis will be sharing a piece of the
family history in the bottles they sell since
oil and vinegar are two key ingredients in
many of their parents' recipes.
Letizia attributes the up tick in retail olive
oil shops to people "getting more creative in
the kitchen" and becoming "risk takers with
their cooking," she said. "People are having
fun experimenting with food and are more
cognizant of cooking healthier. They are taking
butter out of their diet and substituting
with extra virgin olive oil. Our oils can be
used in so many dishes … much more than
just on a salad, and, vinegars taste wonderful
on fruit and gelato."
The company also carries specialty oils
including walnut, sesame and almond, and
gourmet foods and items like pestos, sea
salts, dipping trays and kitchen utensils.
Many locally made products such as pickles, honey, jams and maple syrup can be found
on the shelves, as well.
"We've already received wonderful support
from the locals since we opened," Letizia
said, "and, our next door neighbors at the
Adirondack Winery tasting room make a
great pairing for visitors. Our goal is to be
open year-round." The café and tasting room
is presently open seven days a week from 10
a.m. to 10:30 or 11:30 p.m., depending on the
busyness of the evening.
Letizia is arranging private tastings for
about a dozen local chefs and is hoping to
schedule on-site demonstrations with some
of them. The company offers gift baskets,
ships anywhere in the world, and will be
able to process orders on line 24/7 via the
company's website.
Lake George Oil Olive Co. currently employs
three full-time and three part-time
employees and is presently looking to open a
second and third location in the Glens Falls/
Queensbury area.
For more details go to: www.lakegeorgeoliveoilco.
com, call 668-0363 or find the
company on Facebook.
Photo by Lisa Balschunat