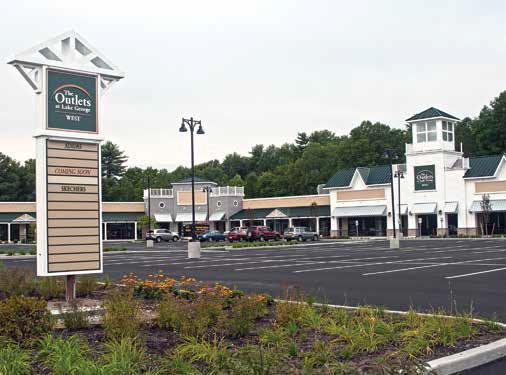 By Barbara Pinckney
Demand from both shoppers and retailers has
prompted two companies to build new outlet
centers along Route 9 in Queensbury, adding
to the already bustling Million Dollar Half Mile.
Purchase, N.Y.-based Sobert Realty Corp. just
completed development of The Outlets of Lake
George on both sides of Route 9 and is beginning
to welcome tenants. Meanwhile, local developer
David Kenny, who built the area's first outlet
mall in 1986, is constructing phase one of what
will be the 60,000-square-foot Outlet Shoppes of Lake George.
When all is said and done, that half-mile
stretch of Route 9 will hold about 340,000
square-feet of outlet retail space, developers
said. Laura Kohls, David Kenny's daughter and
administrator of his outlet center, said this will
put it in line with other outlet shopping areas
around the country.
"If you look at most of the outlet centers
that have recently been constructed across the
country, or are being constructed, they typically start at about 300,000 square-feet," Kohls said.
"In Lake George, before any new construction,
we had about 230,000 square feet. Knowing the
number of outlet stores that are out there trying
to expand, it is reasonable to say the market can
support another 100,000 square feet of space."
Sobert Realty purchased the 52,000-squarefoot
Lake George Plaza, at 1424 Route 9, about
18 months ago, and subsequently purchased
property across the street. That parcel, at 1415
Route 9, had been the site of the Montcalm Restaurant,
which closed in the spring of 2013 after
nearly six decades in business.
Corey Shanus, president of Sobert, said the
company created what is now known as The
Outlets of Lake George by renovating the Lake
George Plaza and adding a second, 50,000-squarefoot
building on the Montcalm site.
The new, open-air plaza at 1415 Route 9 created
room for a dozen retailers, although most
have not been named. Adidas, a well-known
athletic footwear and clothing brand, opened a
5,500-square-foot store in early August. Sketchers,
another footwear retailer, will open this fall
in just over 3,000 square feet.
Two retailers that have operated in Lake
George Plaza–Perfumania and Lindt chocolates–
will open new stores across the street in
the coming months.
Merchants remaining in the renovated building
at 1424 Route 9 include Polo Ralph Lauren Factory Store, COACH Factory, Nautica, Levi's,
Jones NY, Bass and Izod.
"We're dedicated to offering shoppers access
to the designer and brand names they want most,
at the prices that fit their budgets," Shanus said.
Kohls said Outlet Shoppes of Lake George,
which is going up adjacent to the Kenny family's
Clarion hotel planned at 1454 Route 9, should
have its first stores open in early 2015. The company
has site plan approval for 60,000 square feet,
but is starting with a 30,000-square-foot plaza.
Kohls said the exterior of the building will be
completed by the end of the year, but the interior
will depend on what retailers sign on as tenants.
"We can't say how many stores there will be
because you have retailers that range from 3,000
square feet to 10,000-plus square feet and we are
currently in discussion with multiple retailers,"
she said. "It could hypothetically be as many as
10 in that initial 30,000 square feet but that is
unlikely. Five or six is more realistic."
The 102,000-square-foot Outlets of Lake
George, and the 60,000 square feet of The Outlet
Shoppes of Lake George, will join Kenny's existing
Adirondack Outlet Center, at 76,000 square
feet, and the 100,000 square feet of the French
Mountain Common Outlets and Log Jam Outlet
Center, both of which are owned by local developer
Ed Moore.
The centers as a group market themselves as
the Factory Outlets of Lake George.
Photo by Tyler LaPan