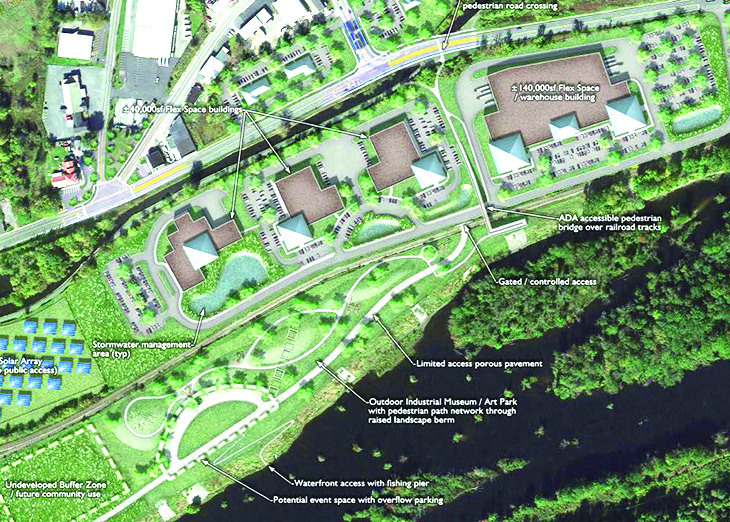 By Barbara Pinckney
The town of Queensbury is hoping its ambitious
plan for the former Ciba-Geigy industrial
site will attract private commercial developers to
the riverfront property off Lower Warren Street.
As conceptualized by the Chazen Cos., the project
consultant hired by the city, the Queensbury
South Vision Plan includes a 140,000-squarefoot
warehouse distribution center, three
40,000-square-foot flex space buildings, a riverfront
park and an outdoor industrial museum.
The plan would cost about $50 million in public
and private funds, officials said.
But Paul Cummings, a project manager for
Chazen, said this is just one set of possibilities.
What actually is built, particularly on the commercial
sites, will ultimately be up to private
developers.
"The buildings, in reality, could be any number
of combination of buildings," Cummings said.
"There is nobody proposing to construct those,
there is no person lined up right now that would
construct those."
First, the property must be made desirable
for private developers, a process that could take
some time. It includes building roads, installing
utilities, making any necessary zoning changes
and possibly doing a generic environmental
impact statement.
"That would lower the development costs to
the degree that we are hoping that would then
attract the private market," Cummings said.
Part of the property included in the Queensbury
South Vision Plan, including most of the spot eyed
for a distribution center, is owned by Warren
County.
"The majority [of that parcel] is on the Warren
County Department of Public Works site, so there
would need to be some project partnership with
the county on that," Cummings said. "We envision
that it would be a good spot for a warehouse type
facility, but it could be two flex office-type
buildings."
The rest of the property is owned by BASF,
the New Jersey-based chemical company that
was parent to Ciba-Geigy. The Ciba-Geigy pigment
plant was demolished in the late 1980s.
An $8 million, two-year cleanup of the site was
completed in 2001.
Cummings said the state Department of Environmental
Conservation has signed off on the
corrective actions BASF has taken, but BASF itself found a few other things it wanted to do.
"So that is a good thing," he said. "They are
constantly monitoring the site and are willing
to make whatever investments are necessary to
make sure it is reusable."
Cummings said BASF plans to lease the property
where the Ciba-Geigy plant stood to private
developers. This will allow them to make sure
there is no impact on the corrective measures
that were taken.
Cummings said Chazen looked at several
possible uses for the site, considering economic
feasibility and what is permissible given its
history, and determined that light industrial or
professional office space was the best bet. He
said there is some interest in making the site a
START-UP NY zone, where businesses would pay
no state taxes for 10 years.
Although Chazen's concept puts three
40,000-square-foot buildings on that site, Cummings
said it could be several smaller buildings,
or perhaps two larger ones.
"Ultimately the cumulative square footage
would likely be around 120,000 square-feet
because that is what is feasible given what you
need for parking, roadway access [and] utilities,"
he said.
BASF would also lease the park space along
the river to the city. The concept plan envisions
event space, a fishing pier, a pedestrian bridge
over the railroad tracks, and an outdoor museum.
Cummings said support for this part of the plan
should come from the state's Waterfront Revitalization
Program.
The rest of the roughly $6 million in public
costs included in the plan might come from a
Consolidated Funding Application to the state,
a Community Development Block grant or other
funding mechanisms.
"There are a number of different ways to
make that possible," Cummings said. "And that is
where we are at. We have this concept planned
out, now we have to start thinking about how we
implement that."
The project would take place in phases, with
the private development on the Ciba-Geigy site
seen as phase two and development of the Warren
County site further out. No dates have been set.
"This is a long term play, so I don't want to
over promise," Cummings said. "These things
take a while. You measure them in decades, not
months or years."
Photo Courtesy Chazen Cos.