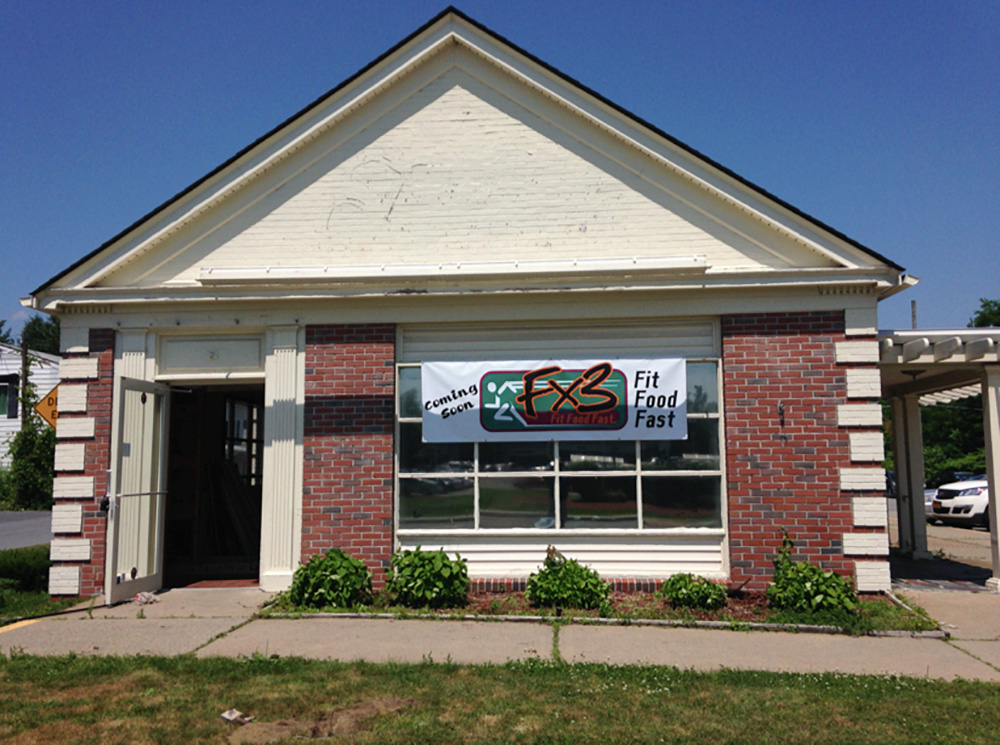 By Kat Fitzpatrick
Healthy food in a hurry will soon be
available to area residents.
The new restaurant, FX3: Fit Food
Fast, will be located in the old Friendly's
building at 682 Glen St. in Queensbury.
The concept is the brainchild of
Queensbury resident Kevin Shufelt and
his business partner, Clifton Park resident
Joe McCrudden.
"We have talked about it for quite a
while," said Shufelt. "But we really began
looking for sites two years ago."
"It is a great location," said McCrudden.
"A free-standing building right
across from Price Chopper, and near the
Y and Planet Fitness, too. Another bonus
is that it also has ample parking."
In addition to those benefits, the pair
cited the positive growth in the area as
an attraction for placing their new eatery.
"We want to be part of an area that is
growing," said McCrudden. "We looked
farther south but this area was better."
Both men come to the table with
healthy qualifications for the venture.
They have been friends since their
childhood days in Hudson and have been
business partners since 2006 when they
opened the Rusty Anchor floating restaurant
in Watervliet.
Prior to that, Shufelt opened and operated
the Riverfront Bar and Grill at the
Corning Preserve in Albany. McCrudden
also brings sales and marketing experience
as managing partner of Shannon
Consultants in Clifton Park.
The impetus for the concept arose
when both men could not find healthy
food when they were on the road or in
a hurry.
"We a lot of did research," said McCrudden.
"There are a lot of places like this
on the West Coast but not really here in
the east at all."
They looked at franchises that might
fill the need, "but it is not a concept we
wanted," said Shufelt. "We decided to
create our own concept and see what the
response would be.
"From the little marketing we've done,
on our web page and on Facebook, we've
gotten a really good response," he added.
"It's a prime concept."
And it is a concept that is deceptively
simple. "What we find ourselves talking
about all the time is that we just want
people to feel healthy and happy," said
McCrudden.
"We will have lean burgers, grilled
chicken, salads, of course, and wraps.
We will even have fries that are not fried
but baked," said Shufelt. "It'll be a place
where people can come in and eat clean
or vegan, but if dad wants a lean burger
he can get that, too."
"We have been working with a chef
and a nutritionist for months coming up
with a menu," said McCrudden. "If we can
especially teach the kids to eat a little
healthier, that will be a good thing. It
won't be that hard when they see that it
tastes good."
The equipment will also contribute
to their capacity to make fit food fast.
Clamshell grills will not only cook quickly
but seal in the juices so that a burger
that is 90/10 (90 percent lean and 10
percent fat) will be as delicious as its
fast-food counterpart, the owners said.
Their combi-oven will cook up the French
"fried" potatoes that will be appealing
even to children.
"They come out really crispy and taste
great," said Shufelt.
The partners have put quite a bit of
time into the renovation of the building
and have decided to go with an
Adirondack theme that will be "vibrant"
and accented with wood and stone. Another
feature of the restaurant will be the
fast way that food can be ordered.
"We're really excited about the fact that
there will be a self-service order kiosk,"
said McCrudden.
"If there is a line or there are repeat
customers, then they can go right up to
the kiosk and put their order in," said
Shufelt. "Then a ticket-number system
will let the customers know when their
food is ready for pick-up."
A soft opening is expected in September.
The hours will include lunch and dinner
from 11 a.m. to 9 p.m. Their website is
www.FX3fitfoodfast.com and the business
can be found on Facebook.
Photo Courtesy of FX3