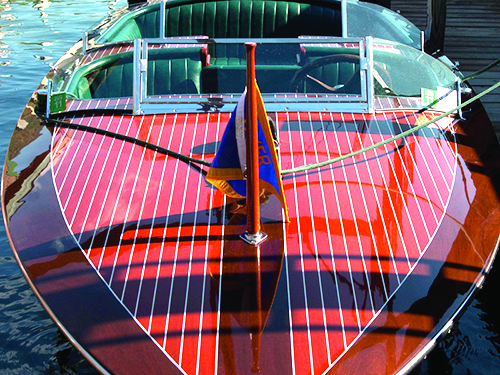 Hacker Boat Co. finalized its purchase of
property in Queensbury Business Park from EDC
Warren County and its affiliate, Hudson River
Local Development Corp.
The builder of luxury hand-crafted mahogany
boats will begin constructing a new boat manufacturing,
restoration and office facility in 2015,
officials said.
The proposed facility received Town of
Queensbury Planning Board approval in April.
Construction of the $3 million, 90,000-squarefoot
building will take place on three adjacent
parcels in the park totaling 17 acres, EDC said.
The park is located off Queensbury Avenue
(County Line Road), just south of the Warren
County Airport, which was cited by Hacker Boat
Co. as an important factor in its location decision.
The company projects future employment of
80 people in the new facility.
"This closing with Hacker Boat Company
represents a milestone in EDC's overall vision for attracting businesses to additional commercial
and industrial land throughout Warren County,"
said Edward Bartholomew, president of EDC
Warren County.
The Hacker Boat Co., owned by Erin Investments
LLC, is said to be the largest American
manufacturer of classic mahogany motorboats.
According to the company, each Hacker-Craft is
hand crafted by master boat builders who labor
over 1,400 hours to build every boat.
The company builds runabouts, sport boats,
launches, yacht tenders, utilities and custom
designed boats.
The 56-acre Queensbury Business Park, developed
and marketed by EDC Warren County,
has lots ranging from two to nine acres, with a
park road and infrastructure elements already
in place. Of the original nine lots, five remain
available for development. The park is zoned
commercial/light industrial and is suitable for
high-tech, R&D, production, and light manufacturing,
officials said.
A certified NYS shovel-ready location, the park
also qualifies for Foreign Trade Zone benefits.
The park is located 1.5 miles from the Warren
County/Floyd Bennett Memorial Airport.
Photo Courtesy Hacker Boat Co.