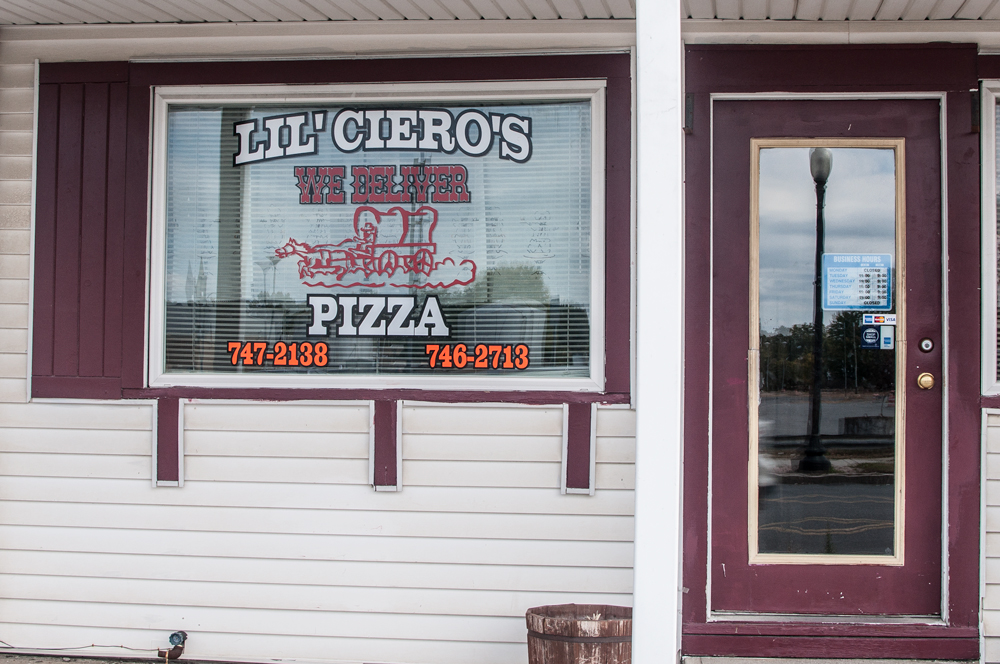 BY LIZ WITBECK
Lil Ciero's Pizza recently reopened at a new
location in Fort Edward, after a 15-month hiatus.
The pizzeria, formerly in Hudson Falls, is now
located at 368 Broadway.
Lee Lunt said he took the time to reevaluate
what he wanted to do with his life, and took
on various jobs including auto detailing and
newspaper delivery before returning to the pizza
business.
"I thought I wanted something different. I was
wrong," said Lunt.
The restaurant is larger than the former location
in Hudson Falls.
Lunt runs the pizzeria with his wife, Trisha,
their daughter, and his brother-in-law. His wife
helps run the stations and fills in as needed. He
refers to her as the brains of the operation and
admires her ability to multitask.
"I'm a one track mind, she has 15 things going
on," said Lunt.
Since opening in September, Lil Ciero's has
had a whirlwind business. The restaurant sold 141
pizzas on the first night alone, the owner noted.
"We didn't expect to get hit like we did the first
two weeks," said Lunt. "It doesn't feel like we've
been out of business at all."
The secret to his pizza, Lunt said, is the sauce.
But it first happened by mistake, explained Lunt.
When Ciero's originally opened eight years ago, they were sent the wrong pizza sauce. The sauce
turned out to be a hit with the customers, and
soon Lunt was ordering it from his distributor.
In addition to the sauce, Lunt has a lot of skills
and expertise when it comes to making pizzas. He
began making them more than 30 years ago at
Smitty's, another Glens Falls pizzeria. He worked
his way up from delivery driver, to manager, to
finally owning his own restaurant. Lunt said pizza
is the craft he knows best.
"I wasn't happy in my life without doing pizza,"
he said.
Being in the pizza business has helped Lunt
build strong relationships with people in the
community. He worked as a delivery driver for 15
years and knows almost every address in the area.
He said he does not always know people by their
face, but can recognize them by their address.
The new restaurant features a large air-conditioned
dining room. Upstairs is a large banquet
hall, which can seat up to 40 people. Lunt plans
to use the space for birthday parties and other
private events, once he gets it approved for use.
He said he is grateful to friends and family for
helping him get Lil Ciero's open for business. One
friend, Alex Labrum, worked 15-hour days helping
to get the restaurant ready.
Lil Ciero's is open Tuesday through Saturday,
11 a.m. to 9 p.m. For more information, call 747-
2138 or 747-2713.
Photo courtesy of Jake Van Ness