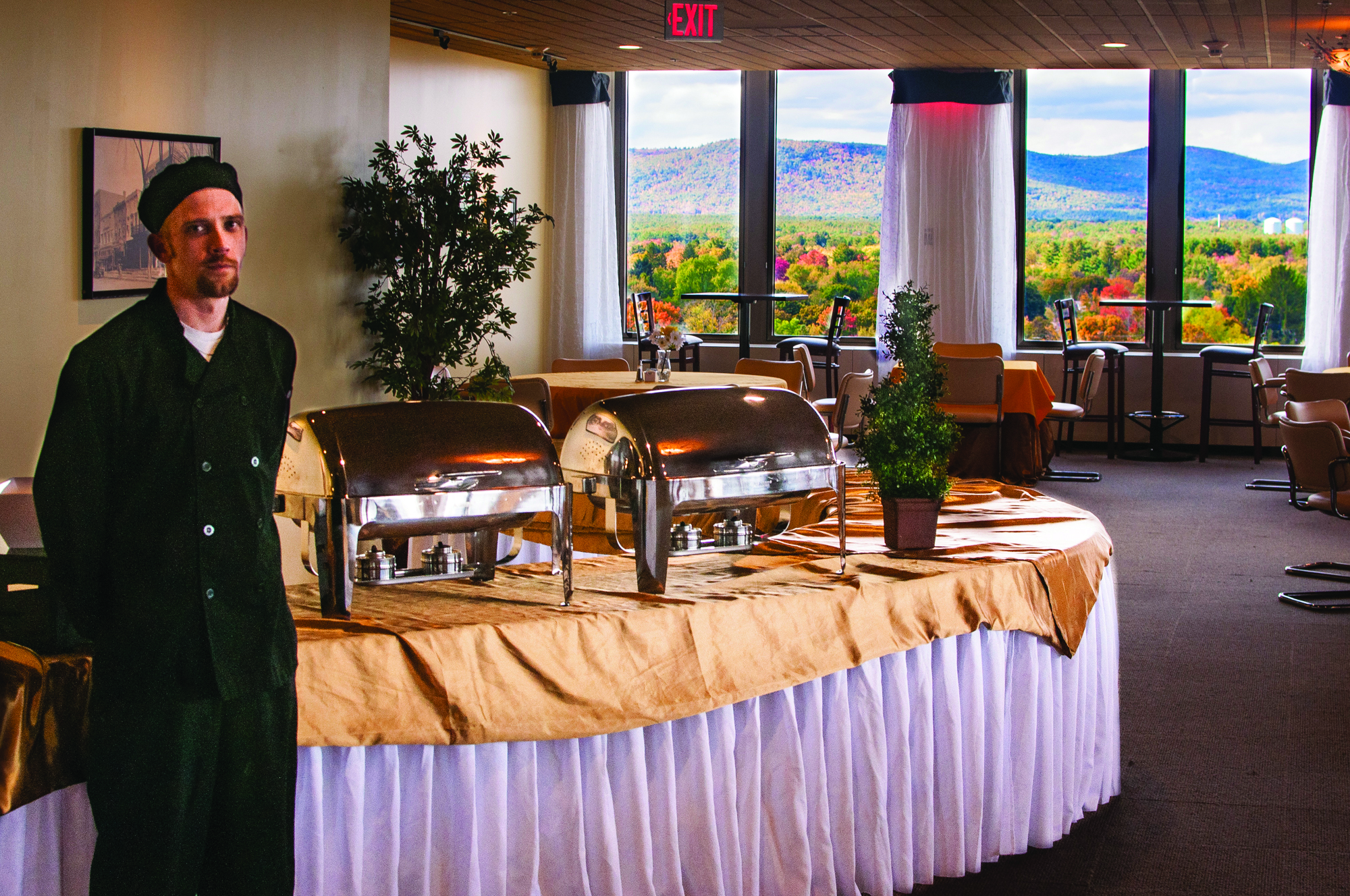 BY LIZ WITBECK
Guests at the Tower Event Center
can stare out the windows, marveling at
the scenic Adirondacks. Located on the
ninth floor of the downtown building, the
center provides panoramic views of the
landscape.
Bob Lefebvre was awed by the beauty
the space provided and knew he had to
convert it into something the public could
enjoy. He opened the space in the summer
as Tower Event Center at 333 Glen St. in
Glens Falls.
Currently, the center offers a weekly
Sunday brunch. Diners can choose from
classic American breakfast foods like pancakes,
omelets, bagels, bacon and sausage,
salads and a carving station with turkey
and ham. There are weekly specials, a
children's buffet and desserts.
Lefebvre said he did not intend for the
facility to be a traditional restaurant. Instead,
he uses the brunch as a marketing
tool. He believes if people come in and see
the spectacular views, they will tell others
and come back again.
He said the facility has seen a tremendous
amount of success since its opening.
"It was way more successful than I anticipated,"
said Lefebvre.
The facility is mainly used for special
events. Among the events held thus far
was a 50th class reunion from Glens Falls
High School. Upcoming events include the
kickoff of the Adirondack Flames season
and corporate holiday parties.
The space can accommodate up to 220 people. There is room for dancing and a
buffet line. The facility has a bar and offers
mixed drinks and beer. There is free
parking available, as well as valet parking.
Tower Event Center is a two block walk
to the Glens Falls Civic Center. Lefebvre
said it is perfect for people who want to
eat, grab a drink, park their car, and then
walk to an event at the center.
Lefebvre owns two other companies in
the building – Total Benefit Management,
a human resources company, and Trucking
Support Services, a truck leasing company.
"I needed something new. I decided to
get into the restaurant business," said
Lefebvre. "It keeps you young."
Lefebvre said he believes in thinking
outside the box. He opened Tower Café
in March on the second floor of the same
building. The Tower Café offers breakfast
and lunch on a daily basis, including sandwiches,
salads, and burgers.
Next month the restaurant will start
Tower2Go. Customers can order a meal
in the morning, and pick it up in the evening
to take home. With more than 700
employees in the building, Lefebvre said
the concept will be a hit with busy families
who want quality, convenient food.
Tower Cafe is open Monday-Friday
from 7 a.m. to 3 p.m. It can be reached at
792-2233.
The event center is open for brunch on
Sundays, from 10 a.m. to 2 p.m. For more
information, visit www.thetowercafe.com.
For reservations and event inquiries call
798-2114.
Photo courtesy of Jake Van Ness