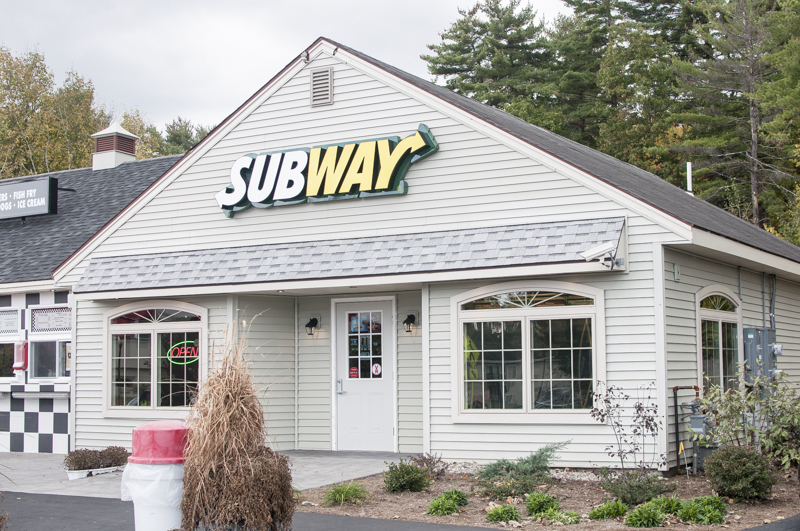 BY SUSAN E. CAMPBELL
There is a new Subway sandwich shop just
north of Great Escape at 1471 Route 9 in Lake
George. It is the 13th shop for franchisee Russ
Fadden.
Fadden is always scouting for new locations,
that area in particular, and targeted the former
Yamaha showroom, he said. Fadden is splitting
the space with the new Mr. Bill's ice cream shop
next door, of which Fadden is part-owner with
Jerry LeBarre.
"This location is non-stop traffic from Memorial
Day through Labor Day," said Fadden. "It is on the
main road and has excellent visibility, and there
are few options to eat in that particular area."
With two new shopping plazas nearby, traffic
to the Adirondack Northway, and skiers heading in and out of Vermont, Fadden said this location
is one of the most desirable in the vicinity of Exit
20. His other Subway locations are spread over the
corridor between Saratoga Springs and Exit 20.
The franchise requires certain equipment and
decor to give each shop a consistent look. But
as far as the building rehab, franchisees are on
their own. Fadden hired JLB Construction and
a number of local subcontractors, some of which
he has worked with in the past, to do the renovations.
Small local companies will perform ongoing
maintenance as well.
This is the fourth Subway Fadden has built
from scratch. Each has a staff of eight to 10 people
depending on the season, he said.
The shop opened in mid-August and a grand opening
and ribbon-cutting was held in September.
Photo courtesy of Jake Van Ness