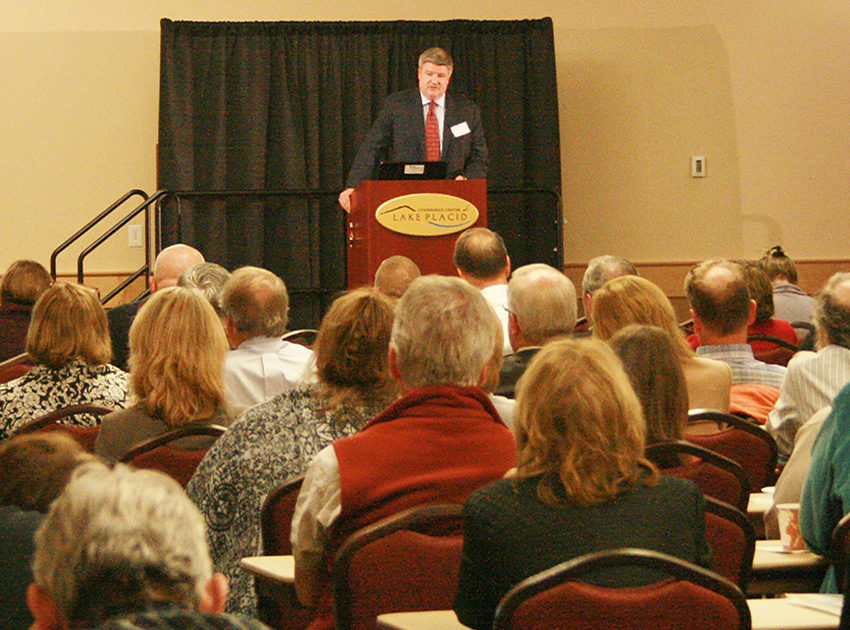 Adirondack Health Institute (AHI), based in
Queensbury, hosted its annual summit, "Charting
the Course: Rural Health Care Transformation
in the Adirondacks" in September at the
Lake Placid Conference Center, attended by
more than 200 health care providers, community
leaders, behavioral health providers, care
managers, and other key stakeholders from nine
North Country counties.
"This year's conference, which brought together
community leaders from around the vast
region to share health care best practices and
strategies for the future, was our most ambitious,
well-attended and well-received of the six we've
hosted to date," said Cathy Homkey, CEO of AHI.
"For more than 25 years, AHI has been using
our relationships, resources, expertise, and
capacity to provide technical assistance and
value-added services in the region, such as this
summit," she said.
Key topics covered by speakers at the summit
included:
• Event keynote speakers Patrick Roohan,
deputy commissioner, and Dr. Foster Gesten,
medical director, Office of Quality and Patient
Safety, state Department of Health, discussed
the State Health Innovation Plan (SHIP), an
initiative to identify and stimulate the spread
of promising innovations in health care delivery
and finance that result in optimal health outcomes for New Yorkers.
• Dr. Dennis Weaver, executive vice president
and chief medical officer, Southwind/Advisory
Board Co., presented evidence to date on the
Adirondack Medical Home Demonstration, a
joint initiative of medical providers and public
and private insurers to improve care, expand access
and contain costs in the Adirondack region.
U.S. Rep. Bill Owens announced that the
White House's Office of Budget Management
(OMB) has approved a limited extension of
the Center for Medicare & Medicaid Services'
(CMS) Multi-payer Advanced Primary Care
Practice (MAPCP) Demonstration in New York
(i.e., Medicare's participation in the Adirondack
Medical Home Demonstration).
CMS participation, originally scheduled to
end June 30, had previously been extended to
Dec. 31 of this year. Under this demonstration,
CMS participates in multi-payer reform initiatives
that are currently being conducted by
states to make advanced primary care practices
more broadly available with a goal to improve the
quality and coordination of health care services.
• Timothy Hoff, Ph.D., associate professor of
management, Health Care Systems, and Health
Policy, D'Amore-McKim School of Business,
Northeastern University, discussed organizing
and managing high-functioning health care
teams.
Photo Courtesy Adirondack Health Institute