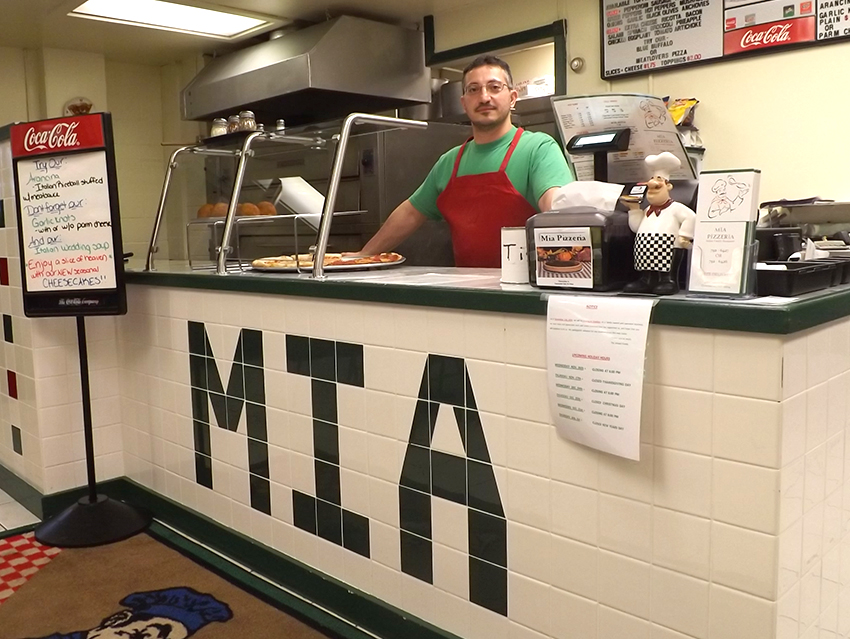 BY LIZ WITBECK
For Giulio Amato, making pizzas is a
family tradition. He has been making them
with his father since he was a child.
Now he has opened his own restaurant,
MIA Pizzeria, at 406 Corinth Road in
Queensbury.
The Amato family lived in Sicily before
moving to the United States. The family
has owned several pizza parlors. Amato's
brother operates Pope's Pizza in Saratoga
Springs.
At the center of the MIA Pizzeria operation
is the pizza, with an authentic
Sicilian recipe, using lots of cheese and
fresh toppings. A large pizza is more than
18 inches in diameter, which Amato said
is more than two inches larger than what
most pizzerias serve.
Amato believes that attention to quality
and detail sets his business apart from
the rest.
"My dad always wanted me to make
things the right way, not to skimp out or
use a cheaper product," he said.
Amato said that everybody loves his
version of pizza. He has even had other
pizzeria owners ask him for his recipe,
which he refuses to give out.
MIA Pizzeria offers American pizza
favorites such as pepperoni and sausage,
as well as some Sicilian favorites.
In addition to pizza, MIA Pizzeria offers
meals such as lasagna, eggplant and chicken
parmesan, veal, and pasta dishes. All
entrees are prepared in Sicilian fashion.
Guests at the restaurant can find authentic
Sicilian cuisine. On the menu is
arracina, rice balls surrounding a seasoned
meat ball, covered in bread crumbs
and deep fried. Soon the restaurant will
also feature pane e panelle, fried chickpea
flour patties served on a roll. Both items
are very popular in Sicily, he said.
His father has now retired from the
pizza business, but pizzas are still a family
affair for the Amato family. His wife helps
with operations of MIA Pizzeria, including
menus, bookkeeping, and more.
"My wife is the brains of the operation"
said Amato.
The restaurant offers delivery. The
phone number is 792-6427.
The restaurant is open 11 a.m. to 10
p.m. Monday through Thursday; 11 a.m.
to 12 a.m. Friday and Saturday; and noon
to 8 p.m. on Sundays. He plans to close on
Tuesdays in the future.