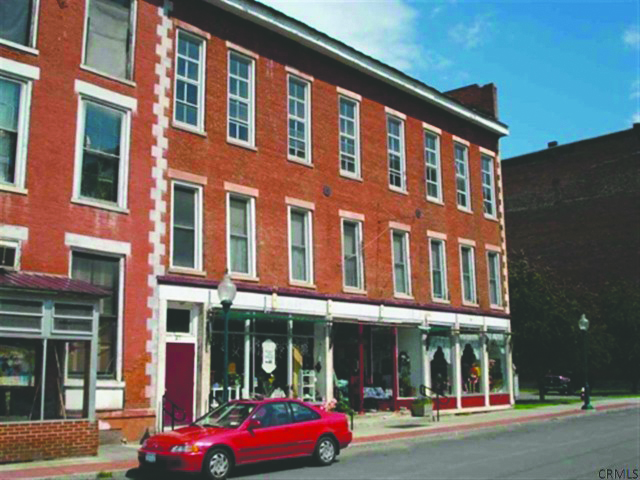 BY BARBARA PINCKNEY
A single building, and residents willing to
invest in their village, may be the keys to the
revitalization of Whitehall.
A group calling itself Whitehall Forward
is eyeing the 14,000-square-foot, three-story
structure at 80-84 Main St. as the first step
in a plan to breathe new life into the village's
downtown, which has little commercial activity.
The redeveloped building would most likely
have commercial or retail space on the first
floor and upscale apartments on the second
and third floors, according to the group.
Whitehall Forward has formed a limited liability
corporation to allow people to become
shareholders in the project, using the "Main
Street LLC" concept created by Rick Hauser,
an architect and the mayor of Perry, N.Y., in
Wyoming County. Additional funds could come
from bank financing and/or state grants.
"I think there are many people in Whitehall
who want to see something happen but just
don't know what to do," said Whitehall Forward
member Bethe Reynolds, an agent with Keller
Williams Realty who also sits on the board of
directors of the Whitehall Chamber of Commerce.
"You can have this grand vision, and
you can take this vision and certainly spread
it further. But you have to start somewhere,
with something that is achievable."
The idea started more than a year ago, when
Reynolds, as a representative of the Chamber,
attended a state conference on downtown revitalization.
Hauser was a featured speaker, and
told of how investments by a Main Street LLC had revitalized Perry. He has since brought
the concept to several other upstate towns,
including Batavia and Geneva.
"Bringing a group together to revitalize a
downtown building minimizes the risk for any
one investor," Hauser said. "[And] you're creating
an ownership in the future of downtown."
Reynolds was inspired by Hauser's speech.
She took the idea to the Chamber, which
agreed to put up $1,500 to have Hauser come,
talk to residents and business people, and
take a look at 80-84 Main St. About 50 people
attended Hauser's speech in early October.
Hauser said Whitehall is in a good position
because it is a National Register Historic
District, which means property owners would
qualify for tax credits if they commit money
toward rehabilitating their properties.
"At the end of the day, the payoff is potentially
enormous," he said.
Reynolds said a number of people have since
signed up with Whitehall Forward, wanting
to get involved in the redevelopment of 80-84
Main St. The group has succeeded in raising
the $3,500 needed for Hauser to return and do
a feasibility study on the building.
"He would basically give us a plan of what
we could do with that building, what it would
cost, and so on," she said.
The three-story brick building, a former
theater, has some occupied apartments, renting
for between $400 and $500 a month, but
Reynolds said there is plenty of room for an
upgrade. The space is listed for sale, by Keller
Williams, for $149,900.
"It fits in a very strategic spot," Reynolds
said. "If it were operating the way I would like
to see it, and the way other people would like
to see it operate, it would be a shining jewel
for downtown."
She said a retailer such as a sporting goods
store, to cater to people enjoying the South Bay
lake, might be a good fit. Another possibility
could be a boutique hotel, which is needed in
Whitehall.
"That building has an awful lot of potential,"
she said. "The third floor has really gigantic
windows and 20-foot ceilings. They were
originally theatres. So the space up there is
just phenomenal."
Whitehall's Main Street is not deserted.
There is a Community Bank N.A. branch, a
laundromat, a tavern, a jewelry store, a restaurant
and several apartments. There are also
other buildings undergoing redevelopment.
But there are also several vacant storefronts,
she said.
"It is a beautiful area, it's in a valley, it looks out at the water–Lake Champlain is there at
your doorstep–but from the street level it
looks like there is not much going on," Reynolds
said. "It is very difficult to get people to come
downtown when there isn't anything there."
She said other investors would feel more
comfortable taking on projects in Whitehall
if they saw development taking place on Main
Street.
The project "would help the whole process
along," she said. "I don't think anyone in the
group that is putting up the money for the feasibility
study is looking to make a giant profit.
What we are looking to do is put money back
into the economy, and get something that can
actually sustain itself with rent and build on
that to help the downtown."
Once Hauser has completed the feasibility
study and estimated the cost redevelopment, the LLC would raise what it could from investors
and look to grants and bank financing for
the remainder. Reynolds said it is even possible
for a contractor to agree to do the work
and be paid in shares of the LLC.
Reynolds envisions a time when Main Street
is developed to the point that part of it can
be shut off to vehicles and become a place
where people stroll, shop, dine and enjoy the
lake. The street has little traffic now, because
it is easily bypassed by other routes through
the village.
"The downtown in Whitehall used to be like
going to the mall," she said. "And for a lot of
the locals who grew up here it is very demoralizing
to see what has happened. But I've been
here for about eight years and I just say 'Hey,
why not?' People can come together and make
things happen."