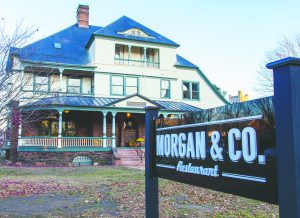 BY JILL NAGY
Co-owner and chef Rebecca Newell-Butters
describes the menu at her new Glens Falls
restaurant, Morgan & Co., as "new American
cuisine."
A list of sample menu items includes chicken
cordon bleu, steak frites, Moroccan couscous,
steak au poivre. "I guess American food comes
from all over the world," she said.
The restaurant is in the former mansion of
lumber baron William McEchron, whose lumber
mill on the Hudson River gives its name, Morgan
& Co., to the restaurant.
The eatery occupies the first floor. Luxury
apartments are planned for the second and
third floors.
McEchron, the lumber magnate and former
village official, bought the house as a retirement
home, Newell-Butters recounted. He had three
daughters and no sons, so he eventually deeded
the house to the city of Glens Falls.
The mansion was built in the late 19th century
and is on the National Register of Historic
Buildings.
Eventually, Newell-Butters' father, city attorney
Ron Newell, bought the building and urged
her and her husband to open a restaurant in it.
At the time, they were living in Boston where
her husband, Stephen Butters, owned Butters
Cafe and Bakery and she was a chef at another
restaurant for 15 years.
They resisted her father's pleas for a long time,
she said, but one day she looked up and decided
it was time to return home.
"So far, it's been great," she said of the return
to Glens Falls, where she grew up and graduated
from Glens Falls High School, and the restaurant,
which opened in early November.
Her husband and co-owner is a Boston native
but loves the outdoors, and to hunt and fish,
so he is adjusting easily, she said. And, like so
many Glens Falls business people, she noted
the warm welcome they have received from the
community.
Morgan & Co. has indoor seating for 110 diners,
with room outside for another 55 or so in
warm weather. It is located at 65 Ridge Street, at
the corner of Ridge and Maple, across the street
from the Glens Falls City Park.
Salads on the dinner menu include those with
salmon, shrimp or hangar steak.
Entrees include items such as roast Long
Island duck breast, with asparagus, local mushroom
and scallion fried rice, plum sauce; seafood
bouillabaisse, with roasted potatoes, little necks,
mussels, shrimp, scallops, cod, tomato-fennel
broth; and grass-fed filet mignon, with gorgonzola
potato gratin, broccoli, au jus.
Moroccan-influenced dishes include lamb and
chicken, as well as tofu and tempeh.
There is an extensive wine and beer list.
The restaurant hosts holiday, retirement,
birthday, family reunions, parties and celebrations
of any nature. The private event space can
hold up to 50 guests comfortably and for larger
events the facility can host up to 160 guests. During
warm weather its Adirondack wrap-around
porch is used as a spot for gatherings.
The restaurant is open for dinner from 4-10
p.m. Tuesday and Wednesday; and 4-11 p.m.
Thursday, Friday and Saturday.There is a brunch
from 10 a.m. to 3 p.m. Saturday and from 10
a.m. to 4 p.m. Sunday. For more information, its
website is www.morganrestaurant.com and it can
be found on Facebook. The telephone number
is 409-8060.
Photo by Todd Bissonette Photography