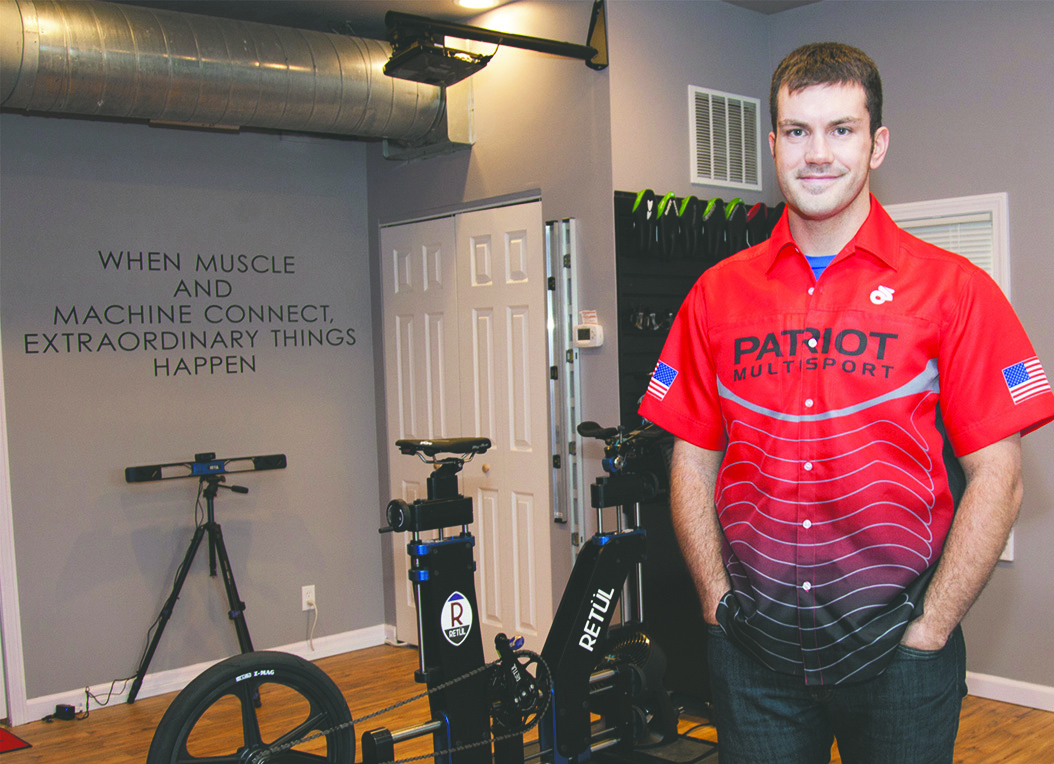 BY LIZ WITBECK
When Nick Gough started training for
ironman competition events a year and a
half ago, he said he was having a hard time
finding just one store that carried everything
that he needed.
"There was no one-stop shop where you
could get everything," Gough said. "And I
knew if I was going through it, everybody
else must be as well."
So Gough, who spent eight years in the
U.S. Army with the 2nd Ranger Battalion
started Patriot Multisport, a fitness facility
designed to help athletes get in their best
possible condition. The center is located at
52 Main St., Queensbury. A wide variety of
services are available.
The primary service
at Patriot Multisport is bicycle fitting. Using the Retül motion capture system, a 3D
computer will measure the fitting of an athlete's
bicycle to sub-millimeter tolerances.
The technology allows for a fitting that is
customized precisely to the needs of each
individual. It helps create the most efficient
riding form for the bicyclist.
"I'm able to measure for each athlete as
accurately as possible" explained Gough.
The facility also offers a "run gait analysis."
It uses high-definition cameras to capture
images of a runner's form on a treadmill.
Gough studies the running of the athlete
and analyzes the running for inefficiencies.
Appropriate exercises and stretches are
offered.
The staff at Patriot Multisport can also create custom orthotics based on results
from the test.
Metabolic testing is a popular service
offered at the facility. Many athletes enter
into a training program, but are unsure if it
is the correct program for them or if they are
seeing results. A metabolic test eliminates
guesswork, said Gough, and determines the
strengths and weakness of each individual to
develop the perfect training program.
For the athlete who enjoys rock climbing,
cycling or similar sports, the company
offers altitude training. It allows an athlete
to use a mask, putting out oxygen-reduced
air, that simulates atmospheric conditions
typical at altitudes of up to 14,500 feet. The
simulations of the high altitudes helps the
athlete build endurance.
Patriot Multisport also has a fitness
center. A professionally trained staff offers
coaching, strength and conditioning enhancements,
and nutrition planning with a
registered dietician. Gough said it is the only
place where athletes can find all of these
services under one roof.
"I've been fortunate to team up with
people who are experts in their fields who
allow me to offer these services" said Gough.
When the staff is not at their brick-and-mortar
location, they are on the road. Patriot
Multisport also owns a mobile unit, which
has all of the services of the Queensbury site
inside of a 45-foot-long RV.
The staff will be traveling to Florida
and doing bicycle fittings in Pennsylvania,
Virginia, and several other states along the
way, he said.
Gough hopes to become more involved in
the cycling community in the area. Currently,
Patriot Multisport sponsors two regional
teams: Team Loco, a racing team based in
Albany, and Sua Sponte Elite Race, a veteran
racing team.
Patriot Multisport is a veteran-owned
and-operated facility. Gough offers a 10 percent
discount to veterans as well as active
military, law enforcement and firefighters.
A percentage of earnings from the store will
be donated to veteran's charities, he said.
For more information, visit the website
at www.patriotmultisport.com or call (253)
678-7227.
Photo by Todd Bissonette Photography