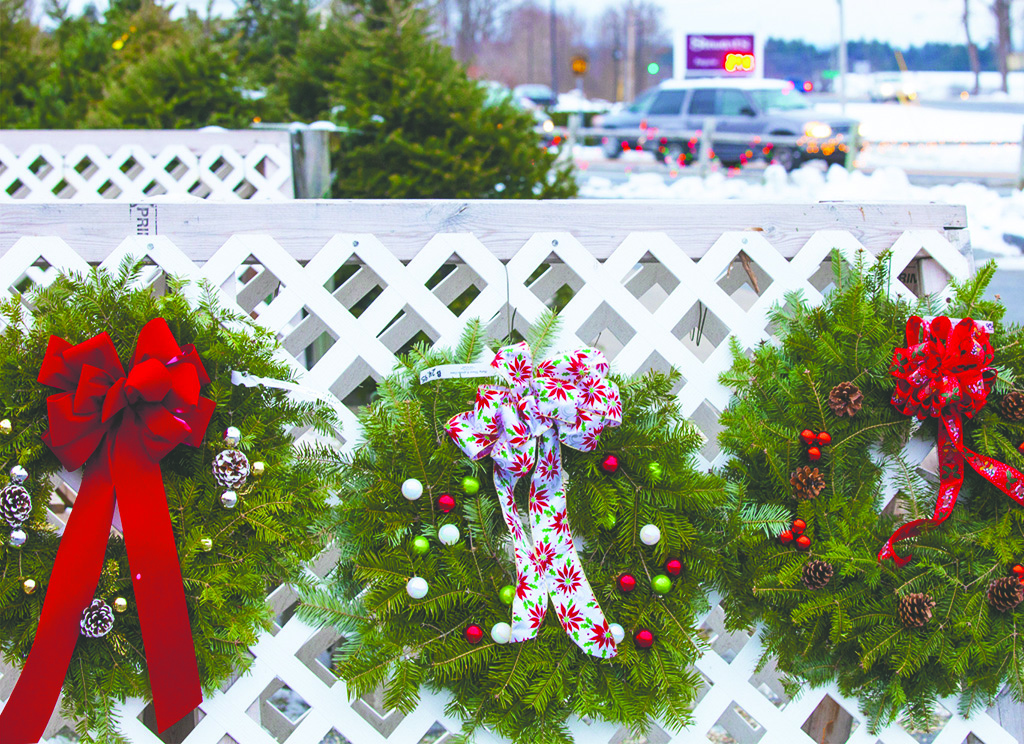 BY KAT FITZPATRICK
Nothing proclaims the Christmas holidays
like red and green. According to area florists,
the traditional yuletide palette is still the
most popular of all.
"I have found over the years, that the bright
colors might be eye catching, like silver and
blue, and people like to see them in a store
like Saks Fifth Avenue," said Cathy Vesterby,
owner of Mountain Flowers in Queensbury.
"But when it comes to their home they really
want traditional colors."
"Seventy-five percent of the colors are red,"
said Melony Longhitano, who has owned and
operated A Lasting Impression in Queensbury
for 26 years. "Then there's some burgundy,
gold, white, and some will do a celadon green
to make it pop … But primarily it's the traditional
red."
It's the Adirondacks that influence many
of Binley Florist buyers, said Tami Field,
manager of the Glens Falls store.
"The Adirondack theme is very popular up
here," Field said, adding that her customers
like to share their love of the motif. "We are
shipping Adirondack wreaths everywhere."
Vesterby no longer runs a storefront floral
shop, but focuses mainly on providing specialty
items for the holiday season. "I supply
a different sort of need," she said. "I am very
specialized in what I do and I do it at Christmas
time. I do Advent wreaths and boxwood trees, as well as made-to-order centerpieces."
"I have, over the years, had a number of
corporate customers," she said. "I do have an
account with Servpro (water and fire restoration).
They do something different other than
the traditional. They use their colors: orange
ribbon with bright Kelly green Christmas balls.
It stands out and gets their message across.
"It's something different than bringing
chocolate into the office," she said.
Boxwood trees are little evergreen trees
that are shaped like a traditional large tree.
They are imported from southern climes and
Oregon.
"They are a very nice, dark green shrub
and they make a really sweet little tree, about
18-20 inches high," said Vesterby. "When you
add little white lights they are very cheery."
Longhitano has also found that Boxwood
treas are popular. "They are a favorite especially
with senior citizen centers," she said,
"so they can all have one in their own room."
Another popular service local florists provide
is interior and exterior decorating.
"We do commercial decorating for a lot of
commercial accounts, local banks, insurance
companies and other businesses like that,"
said Field. "The owner (Wally Hirsch) and
his son do it all."
Longhitano said that most of her decorating
accounts were not strictly commercial but
were in the homes of those who were so busy running a business that a decorating service
was a decided asset.
"We'll go into people's homes and set up
trees and garlands and their mantles," she
said. "We'll also do the outside decorations
at some places."
While Vesterby is rarely asked to visit a
place to decorate, she does take her talents on
the road by teaching Advent wreath-making
workshops at area churches.
"I have been doing that for over 30 years,"
she said. "It's a real passion of mine."
She provides each family who attends a
workshop with a kit for them to build their
own wreath.
"It doesn't take an awful long time to make
them," she said. "It's really a lovely tradition,
one that I am very happy to have been providing
for many families in our community. They
look forward to coming to do it as a family
every year."
For those who don't make their own
wreaths, florists are more than happy to fill
the gap.
"Closer to Christmas it will be fresh centerpieces
that people are looking for," Longhitano
said. "For parties that they are throwing and
sometimes people will call from out of town to
have them delivered for people here."
In addition to wreaths, trees and larger
decorations, ornaments and smaller pieces
also make their way from stores to home on
a regular basis.
"Santa is always a good standby," said Longhitano,
citing one item in particular. "What's
very popular right now is a lighted up frame
with a printed Santa Claus on it."
Bright, flickering lights illuminate the
print, making it seem as if Santa is surrounded
by falling snow. "It is battery operated," she
said. "So it can go anywhere."
Also very popular at this time of year are any
winter animals, Longhitano said. "Adirondack
animals in particular: owls, squirrels, deer."
Diverging from that theme slightly was the
run on polar bears. "We only have three left,"
she said. But it's really anything that reflects
the season that catches people's eye, that gets
them to buy something–for themselves as
well as for another.
"Christmas is a unique holiday," Longhitano
said. "It's the only holiday that we have
people buying for themselves as much as for
other people."
Photo by Todd Bissonette Photography