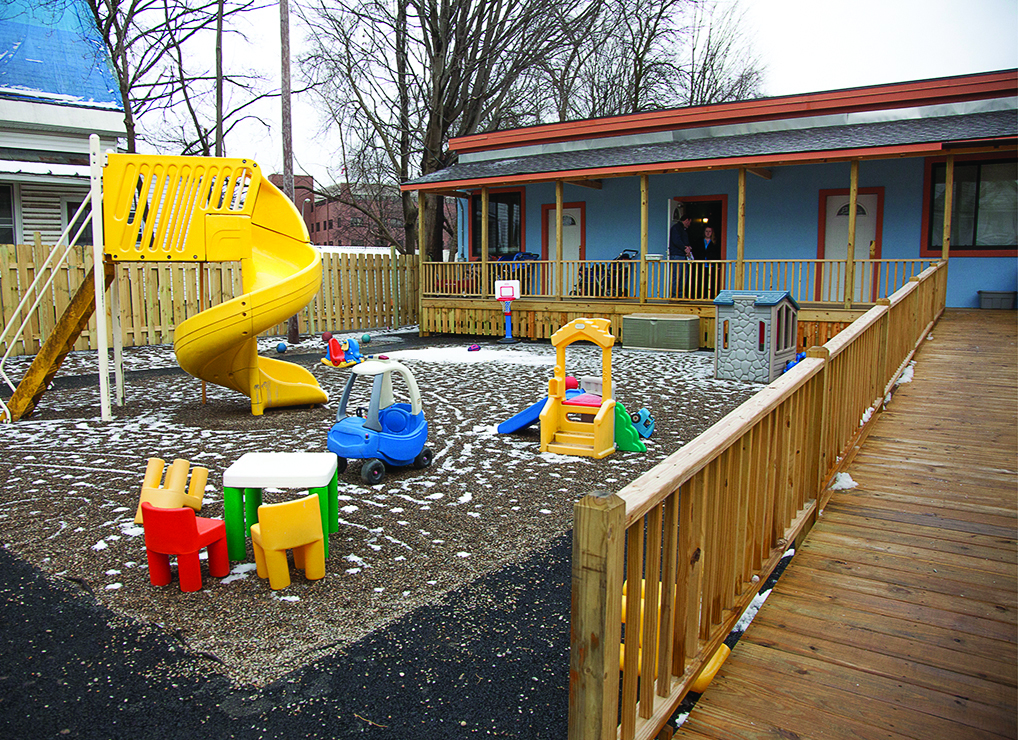 BY LIZ WITBECK
It's a Kidz World recently moved to a new
location, at 86 South St. in Glens Falls, specifically
and solely for a day care center.
It's a Kidz World was founded in 2012 by
Tom and Audrey O'Neill and moved from its
original site at Union Square Properties, 9
Broad St. The center is open to children ages
six weeks to 5 years old.
The new facility has a large foyer which
allows parents to view children without having
to go into the classrooms. Classrooms
are larger than at the previous location, the
owners said. The playground is fenced-in and
renovations will be finished in the spring.
There are five classrooms within the facility.
The infant program welcomes young children
into a safe and nurturing environment.
Gross motor skills, such as crawling, sitting
and pulling oneself up are mastered during
this program.
The toddler program provides a safe space
with mental and physical stimulation for children.
It is a safe space for children to build
their independence and gain social skills. The
preschool program focuses on preparing children
for kindergarten, adding reading, math,
art, music, physical education, and more to
the daily curriculum.
The convenient location in downtown Glens Falls is suited for busy parents who work in
the city and need daycare for their children.
The facility is located near dozens of local
businesses.
"My preschoolers wanted to walk to the
library today to get books, so we just did that"
said Brittany Petteys, director of the center.
"We're close enough to be able to walk to the
library or the park or other places, which
is nice. Our convenient downtown location
makes us different."
During the summer children go on additional
field trips to places like the Fun Spot
and Magic Kingdom.
The center has space to accommodate 52
children. All teachers and staff have years of
experience in daycare and childhood education.
The staff is all CPR and first aid certified.
Also, all head teachers have formal education
in early childhood education. Petteys has a
master's degree in teacher leadership.
The center is part of the New York State
Food Program. It's a Kidz World provides
breakfast, lunch and an afternoon snack each
day. All meals are nutritious and delicious.
The facility is open from 6:30 a.m. to 6 p.m.
Open enrollment is currently available for
the infant and toddler programs. To arrange
a visit, please call 798-8820 or visit itsakidzworldgf.com for more information.
Photo by Todd Bissonette Photography