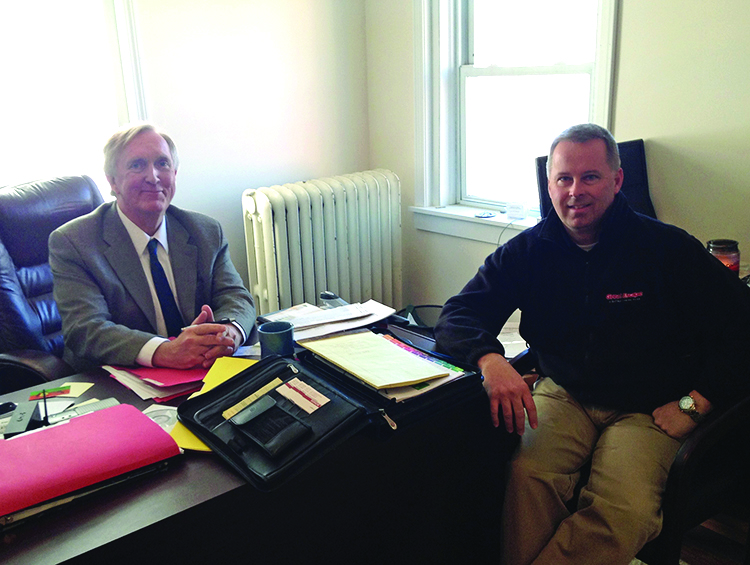 BY ANDREA PALMER
Rob Winn and Lloyd Swartz have joined forces to
create North Country Bail Bonds, with two locations
in Granville and Hudson Falls.
The two bring a combined 40 years of experience
to the table.
"I was the district attorney of Washington
County for 16 years," said Winn, "and Lloyd was
a high-ranking member of the Glens Falls Police
Department for over two decades. We have a broad
knowledge base of the bail bonds business because
of our close involvement with the criminal justice
system over the years."
"After I was done with my work as D.A., I had
done some criminal defense work. Through both of
those avenues, I saw a need for bail bond agencies in the Washington County area," Winn said.
"Nobody
had a regional bail bonds agency in this area. I knew
Swartz and was familiar with his work. I knew he
had a lot of contacts in Warren County, as well as
Essex County where he's from. Lloyd and I are the
first bail bond agents in Washington County since
about 30 years ago."
Swartz served the city of Glens Falls as a police
officer for 23 years, retiring as a captain in 2011. He
is also a private investigator.
"Both of us have a lot of knowledge of the criminal
justice system, specifically from the police and
prosecution side. We have hands-on experience
with the bail bond process and how it integrates
with the entire arrest and release process.," Swartz said.
Winn was licensed by the state as a bail bondsman
in 2013, with Swartz following closely behind
in 2014. Winn is also licensed in Vermont.
The partnership set up their official LLC business
status for North Country Bail Bonds earlier in
2015. Business has grown steadily, with a referral
system based largely upon word-of-mouth.
"A lot of this process relies heavily upon your
knowledge of how the court system works, your access
to jails, judges and court systems," said Swartz.
"Having experience from being in the process for
decades makes our approach to this line of work
very efficient."
In addition to their experience within the
criminal justice system, the pair cites their 24/7 accessibility
as one of the agency's strengths. Between
the two of them, someone is always available. The
agency has strategically placed itself in two locations,
with Winn occupying a presence in Granville
and Swartz occupying Hudson Falls. This allows for
a streamlined process of communication covering
a large service area.
"Working together as a team, we have a lot of
availability, and the ability to get to a lot of places
very quickly," Swartz said.
"Our clients need to have coverage 24/7, regardless
of what either of us have going on with
family, health or our other bond cases. Working in
a partnership allows us to give our clients the 24/7
coverage they need," Winn noted.
Bail bonds have been secured in as little as an
hour and a half, with longer turnaround times usually
being a result of the availability of the court,
waiting on a judge's decision or waiting for family
to come retrieve a client.
Most referrals come from visitors going to see
friends and relatives in jail. Business cards and
advertisements can be found in the jail facilities.
Internet web searches and referrals from attorneys
of clients also generate a significant amount of
business.
Winn said the long-term objective "is to develop
a regional bail bonds agency. We proudly cover
Warren, Washington, Saratoga, Essex and Clinton
counties. We're taking a business that did not exist
in this area before, and creating it from the ground
up. We are building something from absolutely
nothing, and now we have something concrete to
show, something we built from scratch."
They can be reached at 788-2953 or 361-1039. The
website is www.northcountrybailbonds.com.
Photo by Andrea Palmer