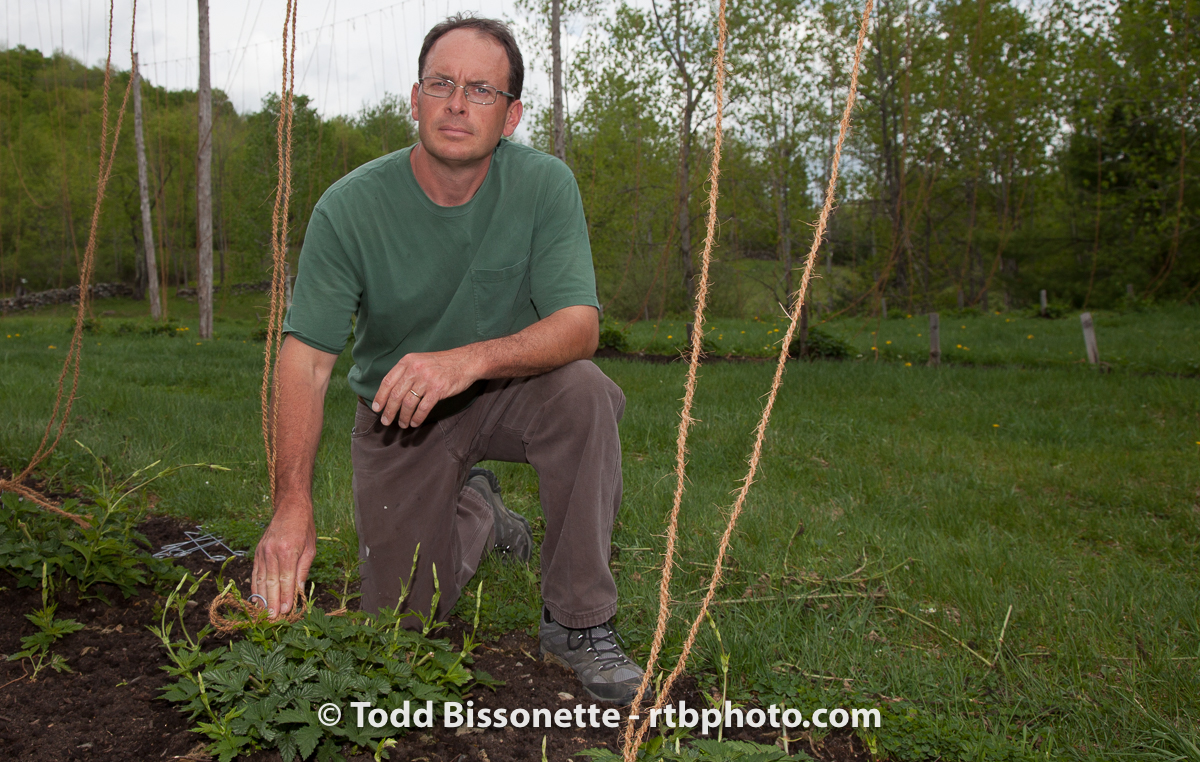 BY ANDREA PALMER
It's a 'hoppy' day at the old Misty Bleu
Ranch, where R.S. Taylor & Sons brewery is
slated to open in August. Richard and Kelley
Taylor are in the final stages of building
the tap room and brewery, as well as their
personal residence, on the 50-acre property
located in Hebron, on the eastern edge of
Washington County.
The farm, at 3602 County Route 30, will
primarily grow hops used in the beer, and
will eventually add small plots of wheat and
barley, the owners said. Visitors may take
tours of the farm. During harvest time, visitors
will have the chance to participate in
the hops harvesting process.
"We want this to be a destination site for
people to come and spend the afternoon.
They can come have a beer, get a bite to eat,
take a tour and see what actually goes into
what they're drinking. You can't truly appreciate
a good beer until you know what goes
into it–see, smell, feel the hops. You start to
understand that beer is not just a product in
a glass, but something that comes from the
ground," Richard Taylor said.
The state Department Agriculture & Market
approved a 20-C production kitchen for
the facility, and an abbreviated menu will be
available for visitors.
R.S. Taylor & Sons has a moderately sized
brewing area featuring a 2.5-barrel system
with stainless steel brewing equipment from
Portland Kettle Works.
"It was very important for us to purchase
the brewing equipment from an American
company, and the system we are buying from
Portland Kettle Works is 100 percent made
in the U.S.A," he said.
A state-of-the-art complete water system
from Wel-DUN, Inc. was installed in the
brew room, and reverse osmosis is used to
create a blank slate water profile ideal for beer brewing.
The brewery and tap room are connected
and adjacent to Taylor's home residence.
There is a door on the exterior of his home,
immediately perpendicular to a door leading
into the brewery, with a four-foot-square
space between the two. "The state mandates
that there cannot be a door between a residence
and a brewery, so we had to move the
door over about eight feet to comply," he said.
Taylor has been a home brewer for years.
Legislative changes in 2012 allowed the
possibility for him create a business out of
his long-time hobby. He and his wife had
purchased the 50-acre plot of land in 2010,
with the intent of living there one day.
"The land was barely recognizable back
then," he said. "It was completely overgrown.
You could not even see the waterfall or the
creek at all. We've done a lot of work since
then and it looks amazing."
Inside, hand-stained and finished mahogany
French doors grace the tap room and
brewery entryways and exits. A wraparound
porch augments the face of the house and
brewing facility.
R.S. Taylor & Sons will operate year-round.
Taylor plans to put in groomed snowshoe
trails for winter months.
Taylor also owns commercial property on
Wolf Road in Albany, and plans to open a tap
room at that location in the future.
"Many people in the Albany area are
interested in craft beers but don't really
make it up to the North Country very often.
Having a good tap room in that area might
inspire some to take a trip up north to see
where some of their favorite beers are made,"
Taylor said.
R.S. Taylor & Sons plans to host a soft
opening in August, and a grand opening
shortly after. The farm's website is www.mistybleufarm.com.
Photo by Todd Bissonette Photography