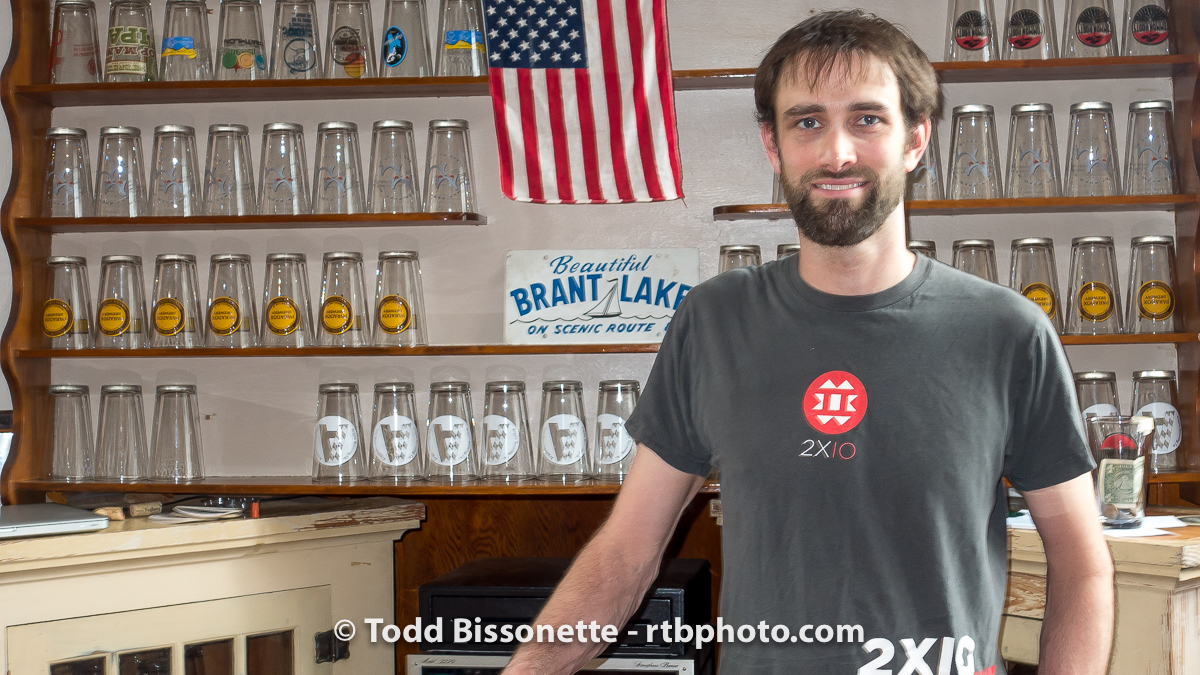 BY ANDREA PALMER
The Hub in Brant Lake began as a young
man's daydream and steamrolled into a local
hub of activity–literally.
Established at 27 Market St. on the Mill
Pond in Brant Lake by Drew Cappabianca in
2014, it is a full-service bicycle repair and
maintenance shop within a restaurant and
bar, featuring full seating and live music
setup.
The Hub sits strategically adjacent to
many of the bicycling routes of Lake George,
as well as North Warren and Southern Essex
counties.
Formerly the Brant Lake Town Hall, The
Hub's bike repair workroom is housed in the
former office of the secretary to the supervisor.
The basement sports a shuffleboard grid
from the days when the senior center was
housed on the premises. In the basement
sits an antique voting machine with Nelson
Rockefeller as a ballot option.
Cappabianca is no stranger to the field of
cycle repair, but he had a broader vision for
his own establishment.
"I've worked in ski and bike shops my
entire life. The repair shop component of
The Hub meets a practical sport need on
this high-traffic cycling route, but I wanted
something that would also involve food,
drinks and people connecting. We have live
music, we have an art show coming up, we
have a great place here–a place where
people stop in and stay awhile," he said.
The bike shop specializes in the repair
and maintenance of bicycle and things with
bicycle components, and garnered recent
recognition by becoming the official bike
shop for the June 27-28 HITS North Country
Triathlon in Hague. The Hub will receive
bikes via shipment or personal drop-off for
assembly or race-day prep, as well as provide
on-course assistance.
Cappabianca employs two associates,
Noah Leggett and Cody Madigan.
"Believe it or not, we all do everything:
wrench on bikes, make food, and pour
drinks," he said. "The joke is: If we have blue
gloves on, we're in the bike shop. If we have
clear gloves on, we're in the kitchen. If we
don't have gloves on, we're behind the bar.
If you see us in the kitchen with blue gloves
on, run away."
The Hub has a full kitchen serving
café-style food such as paninis, breakfast
sandwiches and personal pizzas. It features
a hand-made wooden bar with bike chains
inlayed in the shape of the region's local
lakes. There are many local beers on tap, as
well as bottled local wine.
"We are committed to serving only local
beers and wines, buying from vendors within
a 50-mile radius of the area," Cappabianca
said.
He cites the atmosphere as a driving force
in the establishment's success.
"Our purpose here is to promote cycling
as an activity and the way people interact in
a great atmosphere–not necessarily push
a particular sales product. As our sales increase,
it's because we've done a great job,
not because we've pushed any particular
hard good," he said.
The facility offers a private room for
larger groups. The Hub may be rented out on
certain days for weddings and other like occasions.
The website is www.thehubadk.com.
It is open from 11:30 a.m. to 10 p.m.,
Friday through Monday in the off-season.
After Memorial Day, hours include Thursdays
11:30 a.m. to 10 p.m., opening at 9 a.m.
Saturdays and Sundays for breakfast.
Photo by Todd Bissonette Photography