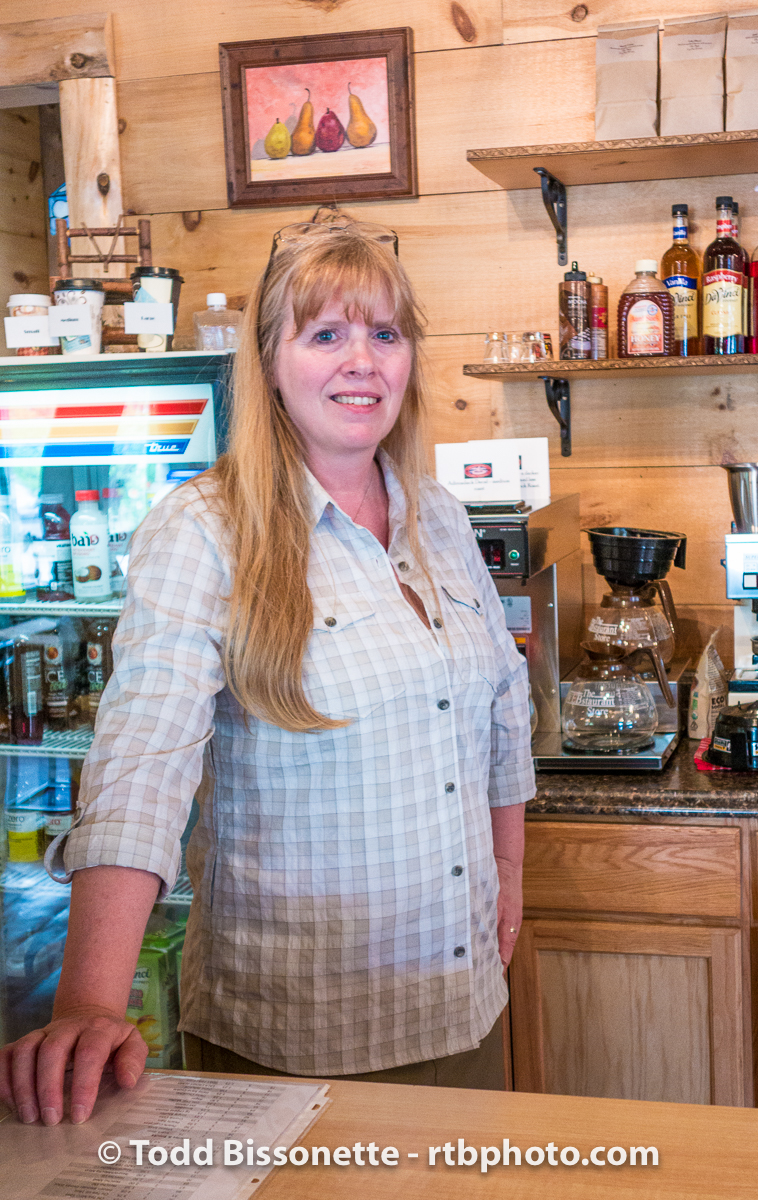 BY ANDREA PALMER
Nolét's Gateway Internet Café is an internet
café with full-service coffee shop, copy
and printing service, located in the heart of
downtown Corinth.
It was started by Dee Nolét, a Corinth resident.
She is the sole proprietor and had the
vision for the establishment for a long time.
"Many years ago, I traveled for work and I
saw an internet café in Maine. It looked more
like a library, and back then it was just dialup
[internet service], but they had coffee
and, oddly, a liquor bar. Years later, I saw one
in Lake Placid. This one also had books, but
no coffee or bar. It was beautiful. I thought it
would be the neatest thing to open."
Her vision revolved around the rentable
internet portion of the business, for visitors
needing or wanting computer and online
resources while vacationing away from home.
Nolét's Gateway has free WiFi for mobile
devices. It features coffee-shop style chairs
and tables, outdoor seating and individual
computer stations for rent. Printing services
are available.
The coffee bar has coffee from Adirondack
Lakes Co. out of Saranac Lake and pastries
from Pearl's Pastries in Greenfield Center. It
can be rented for meetings and events. Boxed
lunches are available for scheduled meetings.
"I have always wanted to open an internet
café. 'Coffee shop' wasn't really in my mind,
but when you put the word 'café' in your business
name and throughout your advertising, it
implies coffee, so that part grew naturally into
the business plan."
The interior of Nolét's Gateway is rustic in the classic Adirondack theme that lends itself
well to the business' name. Natural wood is the
predominant floor and wall covering. Large
stripped and polished trees serve as support
beams.
"I want people to be able to come in and
relax, even when we're busy. We have an
atmosphere of being peaceful, not rowdy,"
Nolét said.
In the past, Nolét owned a full-service computer
service company, and had a television
show on TV 8 called "Tech Net."
She began the process of property acquisition
and dealing with business logistics in
February.
"Last October I sat across the street at Soul
Sister's Bistro & Bakery, having lunch with
some friends. I pointed at the building and
I said, 'You see that place right over there?
That's gonna be mine one day.' They just
started laughing. This was before I had started
anything with the business. Now they say to
me, 'How did you make that happen so fast?' I
tell them that this place is what's always been
in my mind."
"This place has everything you need to stay
connected. It has all the IT options that you
would have in a business or home office, with
the fringe benefits of a coffee shop," Nolét
said. "We're in a great location right in front of
everyone, but still calm and peaceful inside."
Nolét's Gateway is located at 126 Maple St.
in Corinth, with off-street parking available.
Hours are Monday through Friday, 7 a.m. to 7
p.m.; Saturdays, 8 a.m. to 6 p.m.; and Sundays
10 a.m. to 5 p.m. The website is www.noletsgateway.com
Photo by Todd Bissonette Photography