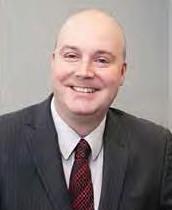 BY MARK SHAW
It began years ago when technology started
taking over many facets of our workplace. In
the beginning, computers took the place of
handwritten sheets of data and typewriters,
then technology came to our phones, they were
cordless, then they were mobile, and now with
today's smart phones, the joke of "Oh it makes
phone calls too?" has become the norm.
In the business world, phones went from
digital and analog, to full IT centric, a VoIP
(Voice over IP) technology which enables a
plethora of new features on the same cable
that runs the network and internet. Phones
became integrated in to the desktop PC experience,
including on screen dialing, chatting and
conference calling, following your call from
PC to Phone to Cell, and voicemails to email.
So what does any of this have to do with
security in the workplace?
It's all related, the same jump from the old
world security of using a key, to upgrading to
an alarm system after you use your trusty key
to the evolution of IP based, think technology,
access control for your company.
What is this new technology anyways? This
new form of access control and security has
dramatically improved the experience and
safety of the workplace. In the modern era of
security you have door locks that are fully based
on networking and software and can allow a
lock or unlock of a door with a swipe card, facial
recognition or any number of biometric means.
The system locks or unlocks the doors based on
a series of access control requirements.
For example, you can have a set of employees
who can only access the building Monday
through Friday, 8 a.m. till 7 p.m. If one of those
security groups tries to access the door outside
of those hours on a Saturday for example, they
will be unable to enter the office. This provides
some level of overview for what each employee
can and cannot do on the off hours where there
may be no management in the facility.
With computers running the show you can
also provide detailed reports of who entered
the facility and when did they leave. You can
correlate this data to any number of employee
required data. As a business owner you know
when people came and went in your organization and for how long they were there.
This is valuable information that can help
prevent loss of data, inventory or intellectual
property.
Other values in this new technology are
in the inherent security this provides, no
one is walking in and out of your company,
and employees know they are working in a
safe work place. Safety for the staff as well
as accountability are huge factors in today's
modern world.
Take a page from a company with key locks
and no security in their office. When they let
a disgruntled employee go, they often ask for
the keys without any real knowledge if these
keys were duplicated. The company, unless it
changes locks and goes through an expensive
re-keying for the staff, cannot ensure that there
are not individuals with access to the property.
Today we can with a click of a mouse, deactivate
an employee's key card and even set
alerts if said employee tries to use the card
in any door at any office, anywhere. All of this
control can be done remotely without ever
having to put a foot in the office. We are seeing
a world of network and internet controlled
access control.
These are just a few examples of the technology
enabled security that organizations are
actively using today. Technology that even a few
years ago was so costly and so cumbersome,
the value for small businesses was not there.
If you consider the power of such technology
amplified with all the of surveillance camera
systems available today you can take a moment
in time, pinpoint all the data that was recorded
from the cameras, tied to who was in the facility
and who came and went, you have a secure
workplace that employees and owners alike
can feel comfortable with.
We are seeing a world of network and internet
controlled access control, where we can add
security and safety requirements to the top of
the list. IT firms are finding this is an ideal niche
for them because the core foundation for all this
technology is the same network that serves up
your files, emails, computers, and phones.
By utilizing this core technology that most
small businesses already have, you can leverage
a technology that sits on top of this, is monitored
around the clock and is able to provide data on
a level unseen before.
If you have not considered a technology based
access control system for your organization,
perhaps now is the time. What efficiencies and
added security can you provide everyone in
your employ? The world is more technology
based then ever, access control is just the latest
victim of that.
Can you find a typewriter in your organization?
Best bets are in the next few years, it will
be sitting next to your keys.
Shaw, president of Stored Technology Solutions
(StoredTech).
Photo Courtesy StoredTech