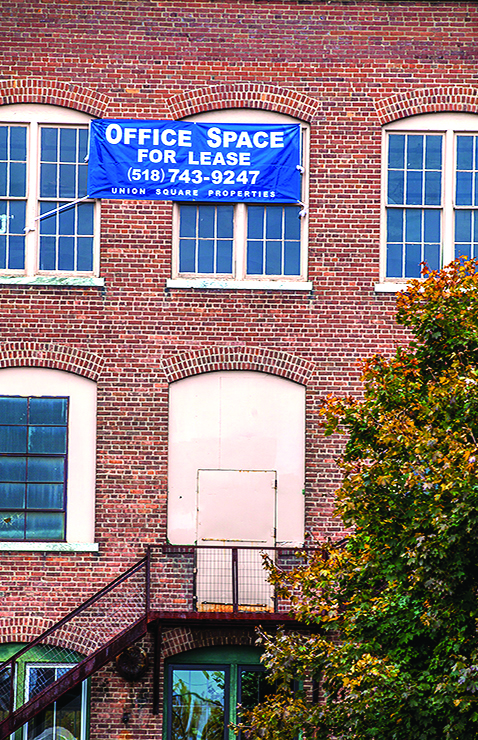 BY ANDREA PALMER
Realtors and developers in the Glens Falls
region have a positive outlook on the market.
Shelli Cameron, owner and broker of
Cameron & Associates Real Estate in Glens
Falls, foresees a rise in buyers as the next
generation of first-time home buyers comes
of age.
"Real estate is a local issue. We live in an area
that did not get hit as hard as other parts of the
country from the housing bubble. Inventory
has decreased in the past year and the median
sale prices are up. Historically low interests
rates are still contributing to the recovery of
the housing market but they will inevitably go
up to still-reasonable rates. I think we will see
an increase in first-time home buyers as the
millennials start getting married and having
families," said Cameron.
Tom VanAernam, owner and real estate
broker of VanAernam Realty and Associates
in Hudson Falls, has experienced increased
sales as the market has improved.
"Within the last three years, I've seen a brush
of things getting better. We went through our
bad time when everything crashed. Prices
corrected themselves as banks became more
responsible and conservative in their lending
efforts. The market has gotten into a more
responsible mode. Banks and appraisers had
a wake-up call because of the crash," said
VanAernam.
The tri-county area is a unique area.
Saratoga County has become very expensive,
and is inundated with new properties. The
prices have a tendency to be on the high side
in Saratoga County. Warren County has a lot
of new builds, but the county is running out
of space to develop. Queensbury is being built
out quite a bit now, and flowing into Saratoga
County in the Hadley and Corinth area.
"The next big push will be Washington County. Because of the prices and availability
of raw land, we are starting to see more building
of newer homes. You're always going to have
people upgrading. You can get more value in
an existing home that is already landscaped
and paved. There's a lot of different choices
out there," said VanAernam.
"We've learned a lesson and we're going in the
right direction. Things have been very brisk and
busy for us. You have to work harder for your
money, making sure people are prequalified,
making sure homes are priced correctly,"
VanAernam stated.
Peter and Suzanne Hoffman, of Glen Street
Associates, are in their 10th year of city
development. The firm has done a project every
year since 2005. Hoffman sees the market as
very strong after an initial decline following
the building of the Northway.
"When we came in 2005, we saw a lot of
beautiful, historic buildings. It seemed like if
you restored the buildings, people would come.
People want to be back in the cities today–it's
the new millennium attitude, to experience
the walkabout life, the history and so on. We
capitalized on that upswing. When we got
here, Saratoga was booming. The prosperity
has seemed to move up the Northway," he said.
Glen Street Associates has around 75
downtown apartments, all occupied and with
a waiting list.
Hoffman foresees Hudson Falls doing well
in the future.
"We have four commercial buildings in
Hudson Falls. Hudson Falls has been very good.
It didn't take a large splash to make a big wave.
It is seven minutes from the heart of Glens Falls.
As Glens Falls prospers, so should our neighbor
to the east, Hudson Falls. We're very bullish on Hudson Falls right now," Hoffman said.
He said there is a very pent-up demand for
space and services in the Glens Falls region,
citing the upcoming Bonacio Construction's
mixed-use project in downtown Glens Falls,
adjacent to the new parking garage, as a huge
catalyst for the area. Construction is about to
start and it will include 80 more apartments.
"Because of [the region's] infrastructure and
costs, we're able to give substantially better
rates than our sister city, Saratoga. People are
finding they can come in at half the cost of
Saratoga," said Hoffman.
Patti Gray Whann is the owner and broker
of Glens Falls Area Realty, located on Sanford
Street in Glens Falls. Whann has been in real
estate for 12 years.
"We clearly have turned a corner. You can
see it in the inventory. This is the best year I
have had in six years–my business has doubled
since last year," said Whann.
"We were in the doldrums for a long time.
When the market tumbled during the financial
crisis, we did not feel it as much. Glens Falls
is somewhat insulated. When the market was
going up and up and up in the early 2000s, Glens
Falls didn't spike. We do best when it becomes
unaffordable in Saratoga," said Whann.
"We are Mayberry and Pleasantville in color.
We have grit. But this is a safe area. We have
more museums than either Lake George or
Saratoga Springs," said Whann of the region's
unique appeal.
Whann is president of the Glens Falls
Collaborative.
"Given time, real estate is very forgiving. I
am 60 years old, I have had 12 houses, and I
have never lost money in real estate–because
I knew when to hold," said Whann.