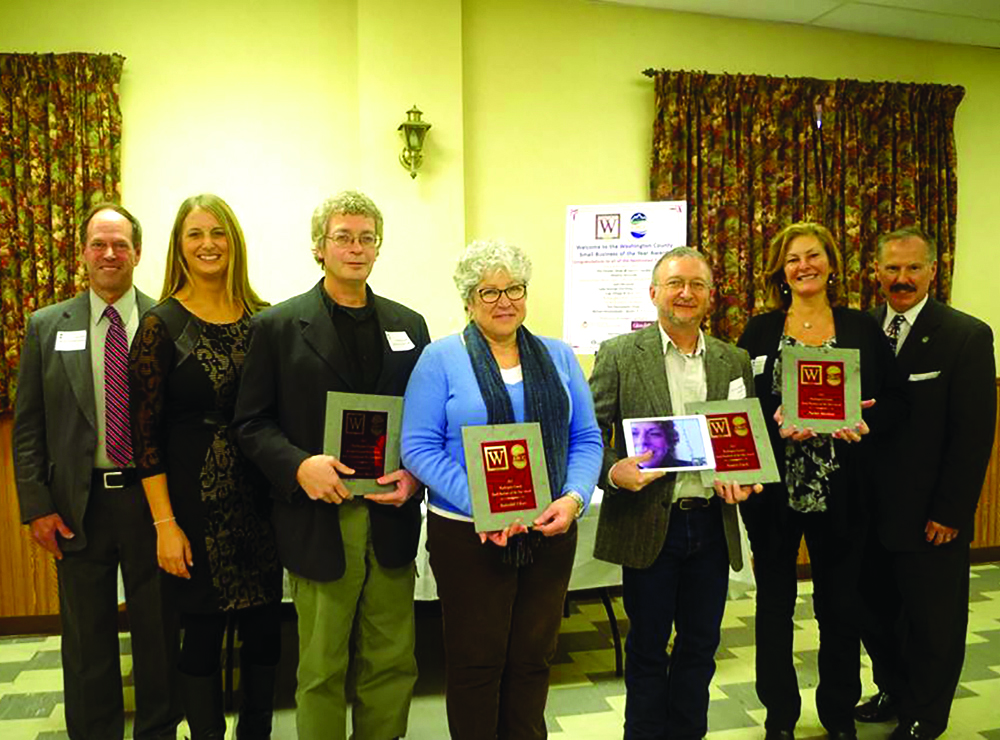 Three companies and a nonprofit arts group
were honored on Dec. 4 at the 2015 Washington
County Small Business of the Year Awards, held at
the Kingsbury Firehouse in Hudson Falls.
Battenkill Fibers, Pattie's Patch, Parker Machine
Co. Inc. and the Hudson River Music Hall received
the awards.
The Adirondack Regional Chamber of Commerce
partnered with the Washington County
Local Development Corp. to present the awards.
Battenkill Fibers Carding and Spinning Mill,
located in Greenwich, began in 2009. Owner Mary
Jeanne Packer combined her love of knitting,
degrees in engineering and communications, and
knowledge of the textile and valued-added agriculture
industries to create the company.
It produces artisan-quality, colored and dyed
yarn using traditional semi-worsted milling machinery
acquired from other mills from all over
North America and then brought back to working
order. The company provides custom carding and
spinning services and manufactures premium
knitting yarn and other fiber products for the
wholesale market.
Ten people work full time or part time across the
first and second shifts at the 6,000-square-footmill.
Pattie's Patch in Whitehall started as a dream of
Pattie and Dennis Sbardella to own and operate a
small roadside farm stand. It opened in the spring
of 1992 in a small shed and has grown to approximately
2,000 square feet of interior space, with
perimeter space for plants and baked good displays.
The business provides fresh vegetables and fruits
to a list of customers. Pattie's Patch has grown from
employing one part-time employee to on average
employing 16 part-time and full-time employees
each season.
Since 1972, Parker Machine in Fort Edward has
specialized in precision machining for exacting industries.
As a manufacturer of precision machined
parts, it offers reverse engineering capabilities. The
company works with a wide range of materials
from titanium to Duplex stainless steel, as well as
plastics from UHMW to Rulon.
The 18 employees rebuild or repair existing
equipment or manufacturing new parts that
are utilized by pulp mills, valve distributors and
manufacturing plants throughout the United States,
Canada and worldwide.
The Hudson River Music Hall in Hudson Falls
was founded in December 2010 by musician/
composer Jonathan Newell. Its mission is "to create
community through music and the related arts.
Its objectives are to enhance the quality of life
in the village of Hudson Falls and the surrounding
communities by providing performance and
educational opportunities through music, dance,
theater and the visual arts.
The building is owned and operated by Hudson
River Music Hall Productions, Inc., founded by
record producer Stu Kuby, SUNY ACC Professor
Nicholas Buttino and community member Judith
Johnson. Newell serves as executive director.
The facility is equipped with a music room
for live performance and a seating capacity is
100; an exercise studio for dance, yoga, karate,
and private music and art lessons; and a black
box theater with movie screen and lighting for
live theater and music events, with a seating
capacity of 60.
Sponsors of the event were Adirondack Technical
Solutions, Fort Hudson Health System,
Glens Falls National Bank & Trust, Robinson &
Son Insurance and Four Corners Energy.