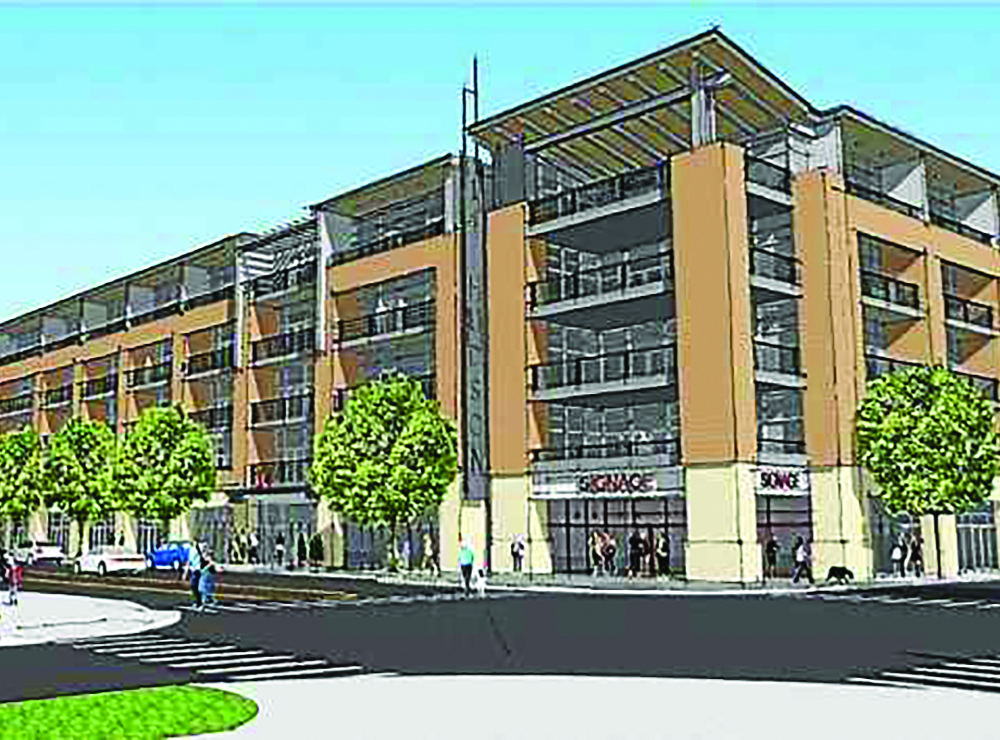 BY JILL NAGY
Bonacio Construction broke ground in
November for its first major project in Glens
Falls, a $28 million mixed-use residential,
commercial and retail facility at 14 Hudson
St., adjacent to Glens Falls Hospital.
The two-acre site is also close to the Glens
Falls Civic Center and a new parking garage.
Local officials view it as a sign of a revitalization
of the city's downtown.
Ed Bartholomew, president of the Economic
Development Corp. of Warren County,
had been courting Bonacio for five years.
"We have been working with Sonny Bonacio
since 2010 to encourage him to have
a look at our city," he said. The development
director took him on a tour of the downtown
in 2012.
Once he and Bonacio identified the site for
the project, Bartholomew set about arranging
for its acquisition from the hospital and also
managed to get $2 million in state funds for
related work.
"It will have a significant impact on the
city," he said, beginning with a large number
of construction jobs, perhaps 70 to 80 at a
time. He sees it as a "wonderful, transformative
type of development for the downtown."
"We've been looking at Glens Falls for
years," said Larry Novik, director of business
for Bonacio. "We like the sense of momentum
we see there. We see the downtown getting
more vibrant."
He noted that people "have a huge interest
in living downtown in a walkable environment."
The project will include 87 apartments,
most of them one- or two-bedroom but some
larger. Rents will begin at about $1,100 per
month, according to Novik.
The ground floor will have some 30,000
square feet of retail space. On the second
floor, there will be 12,000 square feet of commercial
space as well as some apartments.
The first apartments are expected to be
available for rent next fall. The entire project
should be completed in early 2017.
The Galesi Group is partnering with Bonacio
Construction on the project. The lead
architect is Shawn Corp of Balzer & Tuck in
Saratoga Springs. Landscape design will be
done by LA Group, also of Saratoga Springs.
The project is going up on a lot formerly
used for hospital parking. However, it was
identified as "underutilized property," according
to Bartholomew, now that the new
507-space parking garage is open.
The Bonacio project will provide some
street-level parking and additional parking
under the building.
Bartholomew said the Bonacio project is
one of several recent projects revitalizing the
Glens Falls downtown. Glens Falls Hospital
just completed a $21 million modernization
project. JUST Water recently converted the
abandoned St. Alphonso's Church on Broad
Street to a water bottling plant. A section
of Hudson Avenue was upgraded with new
water and sewer lines, street lighting, and
dedicated bicycle lanes. And there is the new
parking garage.
Bartholomew said plans for next year
include a countywide project to improve
cellphone, fiber optic and broadband service.
He sees that as crucial to the health of small
businesses, restaurants, and businesses catering
to tourists. Some still have old-fashioned
dial-up service, he noted.
He hopes to also see an updated traffic
study, especially for the area around
Northway Exit 20, and the promotion of
walking and bicycle routes from Route 149
to the Great Escape amusement park.