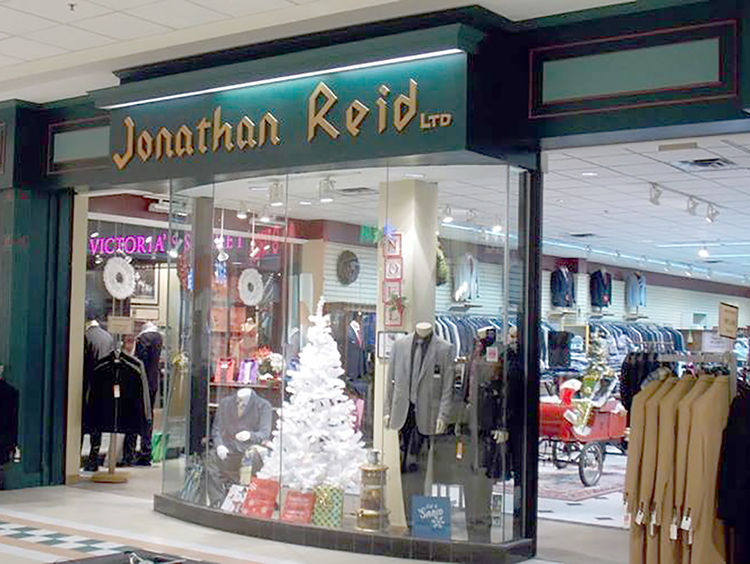 BY LIZ WITBECK
Jonathan Reid, a men's clothing store in the
Aviation Mall in Queensbury, has come under
new ownership. Jeffrey Ives became the new
owner of the store in August.
"I have worked here for 15 years," said Ives.
"I had the ability to purchase it and wanted to
return it to what it was previously."
Ives has worked at Jonathan Reid since
college. He is also a trained psychologist and
works at Great Meadow Correctional Facility
when not at the store.
During his time with Jonathan Reid, Ives
said he noticed a decline in the quality of
product and service. He purchased the store
with a commitment to bring the company
back to its glory days.
As a men's fine clothing store, Jonathan
Reid offers a wide range of clothing. "We have
items that range from very dressy to dress
casual," said Ives.
Items include suits, tuxedos, dress shirts,
scarves, ties and more.
A tailor is available in the store to do all
tailoring on clothes that are purchased. According
to Ives, Jonathan Reid is the only
store in the area that provides professional
tailoring.
Ives said that the clothing will change more
frequently within the store so customers have
access to the newest fashions available. Jonathan
Reid has also started offering a military
discount to veterans.
"We want to return to the Jonathan Reid
we were 30 years ago," said Ives.
Another change at the company is their
new focus on the Glens Falls community.
"We're trying to become more community
oriented," said Ives. "I am very involved with
the Chamber of Commerce. We believe we
should give as much to the community as
we receive."
To that end, Jonathan Reid has been
sponsoring several events in the region. One
upcoming event is the gala for the Adirondack
Theater Festival.
Jonathan Reid previously operated a second
location in the Wilton Mall in Saratoga
County, which has since been closed. Ives said
that once the Queensbury store sees enough
success, he will look to expand in other locations
again.
While there are many men's clothing stores
in the area, Ives believes his store stands out
from the rest.
"Jonathan Reid is a private, family owned
company. We have a stronger commitment
to service. And we have always catered to the
Glens Falls and Queensbury area."
Ives invites all gentlemen to come into
Jonathan Reid, whether it is their first time
or they have not been in the store in several
years, and see how the store has changed.
A staff of five employees is trained to offer
advice. Men are welcome to come in for a
free clothing consultation, without feeling
pressured to buy.
"We want people to share in the resurgence
of Jonathan Reid," he said.
Jonathan Reid is open 9:30 a.m. to 9 p.m.
Monday through Saturday, and 11 a.m. to 6
p.m. on Sunday. For more information, call
793-9171, or visit jonathanreidmenswear.com.