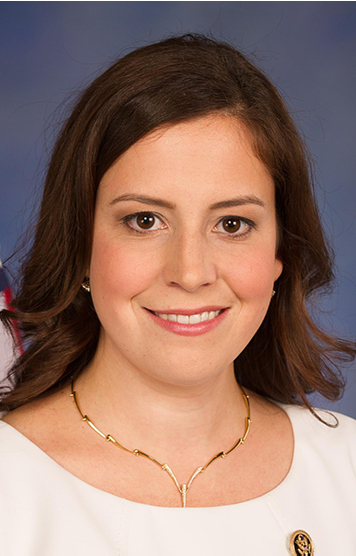 BY U.S. REP. ELISE STEFANIK
When I travel throughout the North Country, the need for more economic growth and job creation is the most common concern families share with me. A strong North Country economy will help small businesses in our district grow and help stem the tide of younger generations moving from our area to find work.
This is why, in the House of Representatives, this year we will be working to put forth a vision for broad-based tax reform that will make our tax code flatter, fairer and simpler for our businesses to compete across the globe. We will also be working to reduce our out of control regulatory code that burdens small businesses and passes additional costs onto consumers.
Whenever I travel throughout the district, I continue to hear from small business owners about the challenges they face from implementation of the Affordable Care Act. This year I will continue to build upon my work to find common sense fixes to this law to reduce healthcare costs and improve the quality of care.
For instance, the recently passed Bipartisan Budget Act of 2015 signed into law by the president included a provision I authored that would repeal the Obamacare auto-enrollment mandate–an unnecessary and duplicative part of the Affordable Care Act that reduces choice in health coverage and creates confusion that can lead to significant tax penalties on both the employee and employer. I remain committed to achieving a healthcare system that works for North Country families and businesses, and this commonsense provision is one step in that direction. In the recent year end government funding package, I helped lead the fight to secure a critical suspension of the medical device tax–an especially important win for Warren County. This is an issue I hear about frequently from businesses in my district, such as AngioDynamics, NuMed, C.R. Bard, Navilyst and Precision Extrusion.
The medical device tax causes undue harm to an industry that not only creates jobs, but also improves our health and well-being. Angio- Dynamics President Joe DeVivo has said he is immediately taking the $4.3 million in savings this means for his business and using it to create jobs for our community.
In addition, last month, I voted for a longterm transportation bill. Our economy needs predictability and certainty, and this highway bill allows us to stop passing short-term, stopgap measures so that businesses can plan and grow.
This was the first long-term transportation package to pass in a decade, and in our region, where the transportation equipment business is growing, with 33 companies now employing more than 8,100 people. Its passage and enactment was vital.
In addition, this transportation package included a reauthorization of the Export-Import Bank of the United States, an important program to North Country businesses across our district, such as the Plattco Corporation and New York Air Brake.
Locally we are seeing some encouraging work as well. For instance, there are numerous local projects that have been completed or are underway that are supported by the Economic Development Corporation of Warren County and promise to revitalize Glens Falls, including the 14 Hudson project taking place behind my Glen Street office and the completion of the Exchange Street lighting project.
With the help of the Warren County Board of Supervisors, our Glens Falls Civic Center revitalization is underway as well. These projects all will help revitalize our community, and encourage growth, development and commerce along the way.
In addition, I am excited to see SUNY Adirondack moving forward with the Adirondack Regional Workforce Readiness Center with the help of a NYSUNY 2020 Challenge Grant. This center promises to help our community receive substantial workforce training initiatives, helping prepare our community for the challenges facing a 21st century workforce.
There are many encouraging signs for our region's economy as we begin 2016. But there is much more work to be done to keep our economy growing, and to help North Country businesses expand so that they can create more good paying jobs for our community.
Working together, at the community, state and federal levels, we can help our economy thrive.